Previewing Clips
Reading time ~2 minutes
Playing in the Player
Double-click the clip you want to play back, and the player window appears: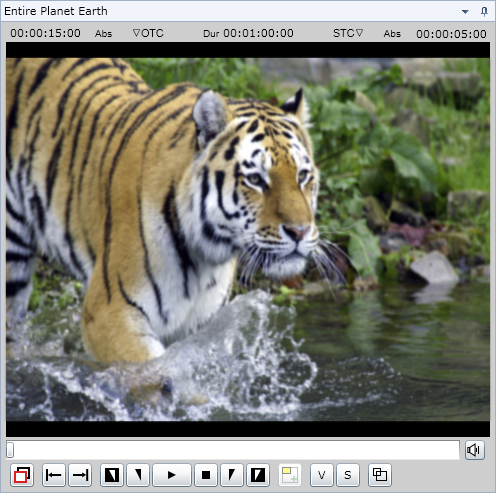 Press the "Play/Pause" button to play back the clip in the player.
Playing Full-Sccreen
| | |
| --- | --- |
| | Press the "Full-screen" button to switch to full-screen mode. Hit the Esc key to return to normal mode. |
Trimming a Clip
The player provides the clip trimming functionality.
| | |
| --- | --- |
| Note | The In point represents the beginning of the In frame, and the Out point represents the end of the Out frame (or the beginning of the next frame). |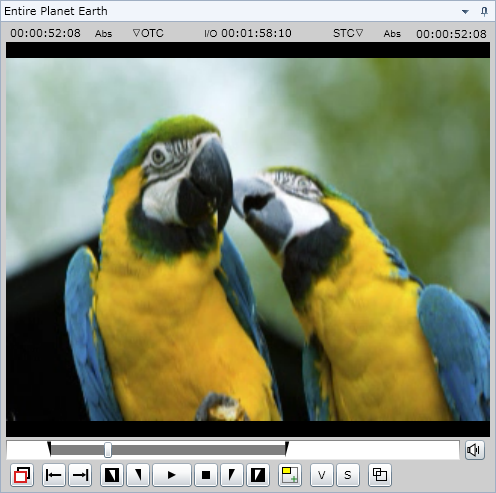 Setting the In Point
| | |
| --- | --- |
| | Press the "Mark In" button to trim your clip from the left. To delete the In point, press the "Clear mark In" button (inverse In). |
Setting the Out Point
| | |
| --- | --- |
| | Press the "Mark Out" button to trim your clip from the right. To delete the Out point, press the "Clear Mark Out" button (inverse Out). |
Creating a Subclip
When you mark a piece of footage with In and Out points, you can either save the entire clip along with the new boundaries, or you can create a subclip based on the In and Out points you set, to break longer clips into smaller segments.
| | |
| --- | --- |
| | Press the "Make subclip" button on the player toolbar. The new subclip will be placed in the same ClipBin next to the original clip. |
Positioning the Panels
All the panels are dockable. You can move and resize panels or dock them to an edge. The commands for arranging the panels positions are available from the panel's caption context menu.
Floating
To make a panel float on the screen, use the "Floating" command or drag the panel to the desired position:

Dockable
To dock a panel, select the "Dockable" command from the context menu. Then click on the title bar of the panel and drag it to the side until you see the visual hints: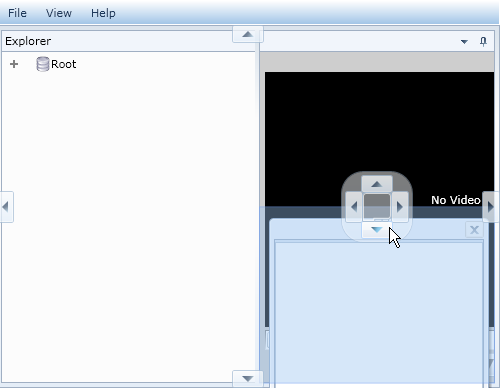 When the panel you are dragging reaches the location where you want to dock it, move the pointer over the corresponding portion of the hint. The designated area will be shaded. To dock the panel in the indicated position, release the mouse button.
Tabbed Document
This command can be used to arrange panels as tabs within a single panel.
Auto Hide
Use this command to automatically hide a panel when it is not being used. The hidden panel will collapse to the screen edge.
Hide
Use this command to manually close a panel.