Working in Explorer
Reading time ~3 minutes
Opening and Closing Items
Double-click the folder to go to its contents. Double-click an item to open the corresponding bin window. Each bin window is opened in a new tab. Tabs are displayed above the storyboard view panel.
Right-click the required object in the explorer tree to launch context menu. The list of commands depends on the database item type.
Creating a New Item
Right-click the object in which you would like to create a new item. In the menu that appears, select the "New" command, next select the database item to create inside the defined parent object from the submenu that appears:
Once selected, on the window that appears, specify the following parameters:
New item – enter the name of a new database item. This field is mandatory.

Select Media Group – select the media group type from the drop-down list: regular or archive. This field is mandatory.

Press the "Create" button to create new database item or the "Close" button to discard changes:
| | |
| --- | --- |
| Note | You can only create items inside non-terminal objects. |
Renaming an Item
| | |
| --- | --- |
| | To rename the selected object, right-click it and then use the "Rename" command. |
The following dialog box will appear: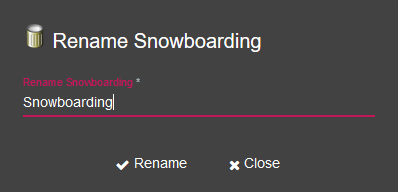 Enter a new name and click "Rename" to apply the changes.
| | |
| --- | --- |
| Note | You can use any symbols, in any language, in item names. |
Copying an Item
You can copy a terminal item in the tree to another location with the "Copy" and "Paste" commands.
| | |
| --- | --- |
| | 1. Right-click the item you need to copy and choose the "Copy" context menu command. |
| | 2. Right-click the desired folder in the tree and choose the "Paste" context menu command. |
| | |
| --- | --- |
| Note | The permission to create all types of objects, and sub-objects at the new location, is required to copy and paste an item. |
Moving a Part of the Tree
You can move a part of the tree to a different location with the "Cut" and "Paste" commands.
| | |
| --- | --- |
| | 1. Right-click the item you need to move and choose the "Cut" context menu command. |
| | 2. Right-click the desired folder in the tree and choose the "Paste" context menu command. |
| | |
| --- | --- |
| Note | The permission to create all types of objects, at the new location and to delete them at the old location, is required in order to move the sub-tree. |
Deleting an Item or a Part of the Tree
| | |
| --- | --- |
| | Right-click the item and choose the "Delete" context menu command. You will be prompted to confirm the deletion. |
| | |
| --- | --- |
| Note | The permission to delete all types of objects in the selected folder, is required in order to delete an item or the sub-tree. |