Subtitles
Reading time ~2 minutes
Cinegy Air provides a simple way to "burn-in" the subtitles to the playout items in the playout list, before they are broadcast on air. External subtitle files of the following formats are currently supported: SRT, STL.
| | |
| --- | --- |
| Note | Subtitles are not applied for dummy and live items. |
To apply a subtitle file to the specified playlist item, select the "Subtitles" > "Insert subtitle track…​" command from its context menu and in the dialog that appears browse for the desired subtitle file: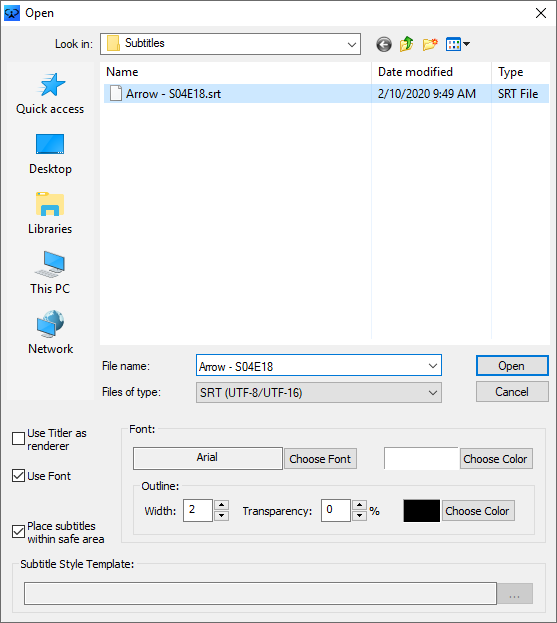 In the appeared window select the "Use Titler as renderer" option to enable subtitle rendering using Titler.
| | |
| --- | --- |
| Note | Currently only horizontal alignment of the text is supported by Titler renderer during rendering of STL files. |
In this dialog window you can also specify the font to customize the subtitles display. For this select the "Use Font" option and specify the font family, color and outline settings.
Use the "Place subtitles within safe area" option for the subtitles to be displayed inside the inner boundaries of the safe area, ensuring that all subtitles text will be visible.
The subtitles display settings and effects can be specified in one subtitle style template XML file. Thus the unified style can be used for all subtitles. For this remove the selection of the "Use Font" option and browse for the subtitle style template file:

To remove the subtitle track, select the corresponding command from the "Subtitles" submenu. Subtitles can be viewed in Clip Viewer.