Audio Objects
Reading time ~1 minutes
The "Audio" object is not displayed on the canvas. The audio will be mixed into the stereo pair and integrated to the audio output on the rendering engine.
It has the following parameters: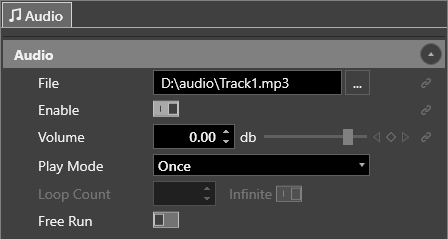 Define the audio file by pressing the "…​" button.
By default, the audio object is enabled. To disable it, deselect the "Enable" option.
The audio volume can be adjusted in the "Volume" numeric box or by using the slider.
It is possible to make audio play in loop or in ping-pong mode. To do this, select corresponding playback mode (Loop or Ping Pong) from the "Play Mode" drop-down list and specify the number of repetitions in the "Loop Count" field. To play audio just one time, set the "Play Mode" to play once.
The "Free Run" feature description is given here.