Solution
Reading time ~4 minutes
The Cinegy software provides customers with a complete production environment, capable of managing content of the highest quality from broadcast, HD or film productions while improving speed and efficiency in all aspects of the production process.
Fully Integrated TV Production System
Every broadcasting company, media production house and post-production facility can streamline their production and achieve a dramatic increase in productivity while saving costs and improving quality at the same time. Cinegy products offer a flexible, scalable solution that guarantees an early return-on-investment. Ordinary PCs used for day-to-day office business form the platform for the Cinegy software. When using Cinegy, the production process becomes modernized, streamlined and less time consuming. Furthermore, the content, which is the most valuable asset for any broadcaster, is fully utilized.
Problem

The traditional production process using videotapes is inefficient, and any problem becomes increasingly more uncontrollable and costly with the extension of the organization.
Large broadcasters create thousands of hours of videotape every month. Costs incurred by tape duplication, distribution, storage, search and retrieval exceed millions of dollars for large broadcasters every year.
Hundreds and thousands of tapes vanish or are lost in such tape-based production environments.
Various solutions exist that try to solve this problem, but the workflow remains cumbersome and non-intuitive. Integration and deployment is difficult.
There has been no satisfactory standard solution
Solution
Cinegy provides a solution that meets all the requirements of modern broadcasting. Working with leading system integrators, consultants, and IT companies, the Cinegy solution offers a customer the highest level of competency and project management experience.
The Cinegy system is an open platform allowing easy migration of existing content and data as well as the integration with other third-party and legacy solutions.
In short, it is the only fully integrated end-to-end client/server-based workgroup-oriented digital media production and management system.
Fully scalable to more than 10 000 concurrent users, the Cinegy software uses standard PCs and normal Fast-Ethernet networks for ease-of-integration and deployment as well as cost efficiency.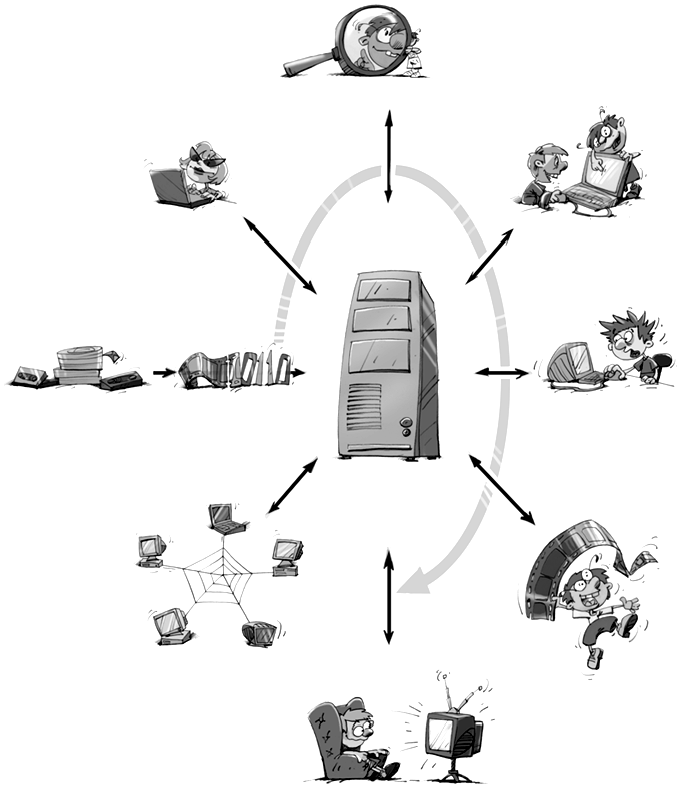 The Cinegy product line is a complete system that integrates all areas of production in one comprehensive, elegant and homogeneous environment. Every aspect has been included – real-time media ingest in multiple quality levels, automatic shot detection, advanced logging, production notes, voice annotation, rights management, digital asset management, search and retrieval, sequencing, storyboarding, full feature non-linear editing, workgroup collaboration, remote screening, conform, legacy integration and playout, to name a few with many more in development.
Scalability and Cost Efficiency
Only a Fast-Ethernet network connection to the Cinegy Archive media server is needed. No additional, proprietary hardware or fiber channel network is required, just a computer specialist to maintain the infrastructure. The use of the standard office PC as the platform of modern television production allows quick and seamless deployment within the existing IT infrastructure.
Third-party, Legacy Integration and Interoperability
Cinegy GmbH produces a number of post-production, animation and 3D modeling applications that can be integrated with Cinegy Desktop. Cinegy eXtreme is a high-end compositing, effects and animation package, ideal for finishing productions created in Cinegy Desktop. By supporting standard EDL formats, Cinegy supports legacy NLE systems.
The Advanced Authoring Format (AAF) is fast becoming the new interoperability standard, allowing different vendor's solutions to exchange project data. This enables Cinegy products to be integrated into heterogeneous post-production and NLE environments wherever necessary.
Cinegy Workflow
Cinegy products enable all stages of media production to be represented within the system. All roles and responsibilities are provided for:
media ingest with shot detection;

storyboarding and outlining;

conforming on Avid systems;

media logging with metadata entry;

workgroup collaboration and communication;

AAF/EDL import/export;

media storage (online and near-line);

remote collaboration and exchange;

multi-resolution and format support;

cumulative metadata with very powerful temporal metadata functionality;

high-quality editing with advanced NLE features;

fully integrated rights management;
real-time search and retrieval;

integrated conforming;

scheduled or real-time playout of any format, integration of tracking systems.
The illustration shows the various Cinegy components, as well as the external NLE integration.