Deltacast Cards
Reading time ~3 minutes
Unlike "older" Deltacast cards that have a fixed number of inputs and outputs (e.g. DELTA-hd-elp-d 60 (6-input, 2-output) or DELTA-hd-elp-d 80 (8-input, 0-output)) and are only 1.5G, there appeared new 3G Deltacast cards – the so-called "versatile", bidirectional cards (e.g. DELTA-3G-elp-d 8c). Such cards are recognized by letter "c" at the end of their names. These versatile cards should be pre-configured in bidirectional mode that allows you to define the desired combination of inputs-outputs.
This can be performed via a free Deltacast application – dCARE, which can be downloaded from the official Deltacast website.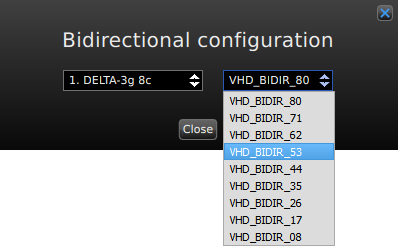 Alternatively, versatile cards may be configured via new Cinegy ML (starting from version 11) – the "Total input channels for bi-directional board" option in the Cinegy Playout instance configuration dialog: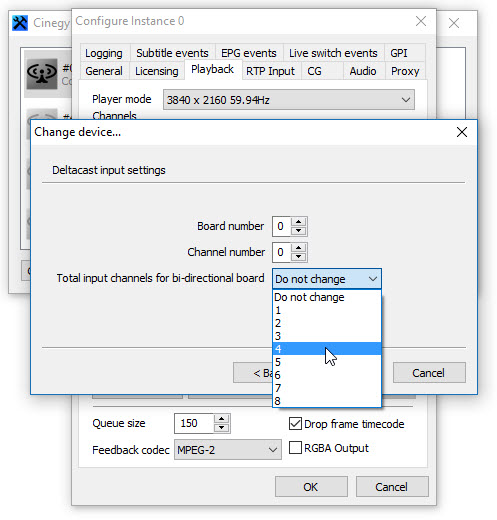 | | |
| --- | --- |
| Note | Select the "Do not change" option to use the input-output mapping scheme preconfigured via dCARE application without changes. |
In previous versions of Cinegy products (e.g. Cinegy Air 10.2) these versatile cards can also be used. However, prior to their usage, bidirectional configuration is to be performed via the dCARE application. This configuration will be saved and stored even after rebooting or on PC shutdown. No further configuration changes are required except for modifying bidirectional parameters.
| | |
| --- | --- |
| Tip | Currently Cinegy supports all SDI cards from the list given on the official Deltacast website. The exception is the cards that are marked with key and keyer card in their names (e.g. DELTA-hd-e-key 22 (Dual input, dual output, SDI keyer card) is not supported). |
Configuration Specifications
Unlike multichannel and configurable AJA cards, such as Corvid 44 and Corvid 88 where all channels are equivalent and can be easily reassigned, the ones of Deltacast SDI cards can also be reassigned, but only following preliminary bidirectional mode that allows you to "split" the card into two halves: one with inputs and the other one – with outputs. Please, mind that in Deltacast the output count starts with 0.
Here are some examples of SDI boards reconfiguration.
When used in the 4 IN – 4 OUT mode, the configuration is as follows:
Board: "X"
Channel numbers (inputs): 0, 1, 2, 3
Channel numbers (outputs): 4, 5, 6, 7

When used in the 6 IN – 2 OUT mode, the configuration is as follows:
Board: "X"
Channel numbers (inputs): 0, 1, 2, 3, 4, 5
Channel numbers (outputs): 6, 7
For DELTA-3G-elp-d 8c card:
When used in the 4 IN – 4 OUT mode (BIDIR_44), the configuration is as follows:
Board: "X"
Channel numbers (inputs): 0, 1, 2, 3
Channel numbers (outputs): 0, 1, 2, 3

When used in the 6 IN – 2 OUT mode (BIDIR_62), the configuration is as follows:
Board: "X"
Channel numbers (inputs): 0, 1, 2, 3, 4, 5
Channel numbers (outputs): 0, 1