Next Level Remote Production
Reading time ~14 minutes
This post is a slightly amended version of the presentation that Michael Zolotuskiy gave during Cinegy's Technical Conference 2021 which was live-streamed on March 25th and is now available to view as a recording.
In this article we are going to talk about remote production.
WHY do we want to go remote, WHY we do we actually need the remote production at all?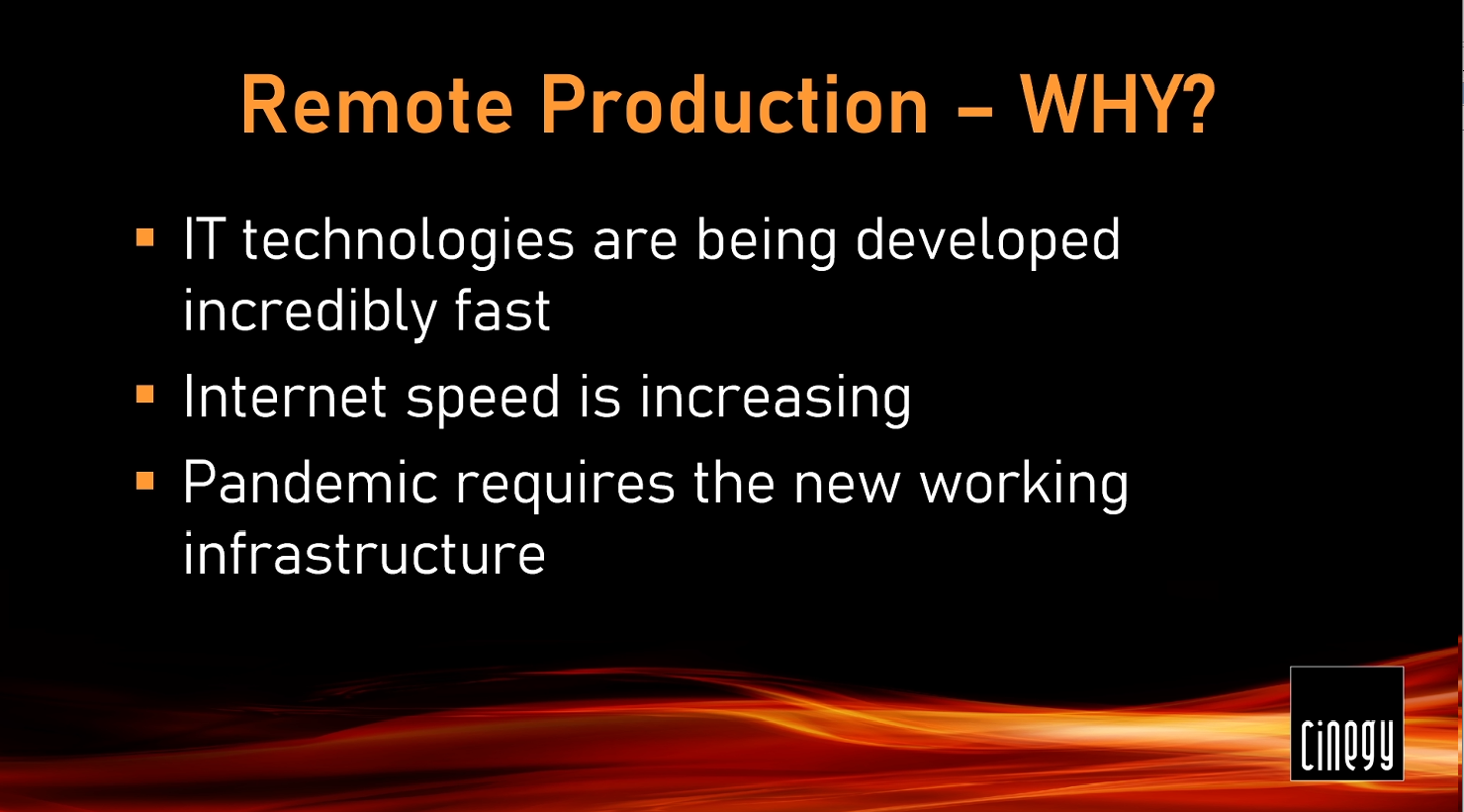 The IT technologies are being developed incredibly fast during the last few years and the Internet speed is increasing also very fast. All this is motivating us to start using the advantages of the technologies and to be able to work from the remote facilities with the same high efficiency. But of course, the Corona times also declared special demands for the remote solutions, and nowadays it's a very important to be able to build the remote production workflow. It's a kind of answer to WHY?
The next question is – HOW we are going to do that? Which kind of technologies could we use to build the remote production, to build the remote workflow?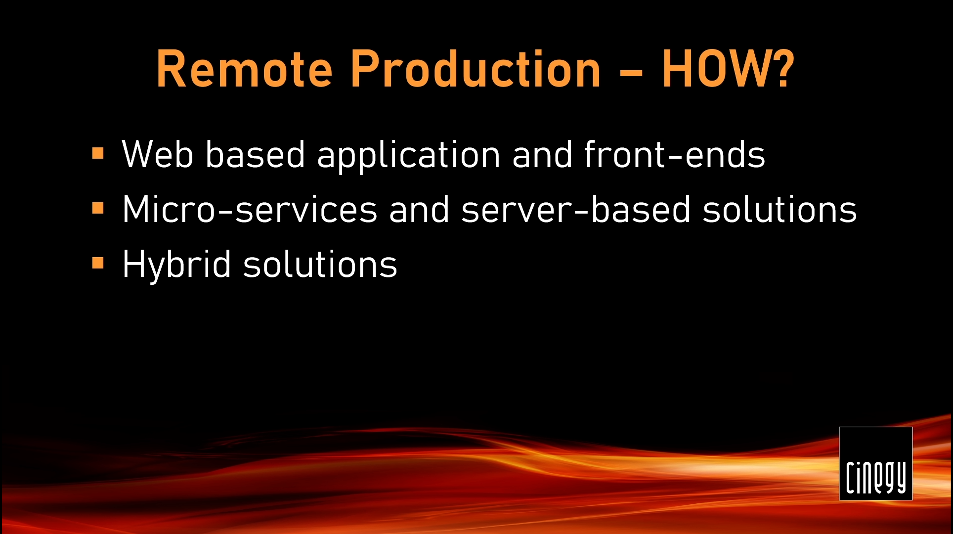 It is interesting that the first thing what the most of customers think of when saying "remote work" are old good web applications, which remain a favorite way to work from the remote working places. These are cross-platform solutions, which are easy to deploy and can be run on almost any OS and hardware, including mobile devices. However, there are some native limitations, which sometimes make the real video editing tricky. Therefore a part of web-based applications may be addressed in some other ways.
The next possible approach is the microservices and server-based solutions. It means, we can still be not purely web-based, but we can work with a server by talking to the microservices, installed around the server or the main facility. But we are able to work from the remote places by Internet connection, operating through these services and being able to make the most important operations and most important work, which also covers a lot of our daily needs.
The most interesting are so-called hybrid solutions. It might be a combination of all existing technologies, which gives the best and the most efficient solution for the remote work.
Cinegy tries to use the best combination of all these technologies and further on you will get acquainted with the first exciting prototype of the application, which uses hybrid solutions.
The article is divided into three parts: Today – what is available now, Tomorrow – what comes in the course of next days and Soon – what is currently being developed and coming soon.
Today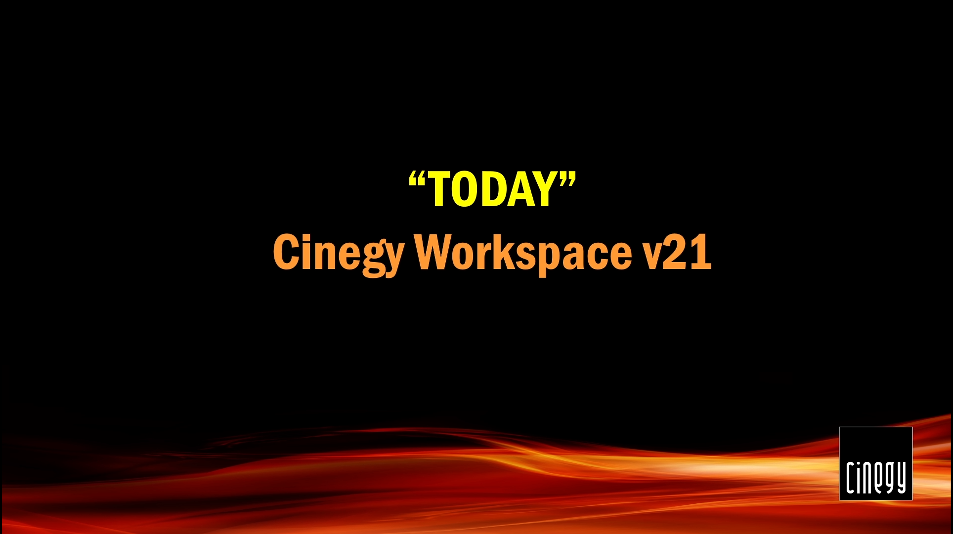 Cinegy Workspace has now a brand-new and completely reworked version. This is a web-based front-end for the remote access to your MAM, to your Cinegy Archive. Now it is a pure HTML5 web application, which doesn't require any installation and can be run directly in the browser. This version has been recently released and published on the Cinegy portal. It is completely ready to use and you can download and start using it.
New Generation of Cinegy Workspace
When Cinegy Workspace is started, in the login page you need to enter some credentials to login to Cinegy Archive remotely: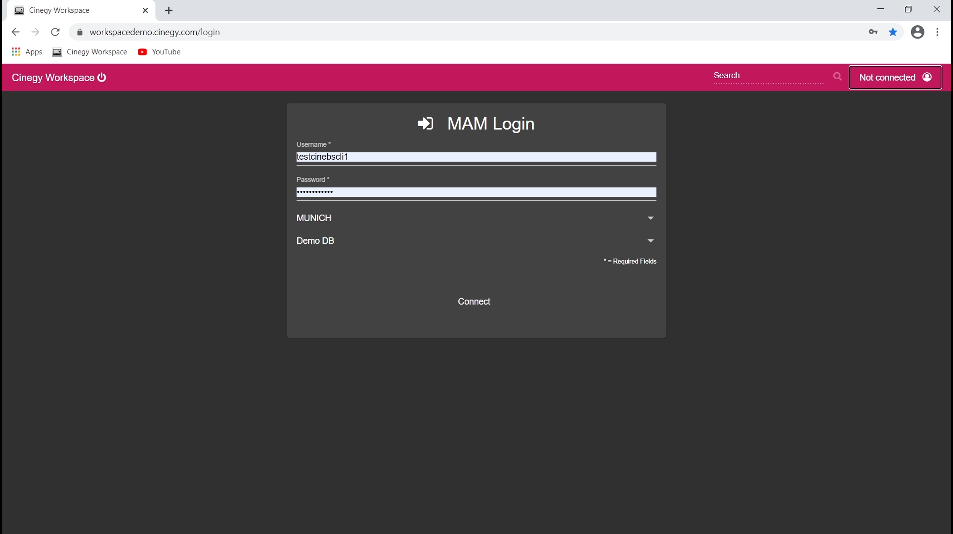 We connect to the production system installed in Bristol, in the UK, while we are working from the remote premises. We are able to access the whole Cinegy Archive from a long distance.
Cinegy Workspace has a new user-friendly interface. As already said, the application is HTML5-based, cross-platformed and can be run on any OS or any devices.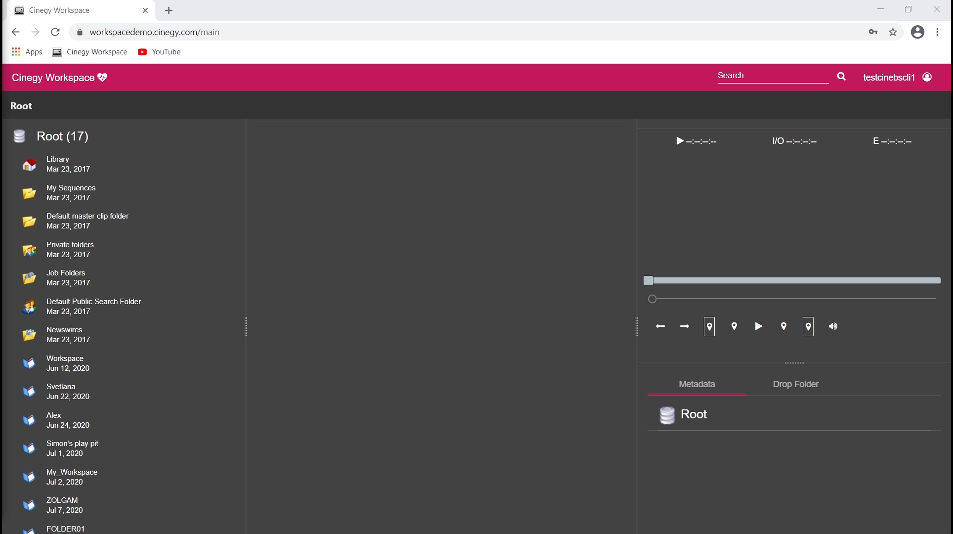 At the left hand panel you can see all media files in Cinegy Archive, the same way you could see them in the local Cinegy Desktop application. You can go through the folders looking for the clips, you can also see the roll panels here, displaying sub-clips, and you have access to all their metadata.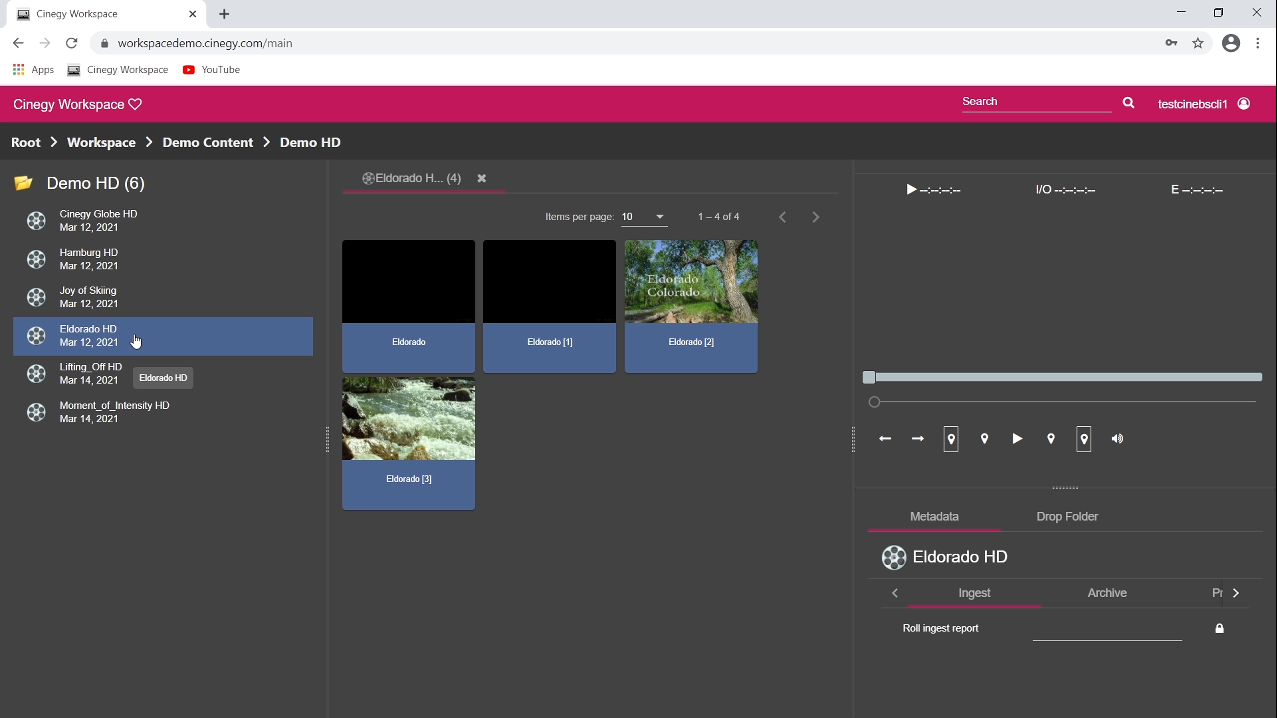 When selecting the clip, its metadata are displayed on the right side.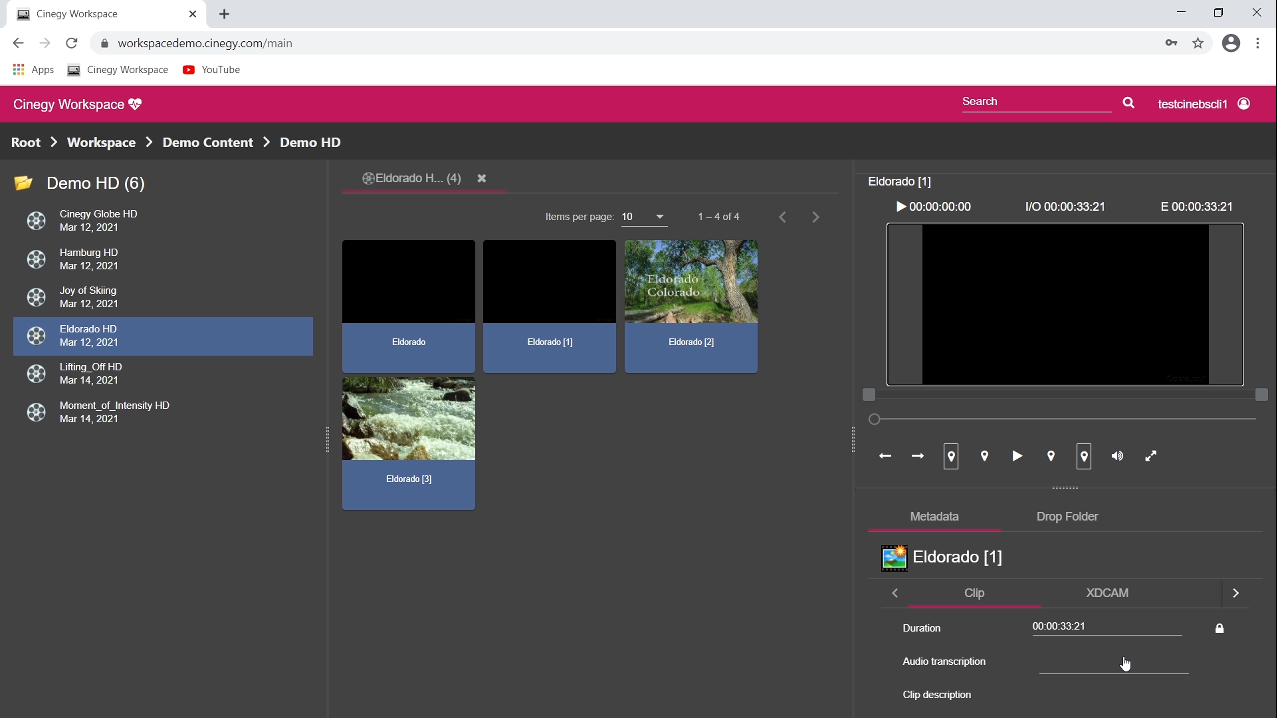 That tool gives the option not just for browsing, but also for the initial asset editing, so we can edit any description and save them back to Cinegy Archive here.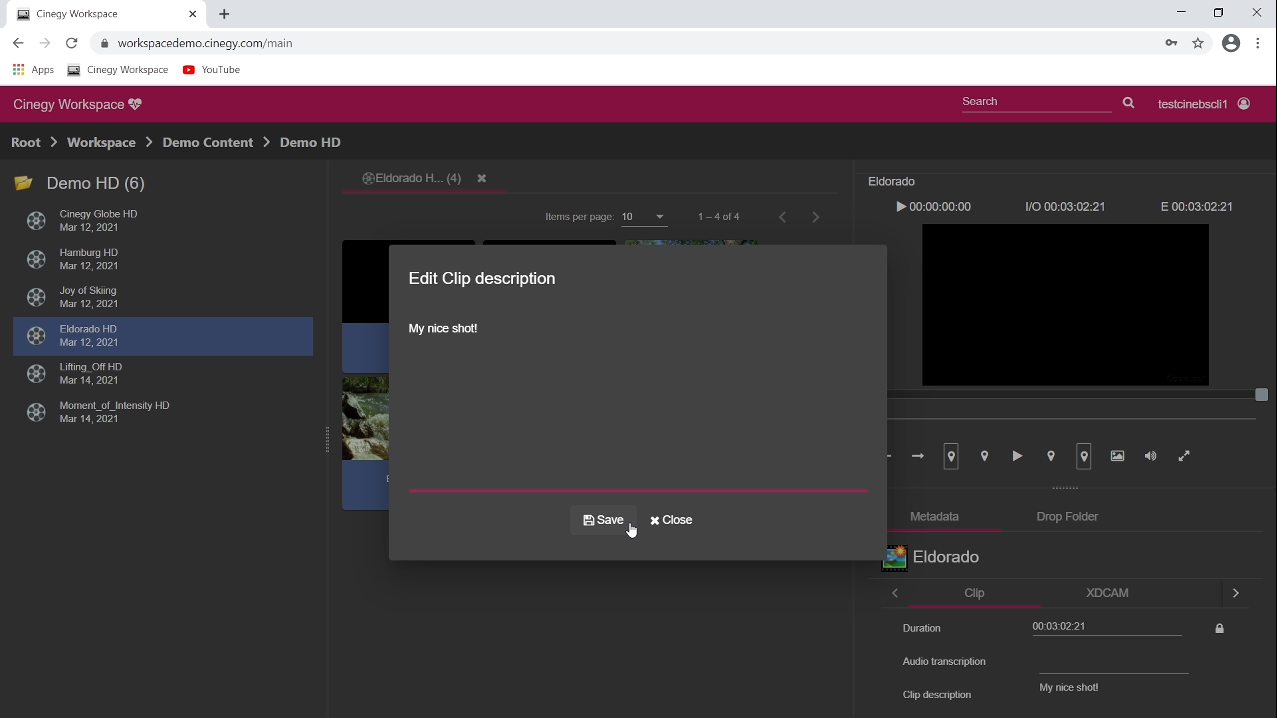 A really great advantage is that you not only can work with the clip metadata here, but you have the full access to your media as well. You can open the clip in the Clip Viewer and play it back in good quality.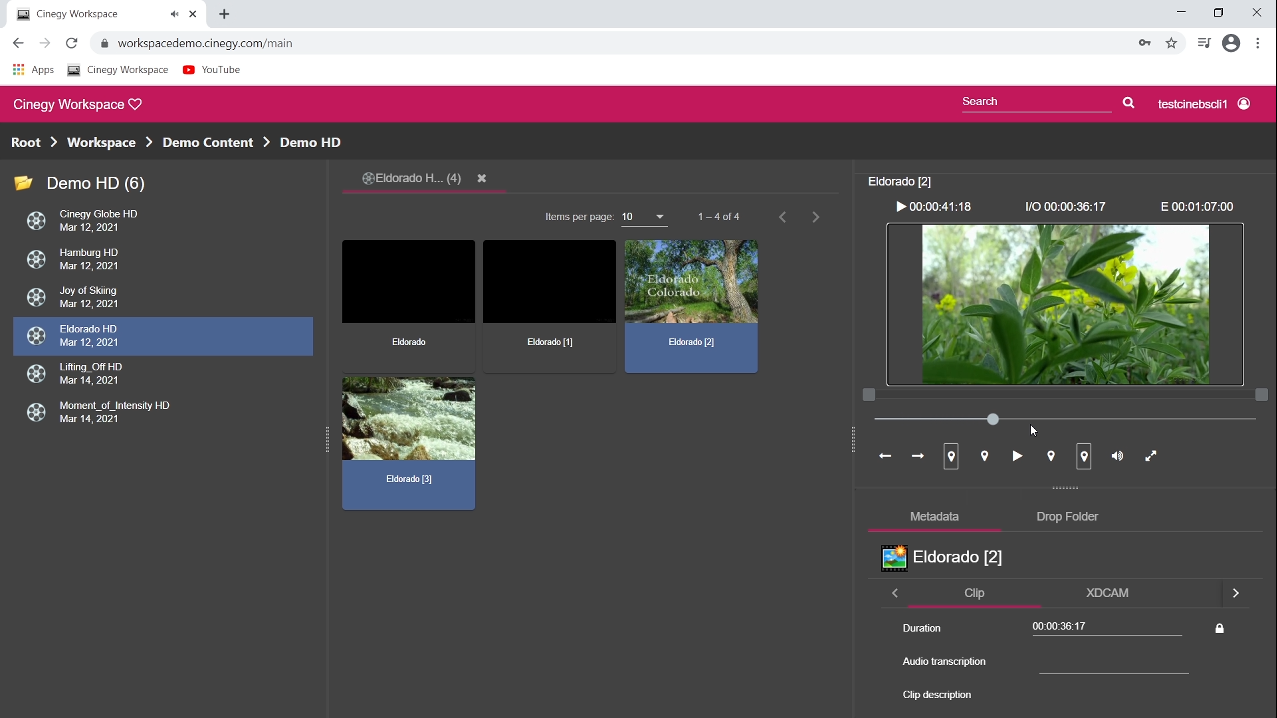 You can also find a nice scene directly in the clip, then you can put Mark In and Mark Out points for your scene in the Clip Viewer.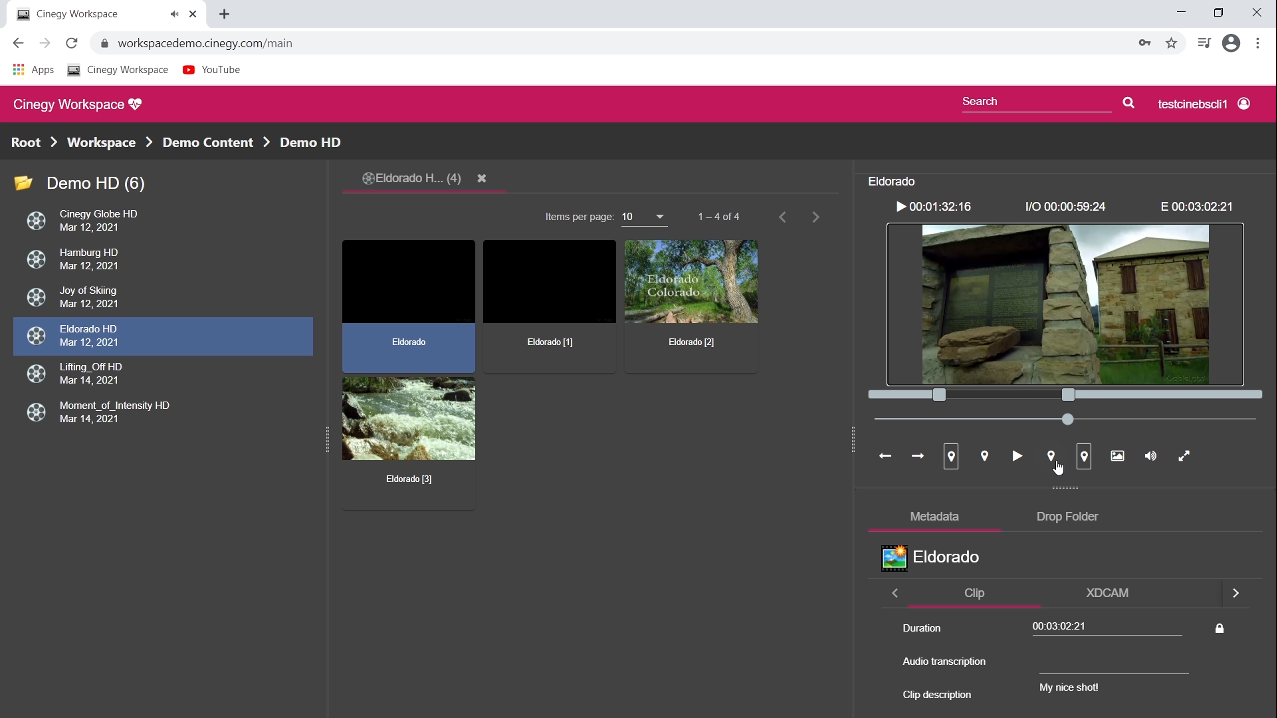 You can even create the sub-clip directly from here.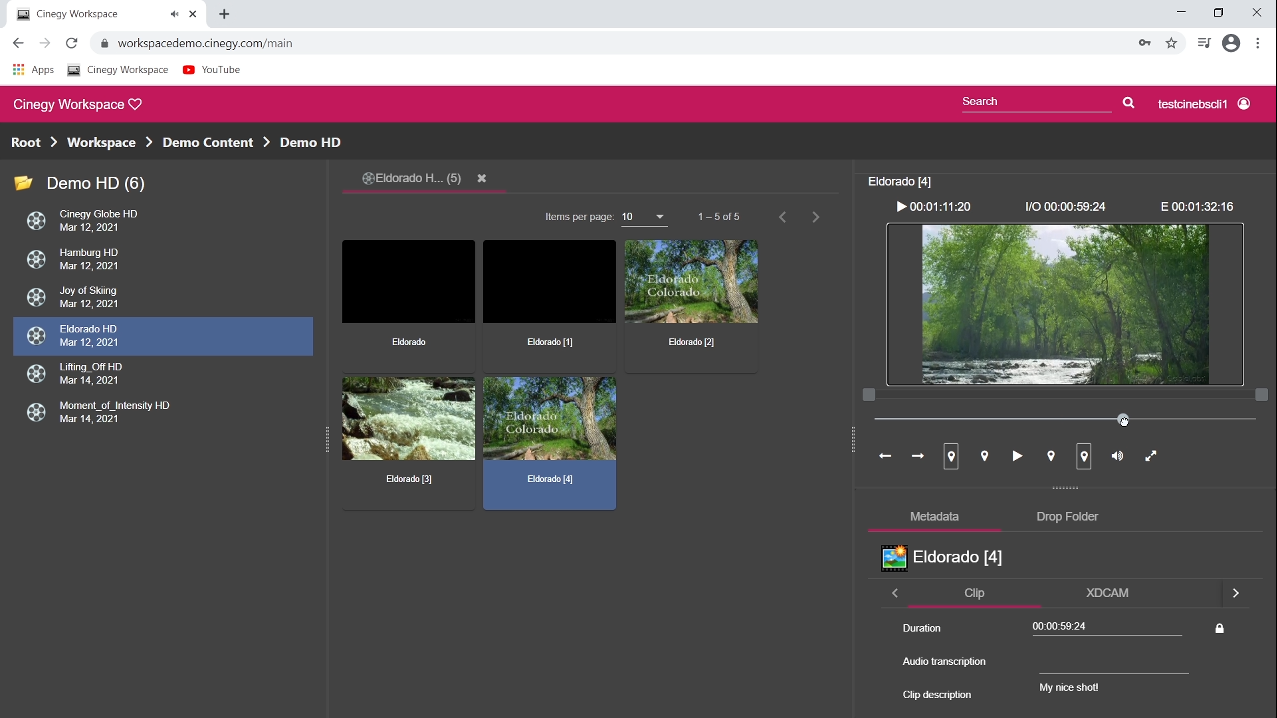 The sub-clip can be opened in the Clip Viewer to be played back, to check the quality, to check whether it's exactly what you wanted to get. You can also add some metadata here and save it back to Cinegy Archive.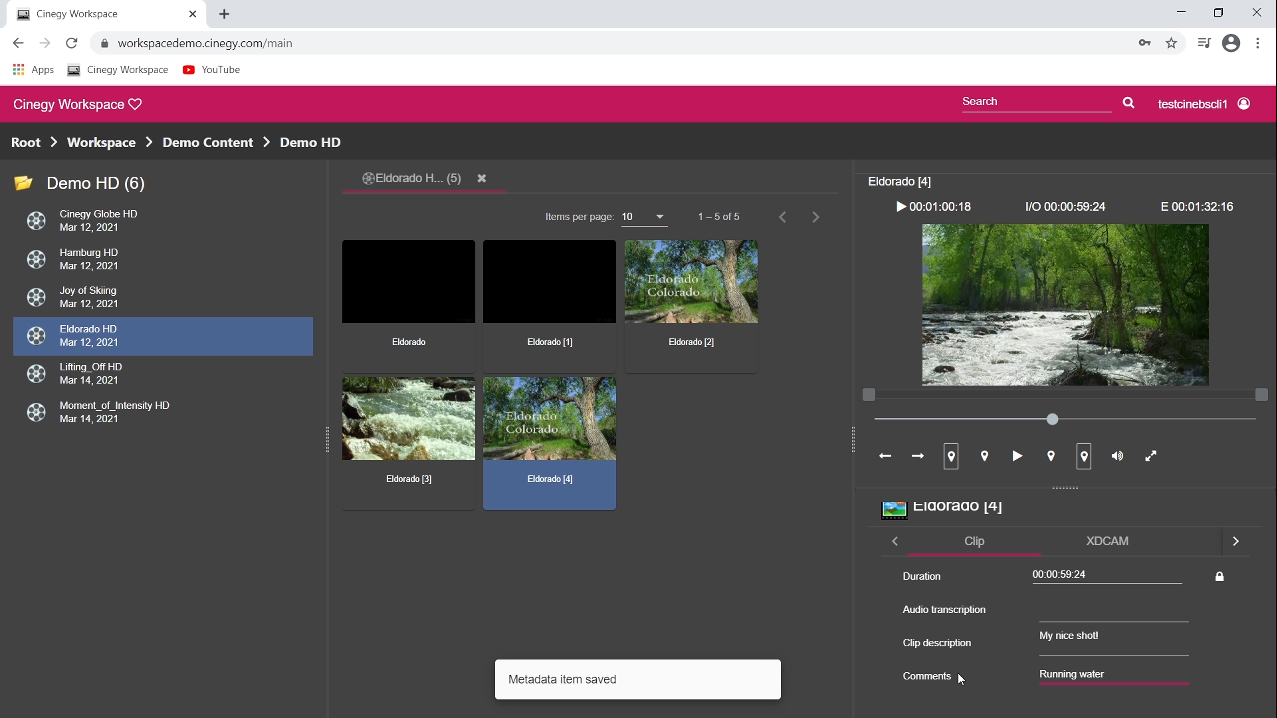 Social Networks Integration
Another exciting new feature of the new Cinegy Workspace is integration with Cinegy Convert and so-called Job Folders for the automatic server-based processing. A brand new function here is the ability to publish the clips in social networks. You can see how it works with YouTube publishing.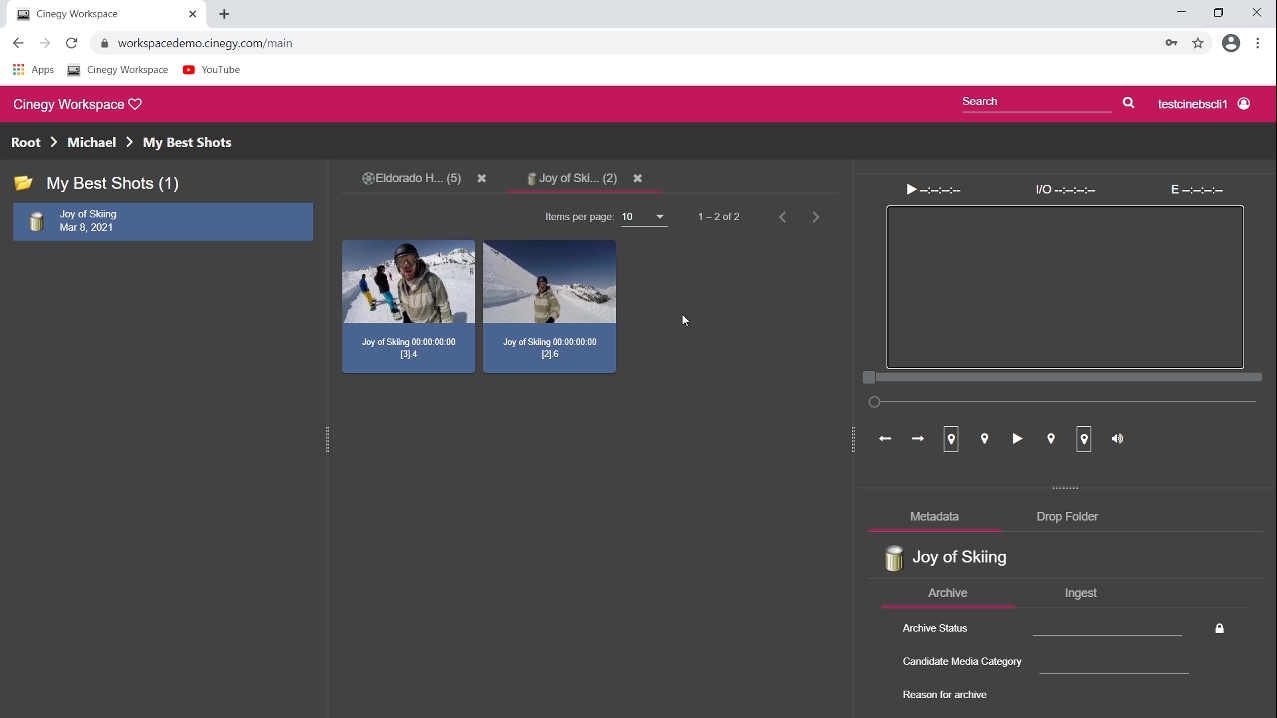 So, we have some edited clips which we'd like to publish to the YouTube channel. First, we select some nice shots in the private folder. Select the clip and find some part of this clip, which we want to publish. Then create the sub-clip directly here.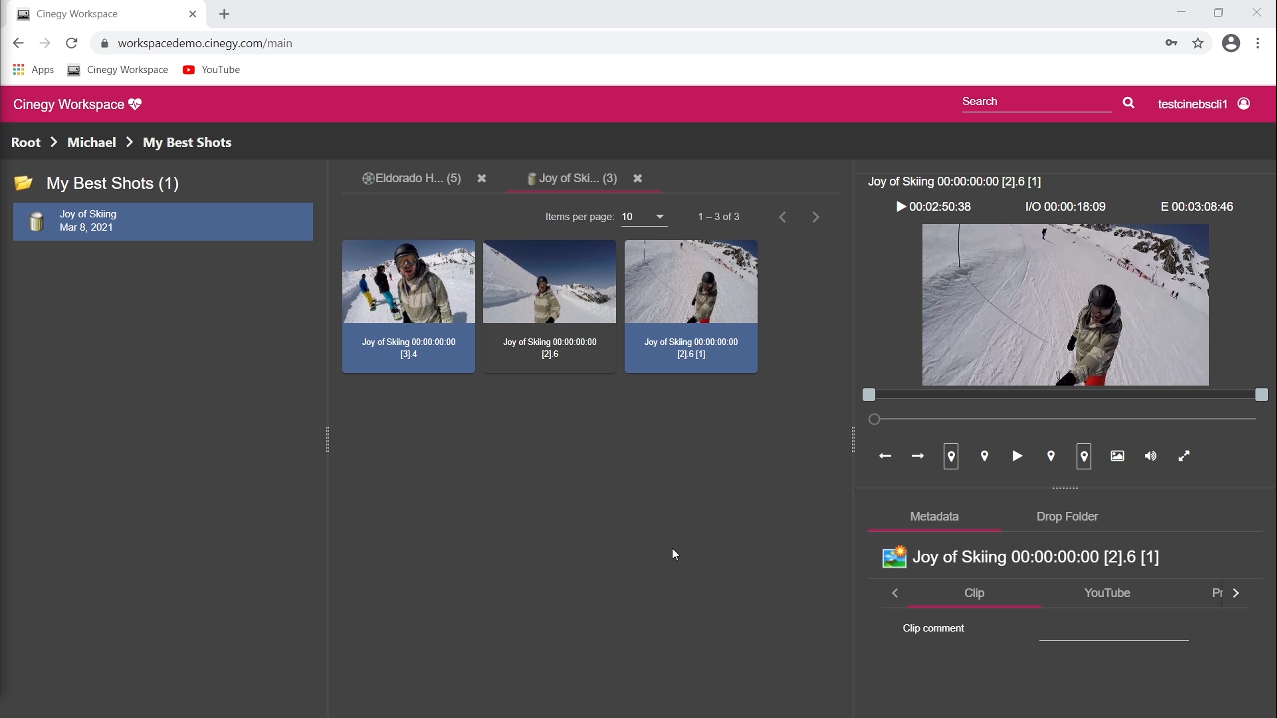 To publish it on YouTube we just need to select the "Send to job drop target" command, and we'll see the job submitting form.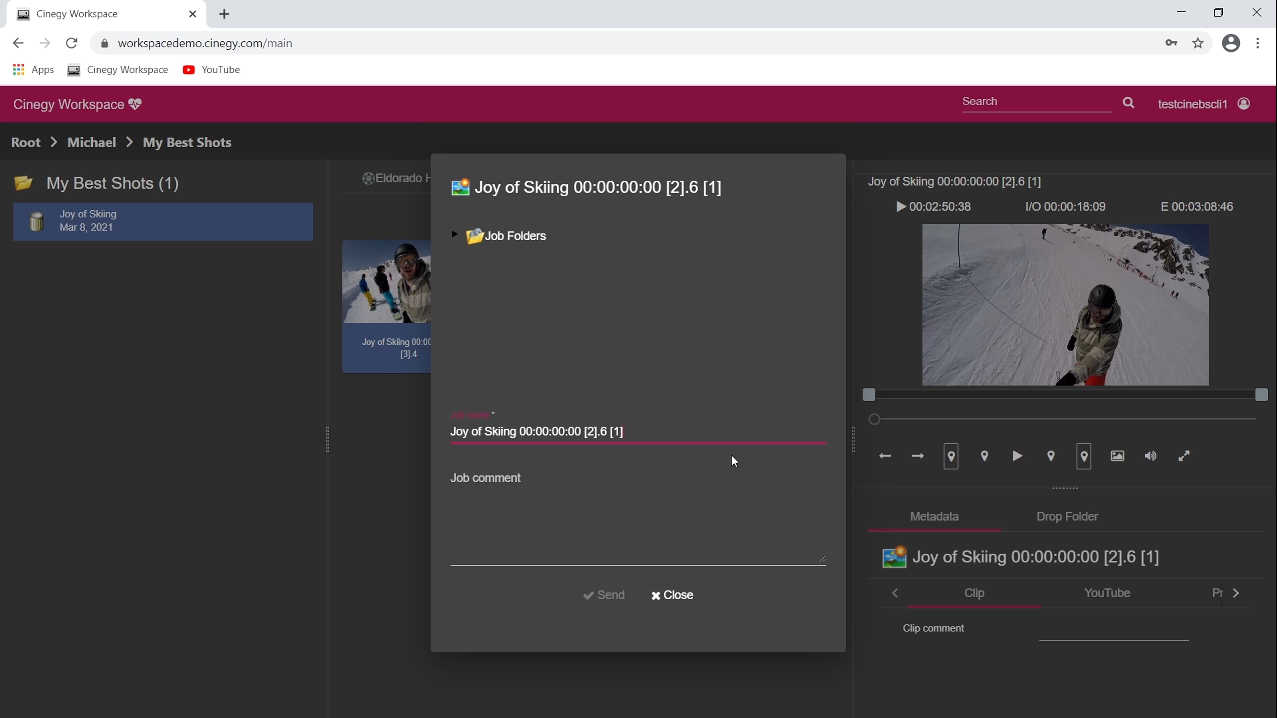 Then we choose a job for publishing to YouTube.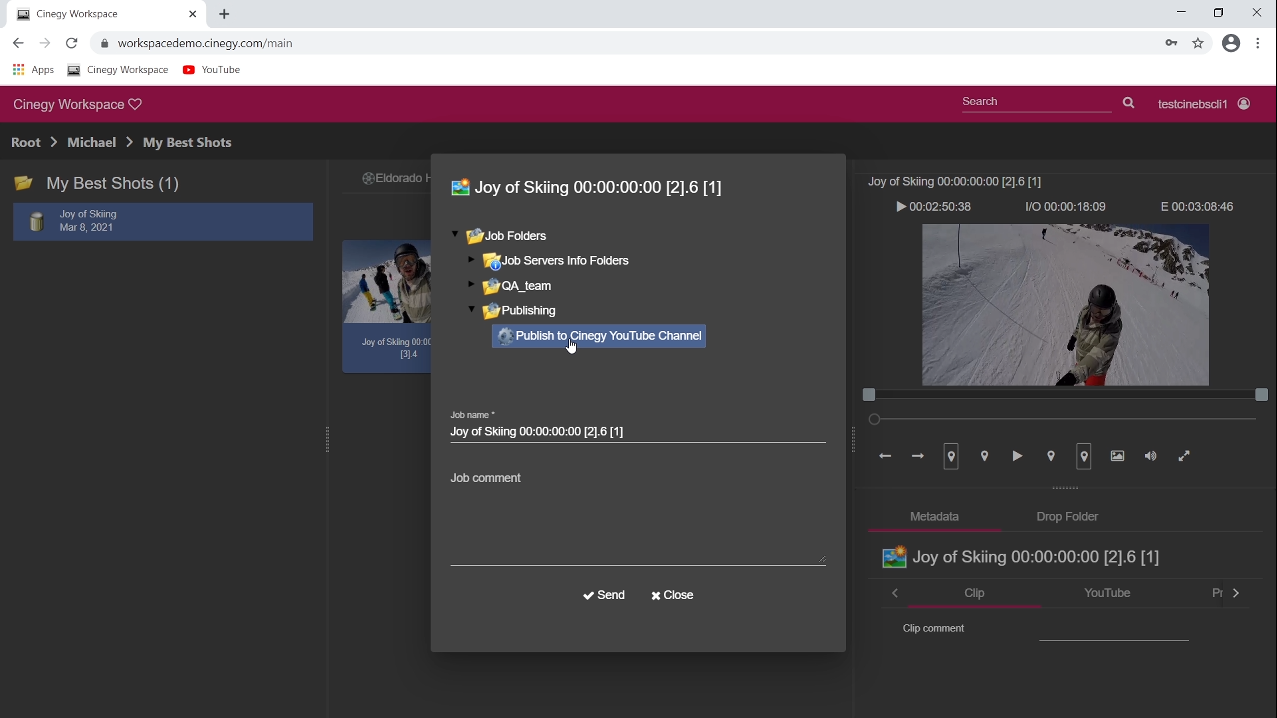 We can also add some additional data for this processing, like a job name, which will be the YouTube clip name, as well as some comments or additional data, which will be also going to YouTube. Later they will appear as YouTube comments, clip comments after we press the "Send" button.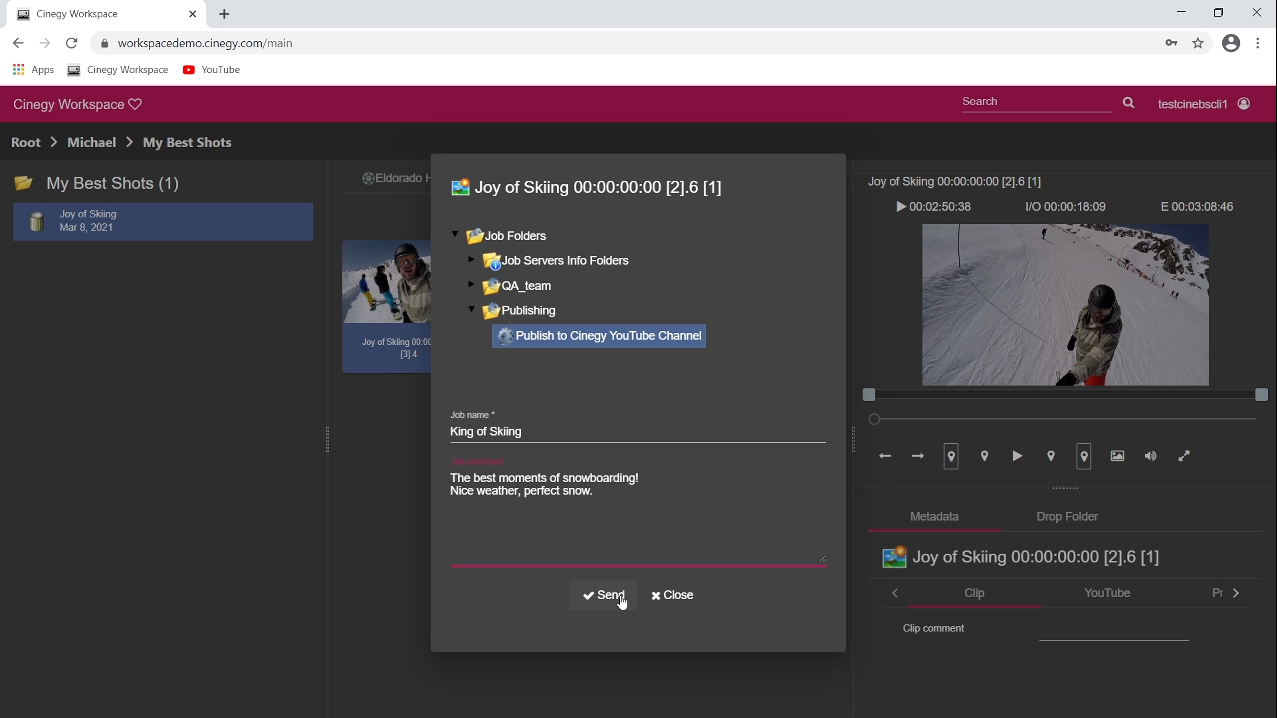 On the right side you can see the processing queue and our job being queued for processing.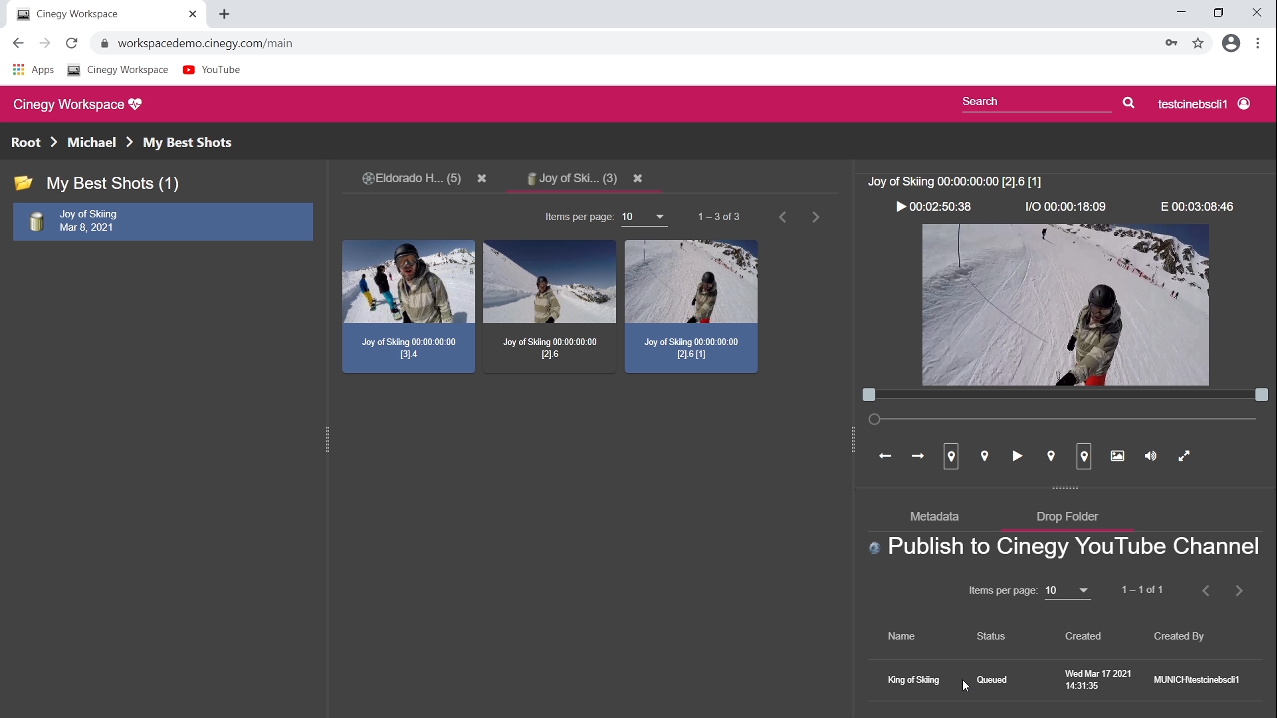 This process will be performed on the server side, so we don't need to do anything else and in the meantime we can continue our usual work, looking through the media files, going to other clips, doing anything we need. At any time we can check our publishing process status, just opening the corresponding job folder.
When the job is completed, our clip is in the YouTube channel. Let's open YouTube now and check if the clip is already there: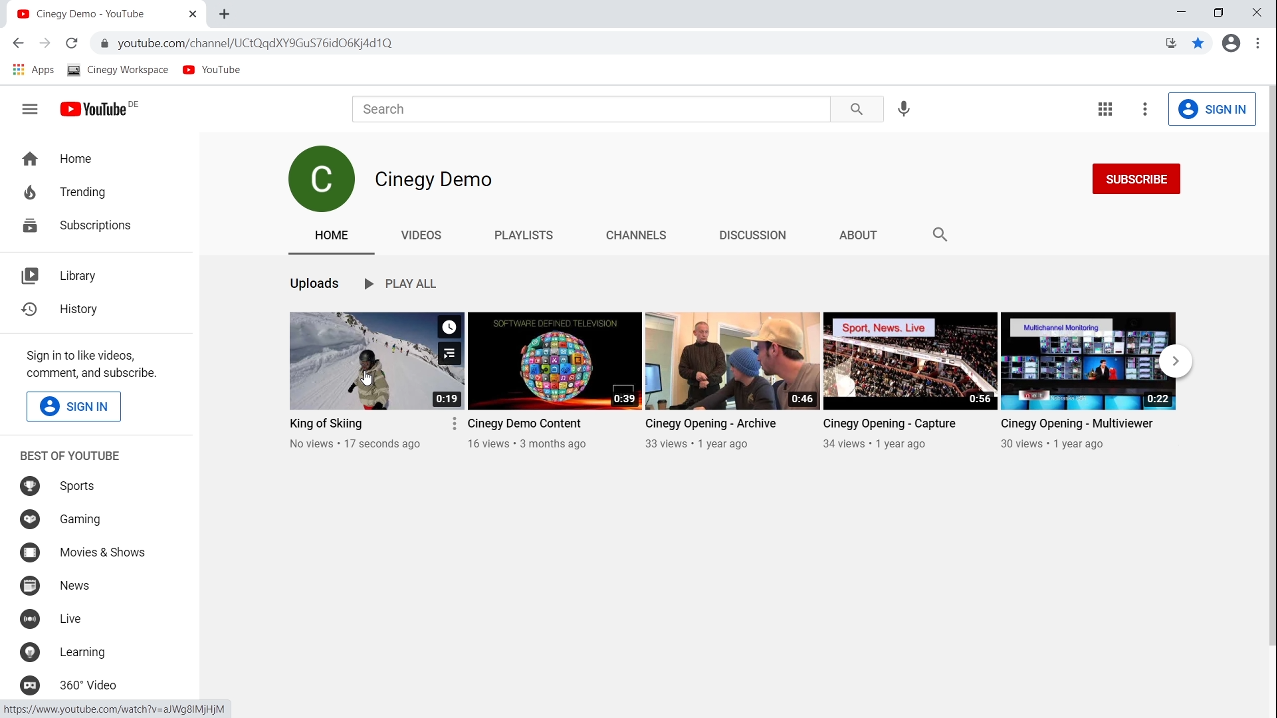 Yes, our clip is really there. We can open it and play it. The clip's name is "King of skiing", here it is, as well as our comments "The best moment of snowboarding". It's exactly what we have written as a clip comment, which we have in YouTube now.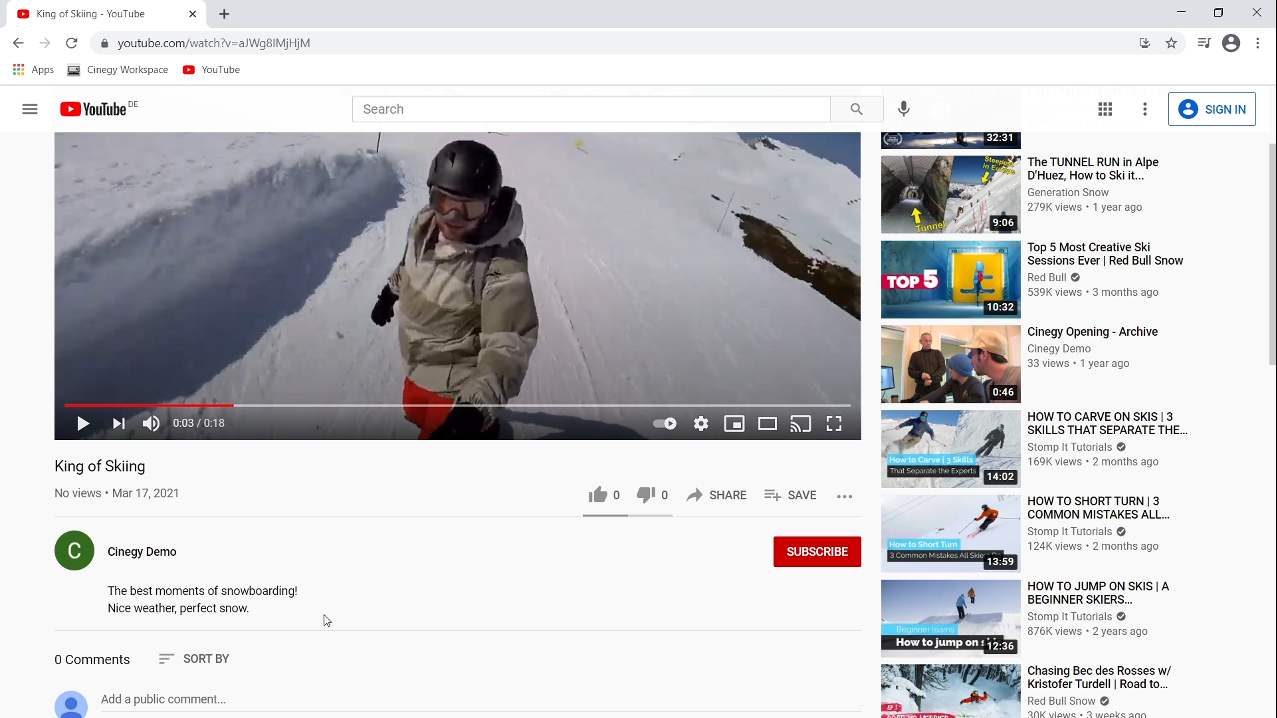 So it has worked perfectly, and all of this we have performed sitting a good distance from our server, our main facility. Everything was done directly in our web-based application. It was a good example, how easily you can perform the media editing, manage your metadata and even publish your clip to YouTube.
Note, that the same approach can be used for other Cinegy Convert functions as well. You can initiate any transcoding task or even export media from Cinegy Archive to another location and so on. All these can be done directly from your remote office by using the new version of Cinegy Workspace.
As already said, this version is released and available on the Cinegy portal. So you can start using it at once.
Tomorrow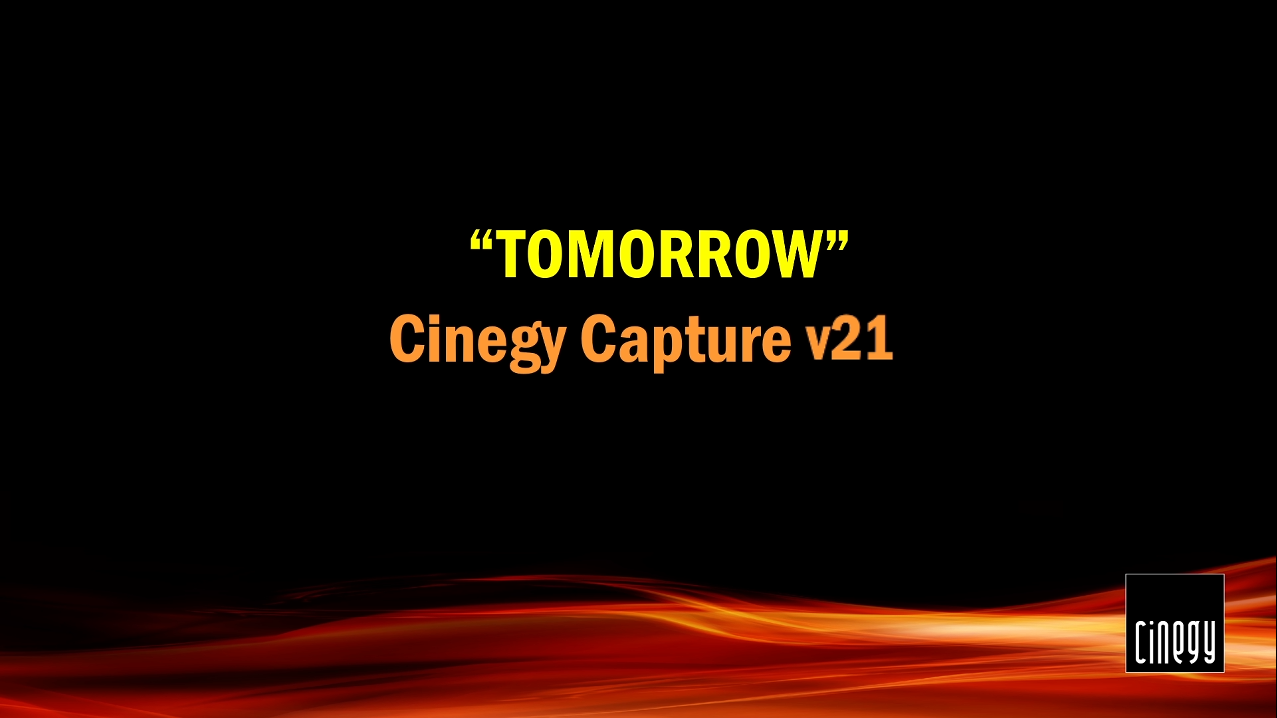 A new major version of Cinegy Capture is being prepared for release. It contains a bundle of new features, but with relation to the subject of the article, the most interesting is that now Cinegy Capture is completely cloud-ready.
Cinegy Capture is a server-client solution. It means that the server part of Capture engines can be installed on the server, while you can control them remotely from the client control application. Previously you had to install all parts in the same facility and connect them with Ethernet or VPN or somehow else. But now it natively supports the configuration, when the server part is installed in the studio datacenter or in the cloud, while you can control it from the remote office by pure Internet connection. It still remains a Windows application, but it can be removed from the server infrastructure.
Cinegy Capture Manager
We start Cinegy Capture Manager on the local machine here. You may remember, that Cinegy Capture Manager used to be installed on the same server with the Capture engines. Now it's not the case, and the difference is that it requests the server name to connect to.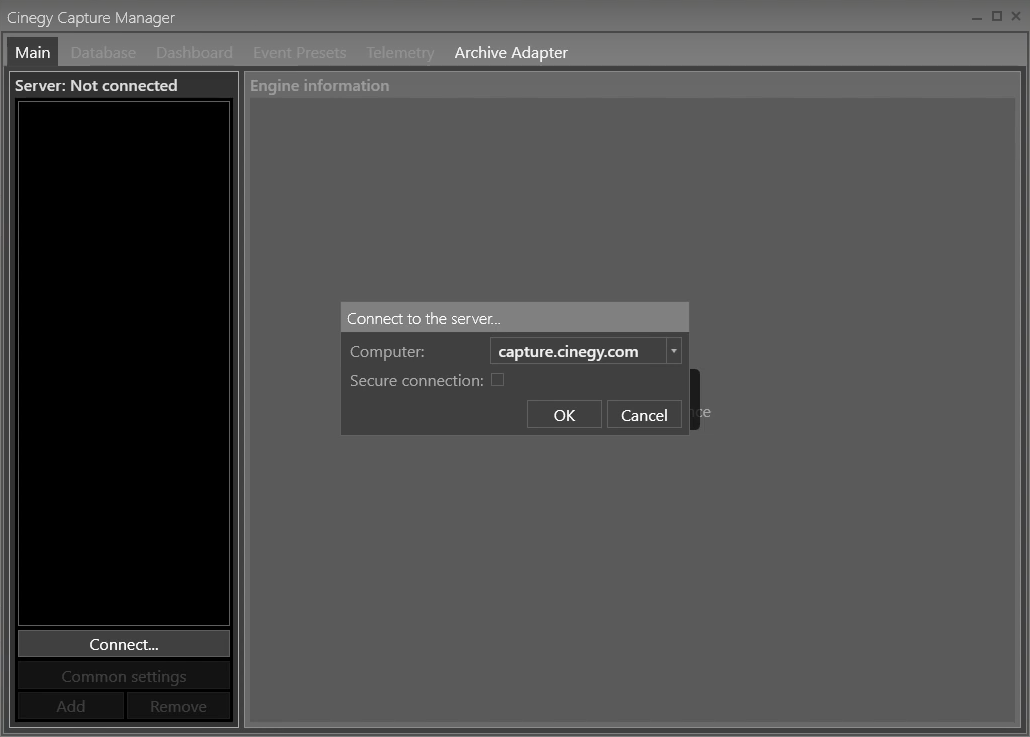 We connect to the studio in Bristol, in the distance of about 2000 kilometers.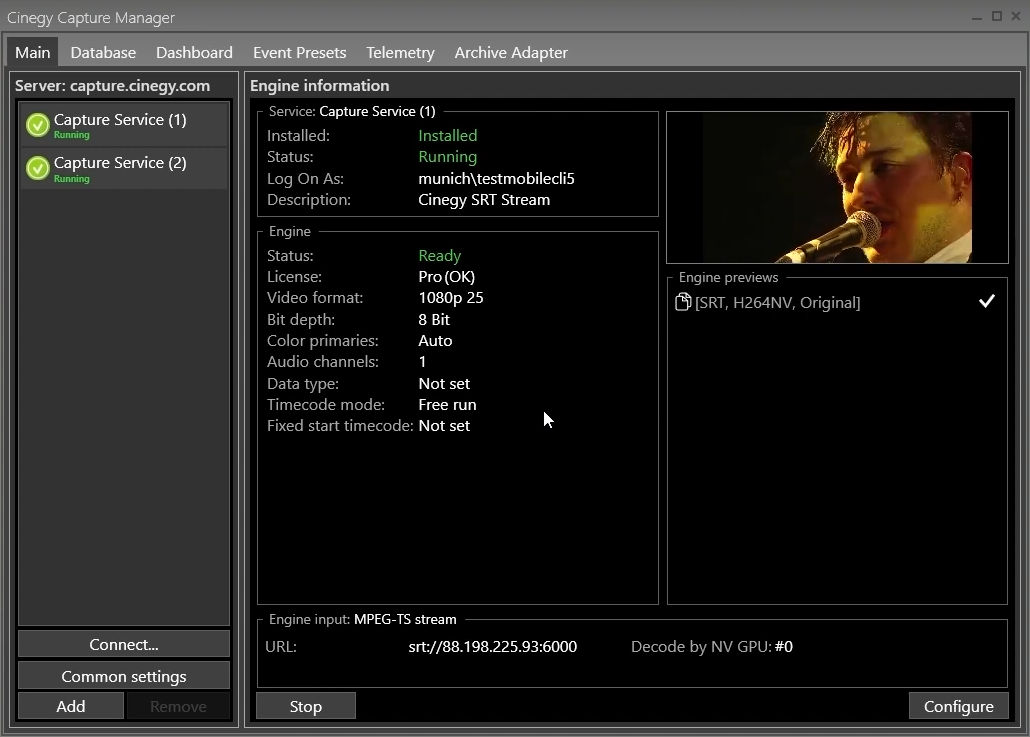 We can see all engines, that we can manage directly from our place, create start and configure remotely. We can check the configuration, start/stop the service, actually we have a full control now. We can also see the real-time preview feeds, coming back to our place via SRT stream. Here we can switch to the real-time preview and see the real-time streaming from the remote server back to our local machine.
Cinegy Capture Control
This was just a Cinegy Capture Manager, but it would be more interesting to run Cinegy Capture Control, to see how we can really control these engines at remote facilities far from our place.
We run Cinegy Capture Control now and add this server for control.
We can reach the both engines installed on the remote server in Bristol. Here we can see the preview, everything is exactly like it would be in the local infrastructure. We can see the dashboard with all important parameters from the server and, of course, we can start/stop recording directly from the local machine.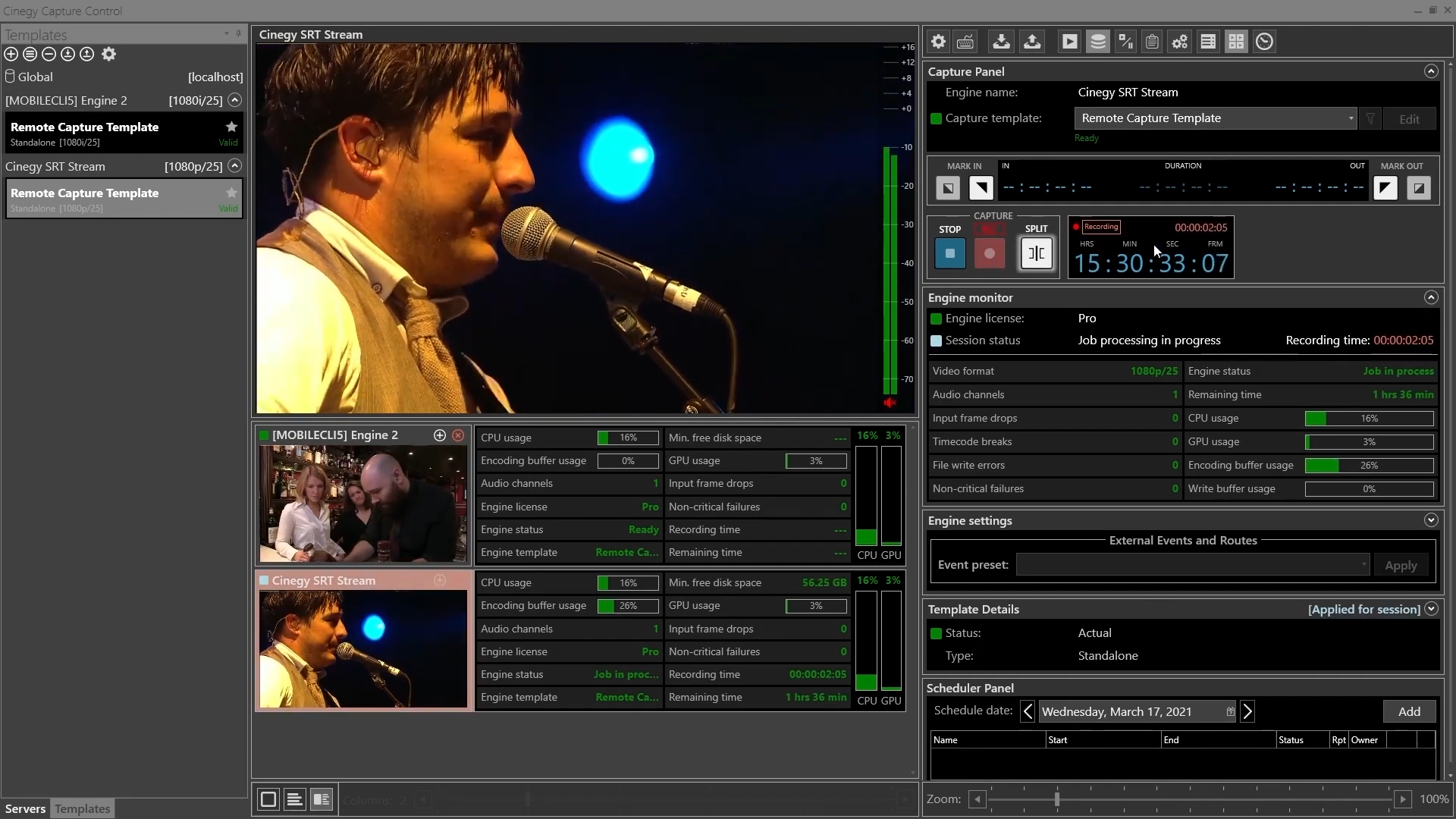 We need to select the engine, the template and press the "Record" button. The session is started, recording is running. We can also see all parameters as usual, and in the dashboard we can see how the session is actually going. We can stop the session at any time. So, we can do everything from our location, controlling Capture engines installed at the remote premises, a long distance from our place. All daily ingest operations can be now performed from the significant distance and by Internet connection.
Soon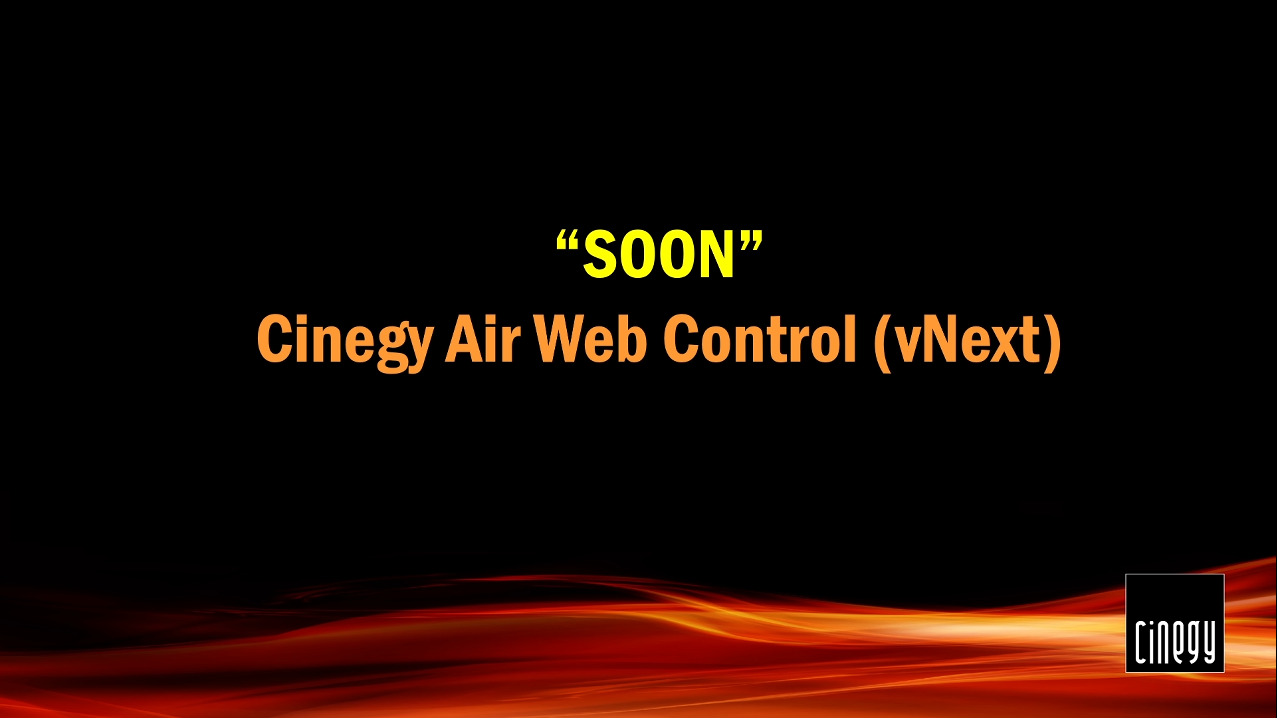 Cinegy Air
Cinegy Air is well-known already, but now it has the brand-new control panel. In this case it will be the web-based control panel, which would work remotely with the Air engine.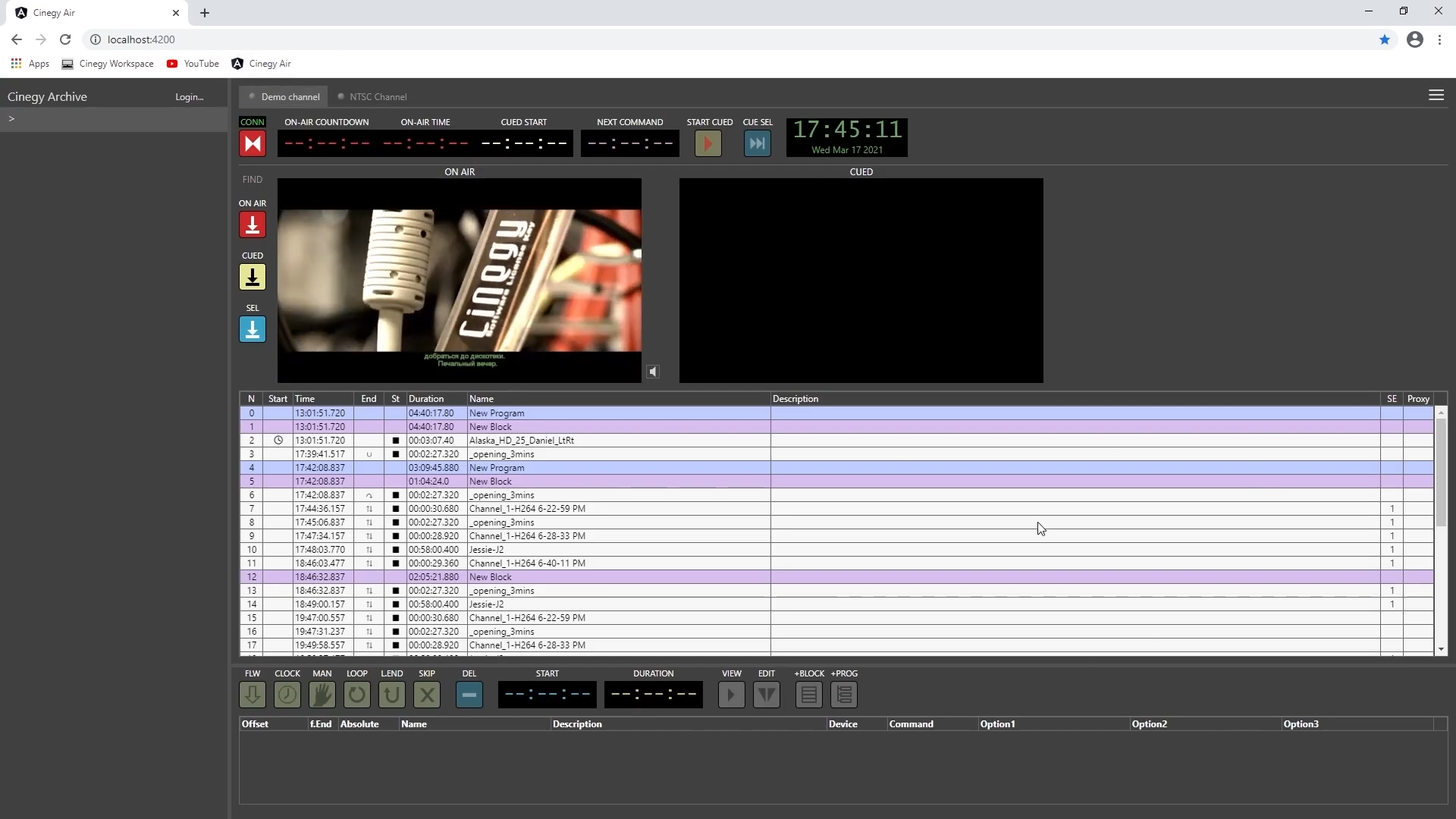 The Cinegy Air web application will be running directly in the Internet browser. You can use full-screen mode, so it will be more like the desktop application, but it's still running inside the Internet browser, and this is actually the web application, completely pure HTML5. You can connect to the engine and see very similar picture, as you normally see in the Cinegy Air client in the Windows control panel. You can even login to Cinegy Archive.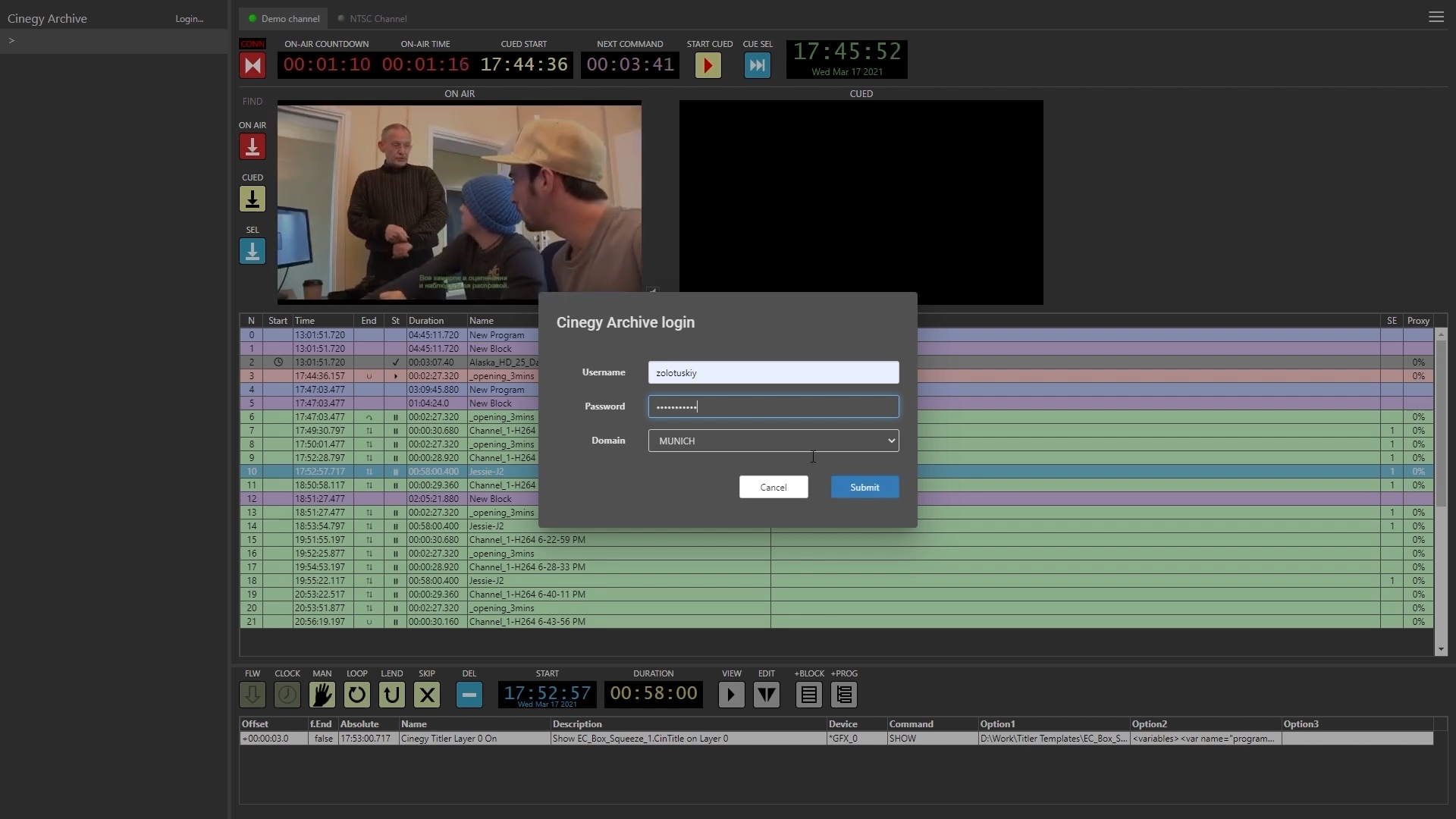 You will see the browser exactly the same, as normally you can see in a Cinegy Desktop application.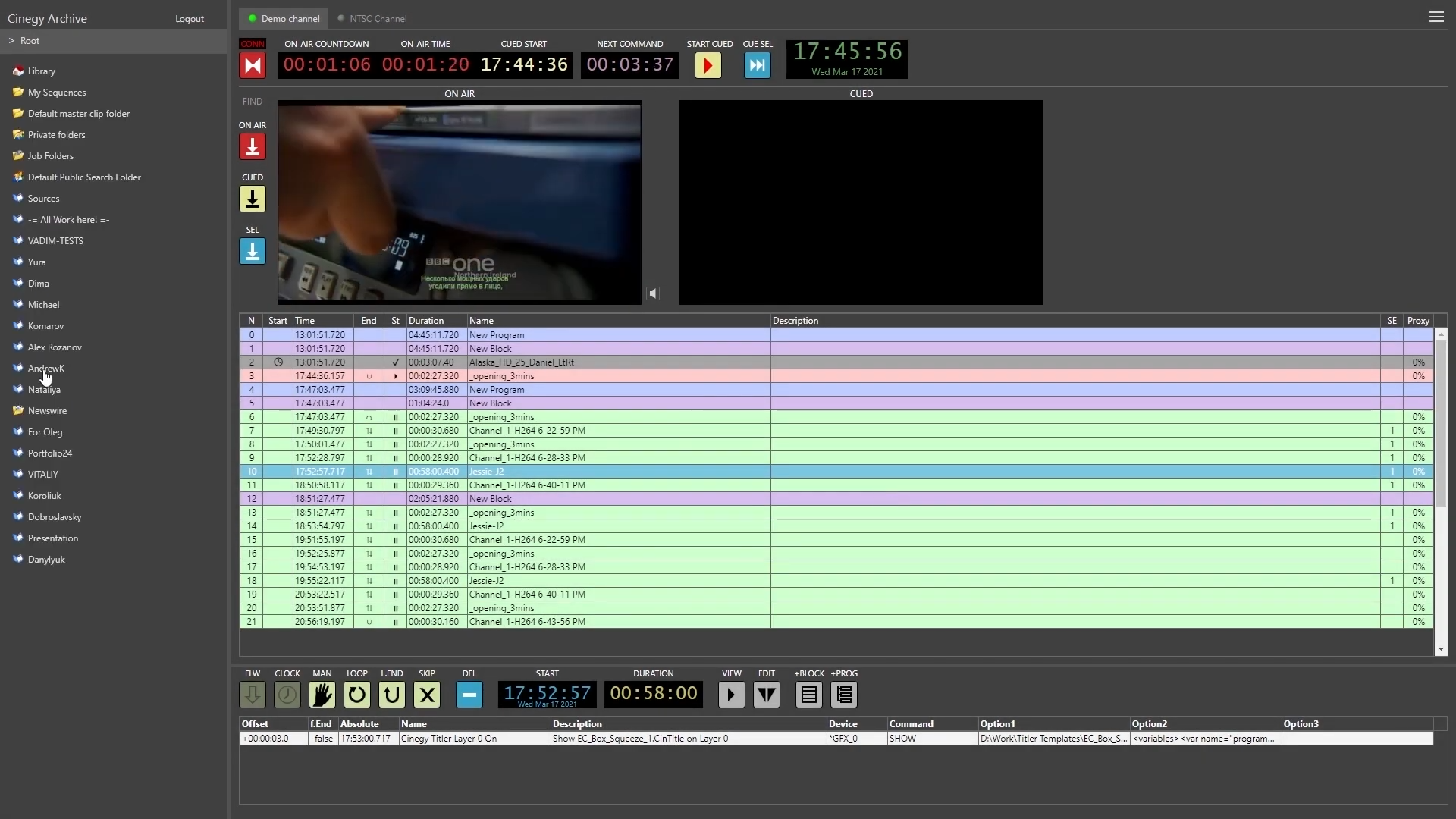 It means you can operate your Cinegy Playout, your active Playout engine, in the same way you are now doing this with the Cinegy Air control application in the local environment.
You have an access to the active playlist, you can preview the items, play them back and see what is planned.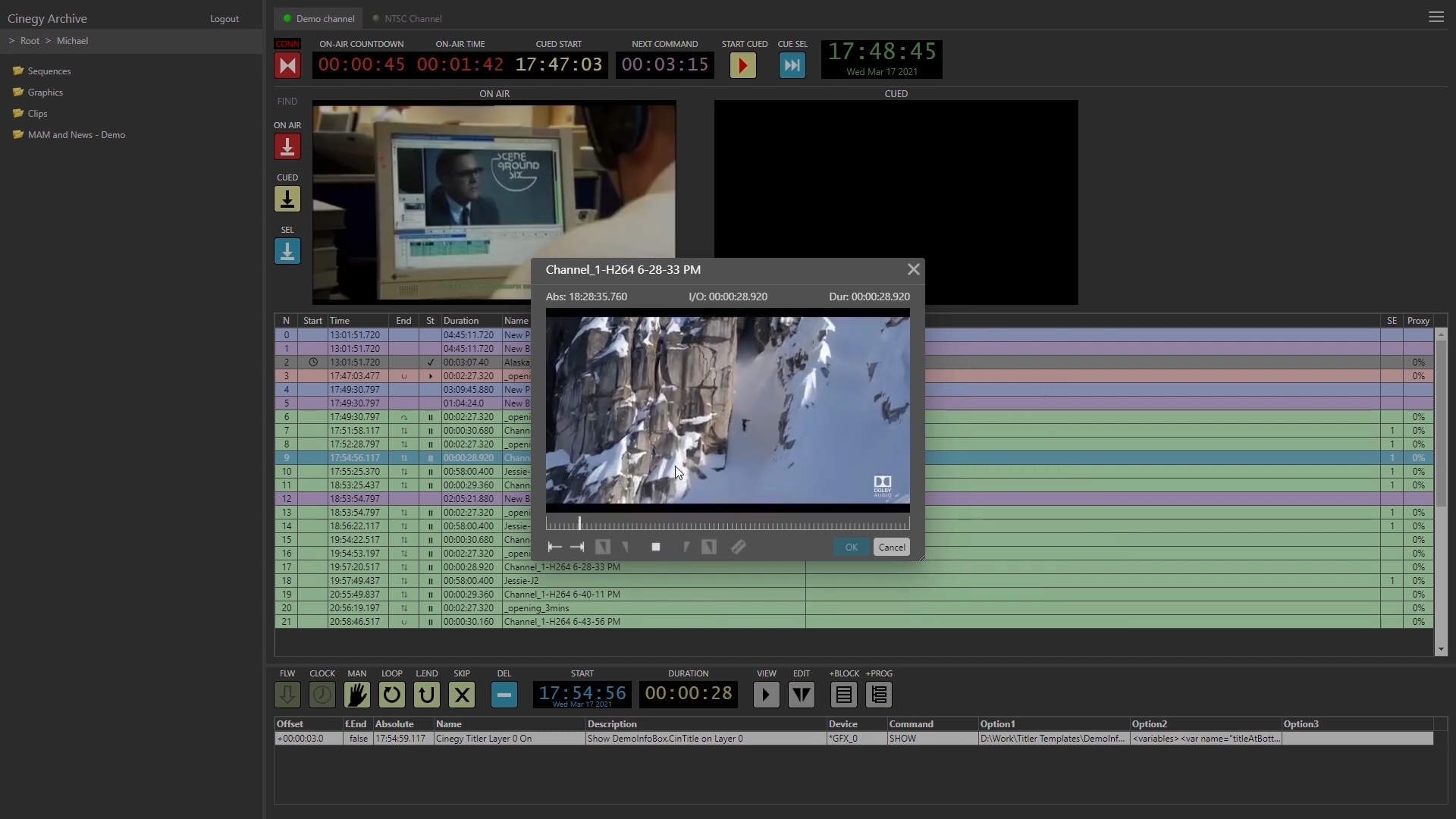 You can also select items for playout, queue them as you usually do in the Cinegy Air control application, and you can even start a queued item directly from here. You can start the next playout item with graphics, with everything, and it's going on-air. You are operating directly from remote location, so it's not like you do this locally. It now works over the Internet, so everything that you can see here is completely Internet-connected.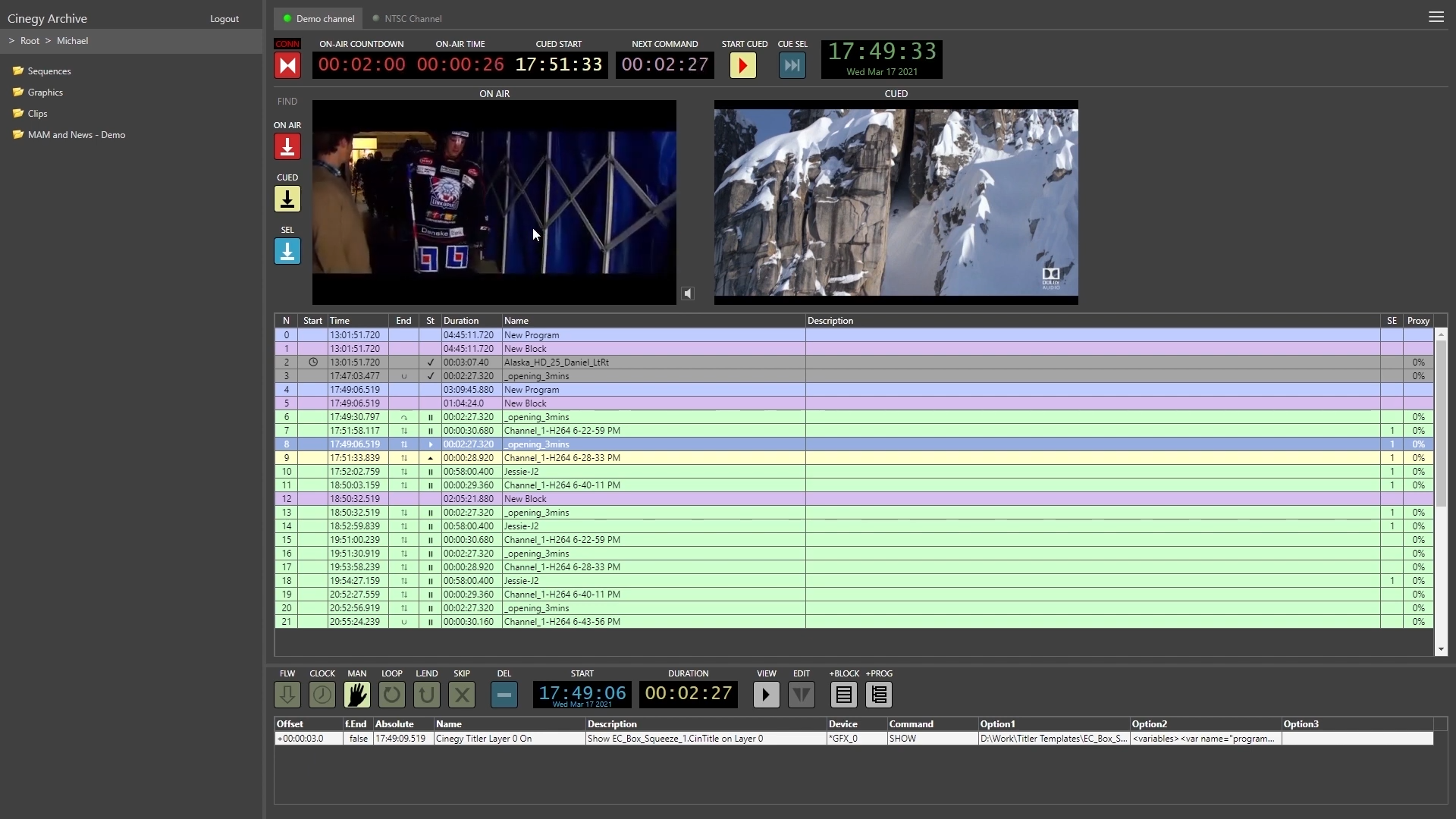 You can also browse for the clips in Cinegy Archive and you have the Archive Browser here, just like in the Cinegy Air control application in Windows, you can take the clips from browser and insert them into the playlist via drag-and-drop. Actually, the most common operations are available in the brand-new Cinegy Air web application.
It's still in development, so it's not available right now and won't be available in the next few weeks, but we definitely plan on releasing it this year.
Hybrid Solution
We have reached the final part, where you'll see how to use the new application we are working on.
This is a so-called hybrid solution. It uses all described technologies, it's a cross-platform and it's exactly our know-how for analysis of the hybrid technologies. It gives us a very good chance to build applications you can easily deploy on your Windows and your Mac OS machine.
It looks very similar to the existing Cinegy Desktop application. It has actually a very similar components, like the Explorer on the left hand as well as the Clip Viewer and even Timeline, so it's really like a Cinegy Desktop application, but it's not the real Cinegy Desktop application.
To start working with Cinegy Archive, you have to log-in first.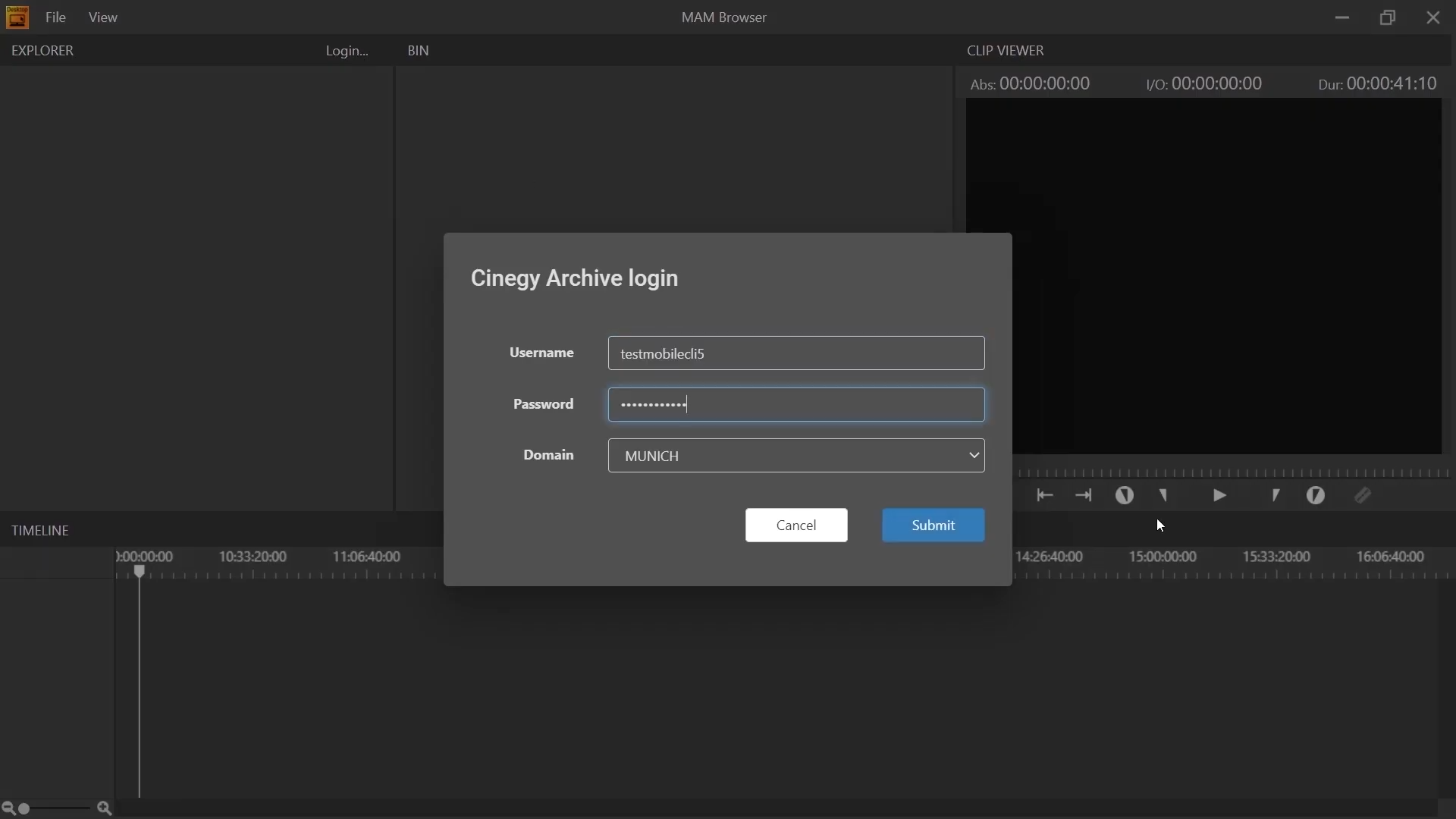 Now we are connected to the already familiar Cinegy Archive, to the MAM system in Bristol. Note that we are connected to the remote facility, but we are working from local Cinegy Desktop machine. It's the same system and you can see all the same media assets we have already seen previously.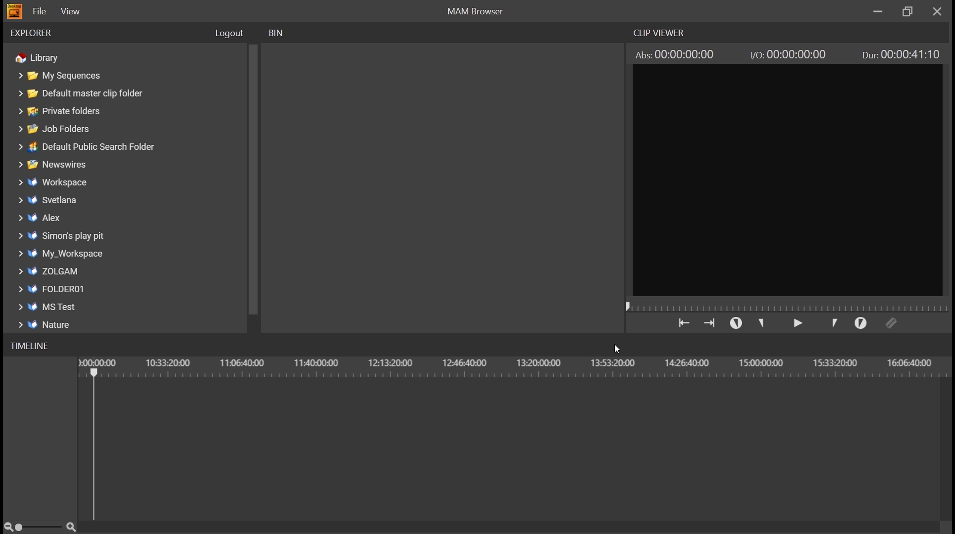 This is very similar to a web application, so it's very easy to deploy. It doesn't actually require any installation process. It works over the Internet, it doesn't require any domain controller or VPN connection. It can be a really pure Internet connection to the remote facility, to the remote server. You could actually install it on your home PC, your personal PC, and you don't need to have a VPN or any LAN connection or whatever. It will just work on that PC. You don't need anything special, and even more – you can run it both on your Windows PC and on your Mac PC. Cinegy is making a Mac application for the first time.
Now let's see what else we can actually do with this application.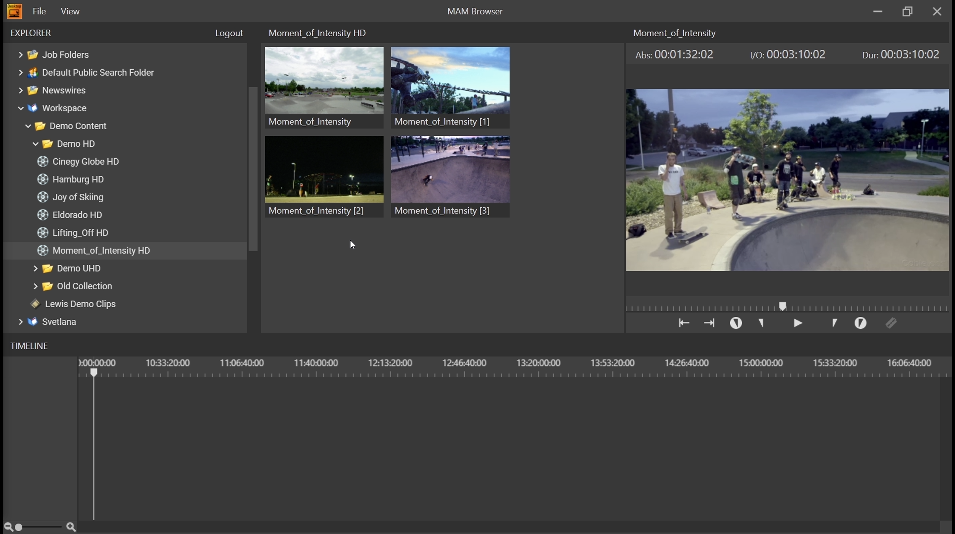 Right now, we can go through our objects or our tree. We can open the same folders, everything is very similar to the Cinegy Desktop application. We can open our clips in the Clip Viewer, so that we can see them in a normal preview like we do in the Cinegy Desktop application. We can play it back and go through the clip, just the usual routine work. And when we've loaded that up in there, it is obviously going to work on outside of the network and cross-platform.
All the video streaming is coming from the server. Server-oriented, server-based rendering stuff is streaming through the Internet and proxied locally on the local machine, therefore providing us with a very efficient way to playback our clips.
All of the hi-res content can stay safely locked up inside of broadcaster's site, and the server can see the domain and can see the network shares, but effectively that produces a version, that's ready to stream out and be used by client front-ends installed on the PC at home.
It gives us the efficiency in using our Internet connection. In fact, it still looks like a professional Cinegy application. It's got Mark In and Mark Out, timecodes and other stuff and there's also "Timeline" at the bottom.
Let us navigate to a private folder to see how to work with Sequences, not only with clips. Let's open a Sequence.
As we can see, it's not just a simple clip, it really has some effects inside, some graphics. We can play it back, all from remote facility is back to our machine, and we can play it back in real-time.
The Timeline representation is composed of two video tracks and effects, and we can scroll around. It also has one of our picture-in-picture effects there, which helps at sliding backward and forward, as if this was actually rendered locally, but it was rendered on a server side and shipped down. It looks like a usual Cinegy Desktop operation.
The backend processor takes care of all the heavy lifting and all of the compositing effectively. You don't need to have an access. You don't need to install very powerful graphics card or whatever, because everything is being performed on server side. You just get the final stream with everything what you use for your production, and you can see already the result without the other very special powerful hardware, or the direct access to the media files.
Thanks to Electron technologies we had the ability to wrap the application into the cross-platform, easy-to-deploy and easy-to-run application. It uses HTML5 inside the rendering part, and we can still run full C++ apps, like the Cinegy Cinecoder libraries. At the same time, it can all be run on the machine, so it looks like a real hybrid, mixed of the best parts of Cinegy technologies. You can choose what works best for you.