What's New in Cinegy Convert 12
Reading time ~5 minutes
Cinegy is happy to present the next major release of Cinegy Convert family - Cinegy Convert v12. It inherits key technology of Cinegy Convert v11, while proposing a bundle of new useful features and more important fixes and improvements.
What's New in Cinegy Convert v12
The advantages of new features and functions can be appreciated in the following areas of Cinegy Convert v12:
Other important changes and improvements:
8K Formats Support
Systems supporting 4K and even 8K are today a requirement in many operations. Looking into the future of broadcast business, Cinegy Convert v12 suggests 8K formats support, like in other Cinegy products, such as Cinegy Air and Cinegy Capture.
The technical challenges of adding 8K to a product or peculiarities of playing back such content are described in details in the 8K Support section of the Cinegy Air v14 post published earlier this year.
Product Applications Icons and Names Update
Visual identification and clarity of Cinegy Convert components is another highlight enabling impressive performance, that is why we added a set of new icons: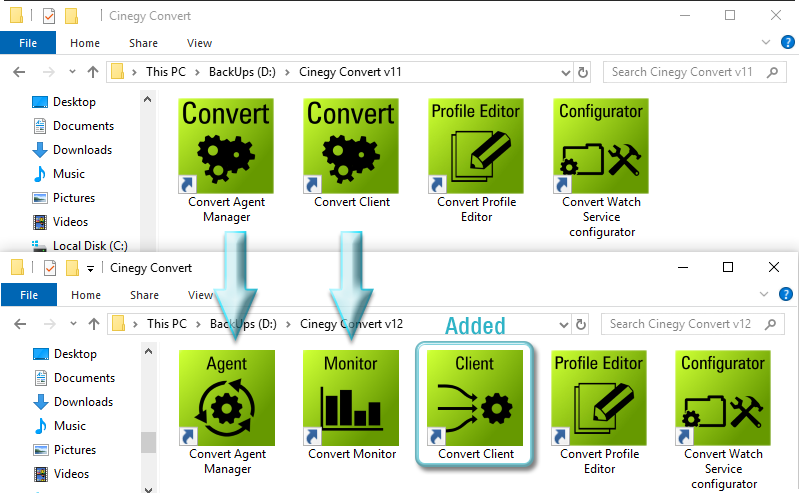 Please note, that Cinegy Convert Client application is renamed to Cinegy Convert Monitor, as such name better conveys its purpose.
Additionally, a new proper Cinegy Convert Client application is introduced, and you can refer to the section below for the additional details.
New Cinegy Convert Client
The new Cinegy Convert Client application is the modern standard for ease of use, intuitive and ergonomic design, and through the flexibility of add-on features it creates superior revenue-generating workflow.
Cinegy Convert Client is going to replace the legacy Cinegy Desktop Import tool and provide a user-friendly mechanism for manual convert tasks submission. It allows you to browse storages and devices for the media to be processed with a convenient interface, review the actual media in the preview player, check item metadata with an option to modify it prior to importing, and submit the task for processing.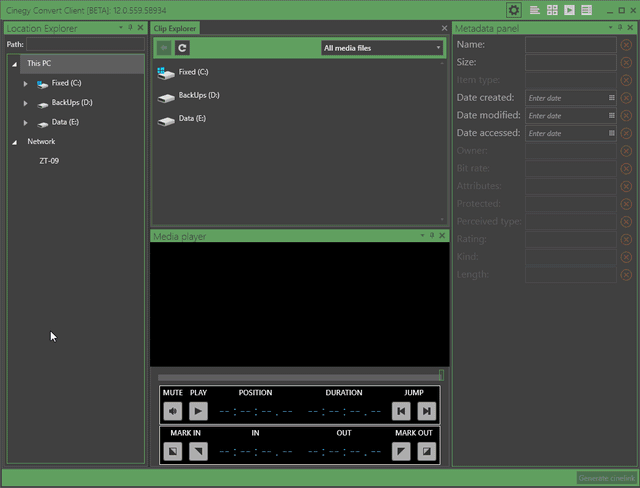 | | |
| --- | --- |
| Note | For a while, Cinegy Convert Client is provided for initial preview purposes and does not expose all functionality required. Support for Cinegy Archive as a source, selection of processing profiles, direct tasks submission will be added in the next releases. |
Social Network Integration
Social networks become an essential part of everyday life, so keeping corporate content up to date is an important task. With two new profile types you can push content directly to popular social media outlets:
Publish to YouTube profile;

Post on Twitter profile.
Both profiles allow you to define essential metadata for the YouTube video / Twitter post:

Once configured, any Cinegy Archive sequence or a local media file can be prepared and then published to YouTube / Twitter automatically using Cinegy Convert processing features.
Other Important Changes
Besides minor bugfixes, Cinegy Convert v12 suggests some useful changes that take you to the next level of innovation and experience; thus, they might be important for your workflow.
Cinegy Convert Base License
Cinegy Convert v12 now includes the Cinegy Convert Base license in addition to Cinegy Convert Agent and Archive integration ones. The presence of the Cinegy Convert Base license per server is necessary for the Cinegy Convert Agent Manager processing engine.
With corresponding license available, a machine will be registered as the Cinegy Convert processing node and will be able to run Cinegy Convert Agents to process tasks from the PCS.
The Cinegy Convert Base license is included into Cinegy Convert and Cinegy Convert PRO products and will be automatically added during the license upgrade from Cinegy Convert v11 to Cinegy Convert v12.
Compressed AAC Audio Support for Cinegy Archive
Cinegy Convert v12 allows using AAC encoder for the Cinegy Archive ingest profile. The corresponding audio stream will be wrapped into M4A container: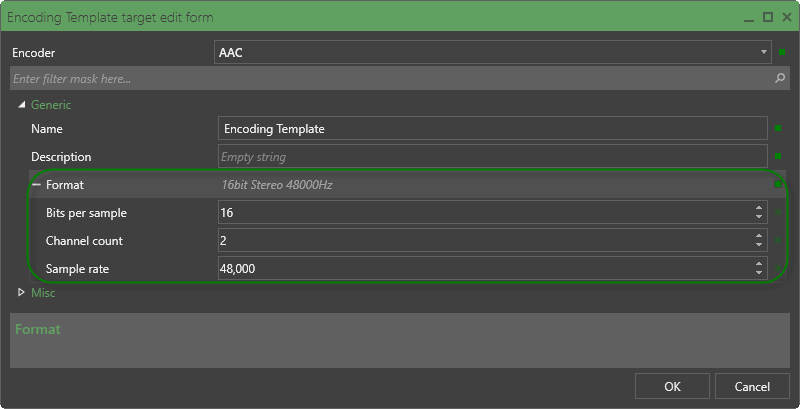 | | |
| --- | --- |
| Caution | In order to perform the media cleaning operation for such files, the update to Cinegy Desktop v14 is required. |
Daniel2 Support for 10+ Bit Modes
Daniel2 encoder settings were extended to support 10+ bit modes: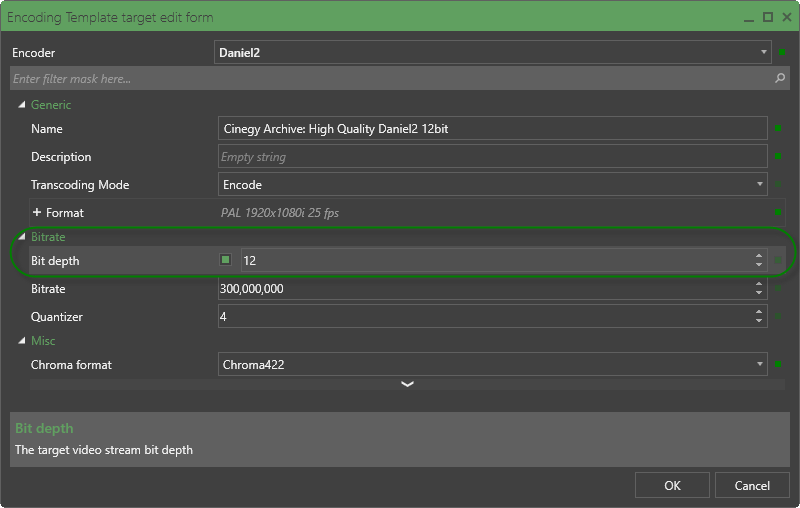 Automatic Profile Changes Propagation
Cinegy Convert Profile Editor now detects the profile usage in watch folder settings. In case profile is modified, the corresponding warning message will be displayed:

An operator is able to update the watch folder settings with the modified profile if required.
Extended Import into Placeholder Options
Cinegy Convert extends support for the import to Cinegy Archive Placeholder workflow with additional options:

The range of options includes ignoring the item traffic ID completely, creating a new Roll in case the TV format of the item does not match that of the Placeholder and automatic adjusting of the Placeholder TV format to match the media.
Extended Cinegy Archive Descriptors of Preset Type Support
Cinegy Cinelink files now can contain values for Cinegy Archive descriptors of the "Preset" type in native language format, for example:



<cinelink

 

xmlns=

"http://schemas.cinegy.com/2019/v1/cinelink.xsd"

>


  

<name>

SampleFile

</name>


  

<extension>

mxf

</extension>


  

<location>

\\server\video\

</location>


  

<media>


    

<file

 

location=

"\\server\video\SampleFile.mxf"

 

/>


  

</media>


  

<metadata>


    

<field

 

name=

"ingest_site"

 

value=

"Birmingham"

 

/>


  

</metadata>




</cinelink>
Cinegy Convert will try to locate the corresponding preset value that matches the provided one.