What's New in Cinegy Multiviewer 15
Reading time ~8 minutes
I bet many of you have seen that we have released our new and shiny 8K-capable Cinegy Multiviewer 15. This release was much anticipated and some of you are already enjoying the new features of Multiviewer 15 you've been waiting for in production.
It goes without saying that the new Multiviewer has a great many bugfixes, performance optimizations and compatibility enhancements to run reliably on the latest Microsoft operating systems as well as embracing the latest and greatest technologies and protocols widely used in the industry.
This post is a brief condensed overview of Cinegy Multiviewer 15 capabilities that may enhance your workflows and help you to make the most of this product.
So, What's New In Cinegy Multiviewer 15?
To keep it short, I just post the "Remarkable New Features" section of Release notes below, but of course, further down this post I'll be having a closer look at each of them:
8K Support
It's not a secret to any of you, who've been keeping an eye on us, that Cinegy went 8K and beyond back at IBC in 2015 when we introduced our Cinegy Daniel2 codec, capable of decoding 16K video at 280 fps using a now obsolete NVIDIA Quadro M6000.
Well, guess what? – Since that time, we went way further by optimizing the hell out of it and integrating the codec into the broader family of our software. The research in that direction also gave us the knowledge and experience to deliver a powerful GPU pipeline able to crunch a task of large complexity with minor load on your CPU. As a logical follow-up to our other recent releases, Cinegy Multiviewer 15 joins Cinegy Capture PRO and Cinegy Air PRO in a collection of 8K Support, via IP (SRT/RTP/UDP), SDI, NDI (e.g. BMD DeckLink 8K Pro) capable software broadcast solutions.
You must be thinking that a solution required to decode an 8K source and encode it on the output in a pristine quality requires a fortune to be spent on IT? Well, with decent infrastructure and bandwidth it takes as much as a powerful CPU and a couple of NVIDIA GPU units widely available on the market to make it real.
Want to know how the magic works? – Have a look at this post about Air PRO 14 shedding some light on the numbers behind it.
SRT Encapsulated IP Input and Output
For years, the world of broadcasting has been in anticipation of an open and reliable technology to move signals around. Numerous attempts have been made by different enthusiasts across the industry, but none of them got closer to fulfilling the requirement than the brilliant SRT. Forget about messing around with multicast restrictions and limitations, forget trying to tackle the latency and security issues, and forget paying for proprietary technologies offered by the big players of the market. SRT is an easy, free, and open answer to all these challenges. Need to deliver your signals over public Internet? – SRT makes it easy! Need to pull the streams out of your Azure or AWS cloud deployment or monitor the ongoing live event coverage?– SRT will make sure the streams are delivered to your monitoring facility in a pristine quality with no significant packet loss. Need to move the streams within your facility? – No need to build a separate network just for your signals in order to balance the load between heavyweight streams and usual operational queries – just wrap them in an SRT envelope and allow the clients to pull them as they are needed.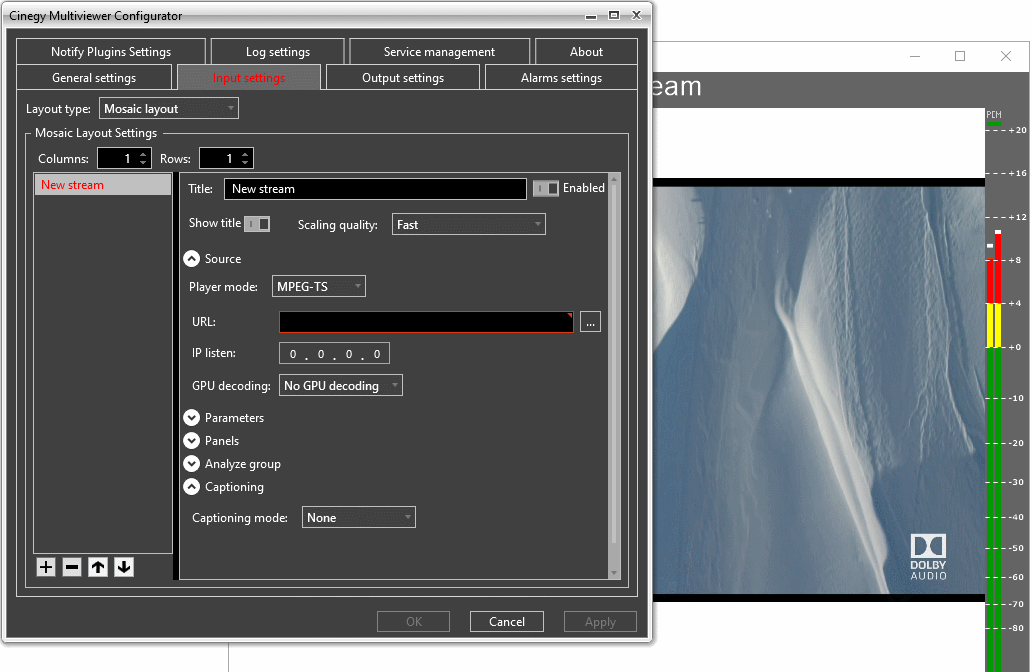 Still skeptical about whether SRT is the answer for your particular system? – Visit SRT Alliance for more information on how you can benefit from their technology today as well as to see the list of vendors, who successfully converted into believers.
NDI Output
Whilst the previous versions of Cinegy Multiviewer only had NDI protocol support on input, a growing spread of NDI solutions in the industry made it a necessity to support NDI Output Mode in MV 15 as well so you could integrate it with your system in the most flexible way.
Powered by the latest NDI 4.1.3 SDK, Cinegy Multiviewer's bi-directional NDI support benefits from all the perks of NDI.
Cinegy Encode
So, where is SDI output, then?!
As you may know, "SDI must die!" has been Cinegy's motto for ages and trust us we do believe in this! However, we all know that the days when the most conservative industry players are ready to trade in their hardware and thoroughly change their SDI infrastructure to IP or cloud solutions are still somewhere in the future. Loyal to our motto, we believe Cinegy Multiviewer is way better with some more up-to-date technologies rather than obsolete SDI as an output option. Still, we do have an easy solution that will make Cinegy Multiviewer output its grid over SDI as easily as it does over IP or NDI.
To have an SDI output option, the only thing you need to do is install Cinegy Encode. Those of you familiar with our playout system would immediately recognize Cinegy Air PRO engine, but in this case it is way simpler than that – you only need to set up your inputs and outputs and hit "On start immediately switch to live" tick box in the "General" tab in the config and it's ready to go.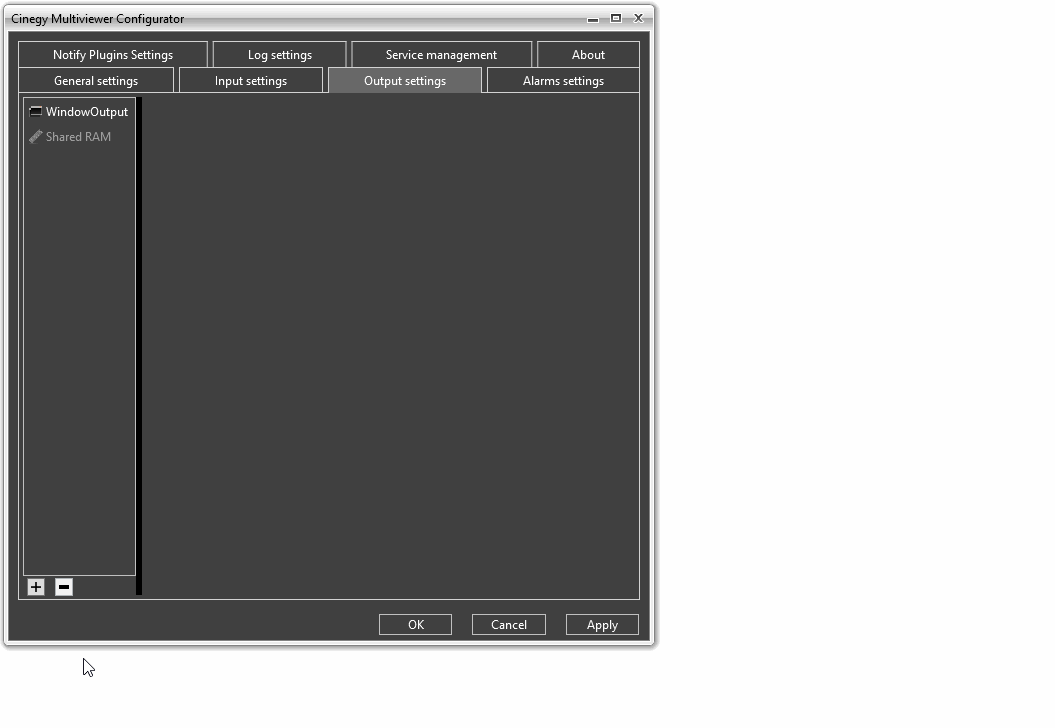 To achieve the best results, install your Encode engine on your Multiviewer server and configure your Multiviewer to output to a Shared RAM device. Being on the same machine, Cinegy Encode would just access the signal from RAM with negligible load on your CPU and zero latency.
New Multiviewer Alerts/Notifications
It may not sound revolutionary, but this will definitely become useful to your daily workflows when one of the channels you monitor suddenly switches to 'maintenance' mode – Multiviewer now has a built-in EBU/SMPTE color bar detector alert.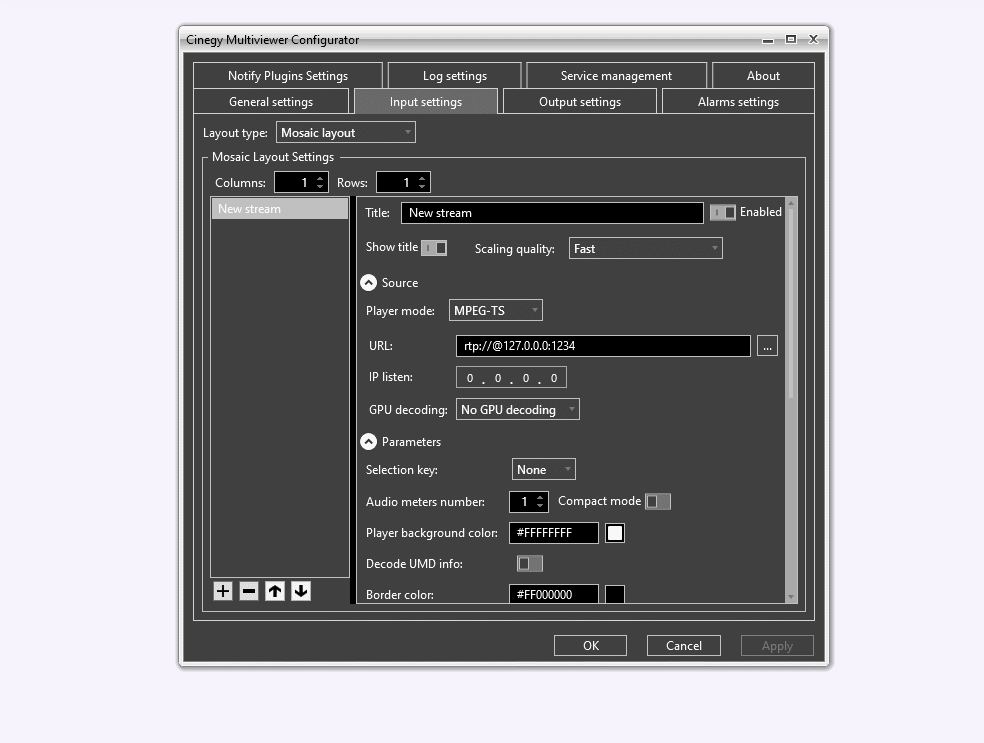 The detection algorithm behind it will quickly detect a channel running into trouble and trigger your notification plug-ins in accordance with a selected alert severity type.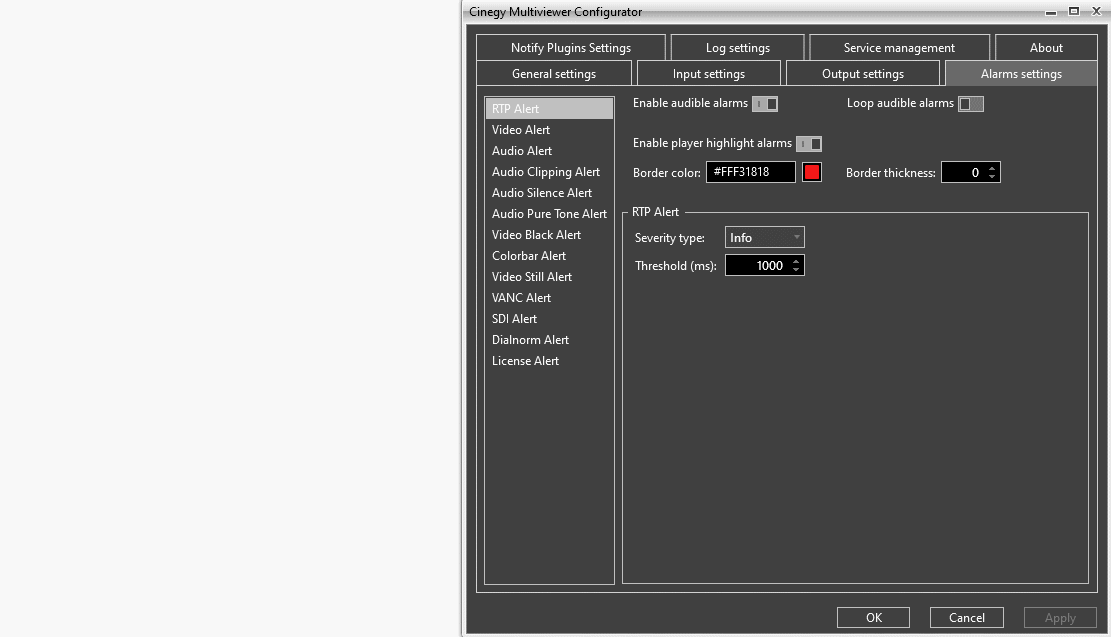 Audio Pure Tone detection with adjustable parameters can be tuned to catch the symptoms of the same trouble in the audio realm.
Cinegy Event Manager Notification
When it comes to notification plug-ins, there is also a neat little feature we have added, that might catch your attention. With Cinegy Event Manager Notification plug-in, Multiviewer alerts may now trigger commands to integrate with a list of different hardware and software units that Cinegy Event Manager has to offer. The scenarios include but are not limited to triggering source switching in Cinegy Route or SDI hardware routers, GPI contact closure, or executing a PowerShell script in the event of an alert.
Multi-layout Output
If you're still not amazed with what Cinegy Multiviewer has to offer, check out Multi-layout output! – In order to make it more flexible for you, we have added an ability to output up to 20 various layouts on different output types. This way, you may deliver a mosaic with different source players set over each output type available in MV to different destinations on your facility.
Using the hotkeys or Multiviewer web control API, you may easily switch between layout "pages" on all the outputs where "Auto" is set as a layout number rather than a specified page.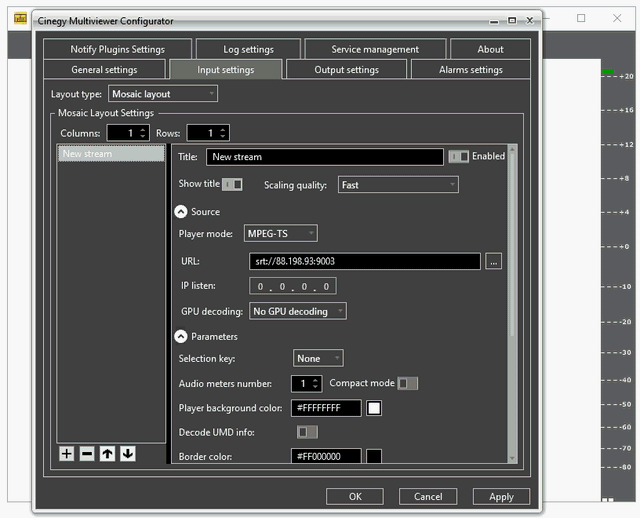 Advanced Half-height Video Input/Output
Got a variety of different source types and looking to optimize the ways to handle them? – One way of doing this is building a monster machine with a powerful CPU and a couple of GPU units, which may be expensive and not that efficient, given that you might have a bunch of spare servers ready to handle this load in portions. So, why not split them between several servers and then let them output to one unified layout?
This way, you'll be able to distribute all the heavy lifting between a couple of Multiviewer servers depending on their capabilities and leave just one to take care of encoding the unified layout. For instance, a server with an SDI board will take care of SDI inputs, MPEG2 sources can be handled by a machine with a powerful CPU, while H.264/265 sources can be all sent to a server with a decent GPU unit which would also be used to encode the output layout.
You have had the ability to sub-divide loads like this previously – but because you always needed to output in 16:9 standard outputs, once you decided to split your loading, you were stuck with jumping directly into quarters. With v15, we tinkered with our image scaling mechanisms and introduced half-height frame dimensions on MV outputs and inputs.
This allows you to do some neat hacks, like configuring your auxiliary Multiviewer to transmit a 16-player layout in a 3840x1080 dimension to fill a dedicated half of your 4K-output layout on a master Multiviewer. This way, you can spare some resources on a main Multiviewer and let it decode just one stream (Aux MV output) instead of 16.
Tune up for our new releases with even more awesome new features and scenarios added.
Have any ideas on features that could make our next release even better? – Don't hesitate to contact us – we'll sit down and find the best way to make it work for you 😉.