What's New in Cinegy Route 22
Reading time ~8 minutes
Of all releases from this year, Cinegy Route, as one of smaller and less known products in Cinegy family, is in danger of being overshadowed by the likes of new Cinegy Air and Cinegy Multiviewer.
However, those of you, who did not miss this release, are up for a treat!
This release marks a new generation of Cinegy Route with revamped and improved user interface and user experience enabling full DPI mode on screens with UHD resolutions and beyond. Of course, the new look and feel is not the only thing new Cinegy Route can boast.
Moving the code base to modern 64-bit architecture, completing full encrypted SRT streaming support, broad use of GPU decoding for preview player are just a few other highlights.
With no exaggeration, the new Cinegy Route release will be a game changer in your experience of using the utility and take your day-to-day operations to the next level. For those of you not yet familiar with Cinegy Route – what could be a better reason to download a trial and give it a spin than the new release?
Don't know how your workflow can make use of Cinegy Route yet?! – I hope the "Cinegy Route: The Winner Routes It All" post, we are working on now, will help you fill this gap quickly! Dedicated to a general overview of Cinegy Route features and best practices, this post will offer the ways to optimize your workflow by using true ninja ways of handling your IP infrastructure.
As usual, before we get into more details, I put a short list of new features and improvements in the latest Cinegy Route below.
Remarkable New Features
Sounds promising?! - Buckle up and let's move on to the next section with a closer look into what we had cooked for you in this release.
Amplified and Refreshed UX and UI
In two years since our latest Cinegy Route release the product has been through a comprehensive review and overhaul to the point where it almost looks like a completely different product.
We started with moving the code base to 64-bit architecture to make it a perfect future-proof match with the modern CPUs and operating systems as well as seamless integration with other Cinegy products.
Our next move was supporting high DPI mode in user interface to ensure best scaling on modern UHD screens.
These changes sparked a bit of dissonance in us – a modern 64-bit UHD-fit product deserves a better look!
We sat down with the team and gathered a long list of usability improvements as well as designed a new style for the product that I am proud to present to you now.
I am going to accompany this post with before/after screenshots of the main parts of the Cinegy Route software package.
We shall start with Cinegy Route Browser – the utility that most of you will be familiar with due to its broad integration in Cinegy products.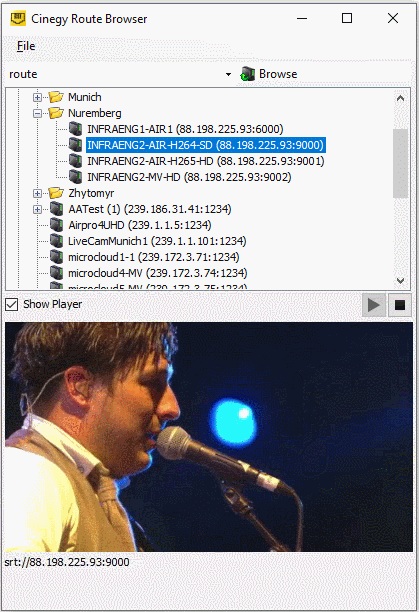 Cinegy Route Browser v15 vs v22
The first thing that will catch your eye would be the modern user interface with a distinctive modern look.
But looks are not the only thing we've got to offer, there are quite a few functional and experience improvements too! We have added a "Mute" button for your sources as well as "Always on top" window mode that would allow using Cinegy Route Browser in more scenarios involving dozens of IP streams.
We deprecated the old "Show Player" checkbox and replaced it with an intuitive action on double-click, that collapses the preview player and expands the tree when required. The space freed up by removing the checkbox is now used to display the source title.
The biggest addition in the new release, though, is the use of NVIDIA GPUs to decode the feeds in the Cinegy Route player. This change is available in the preview player across all parts of Cinegy Route and described in more detail further down this post.
In other applications from the Cinegy Route package, we focused on improving usability and general user experience.
We took a thorough look into what was missing in terms of control elements, customization, and intuitive actions.
This brought many simple but valuable improvements, such as extending right-click menus for most items in Cinegy Route windows, enabling double-click actions for them.
Cinegy Route Manager v15 vs v22
We also improved the copy/paste operations and enabled the hotkeys common in Windows OS to make dealing with Cinegy Route even more efficient.
We made sure to pay extra attention to working with the IP address for the physical sources in Cinegy Route and found inspiration in a variety of commodity IT networking utilities to introduce an improved experience.
The new generation of Cinegy Route benefits from improved IP address field navigation with the use of arrow keys, backspace, and dot buttons. We also added an ability to paste IP addresses using Ctrl+V and copy them to the clipboard with Ctrl+C, as well as added the separate "Copy" button in the GUI.
Just like other applications from the package, GUI elements in Cinegy Route Control have been through some repositioning in a more ergonomic fashion to improve the visual focus on the actual stream and the virtual destination panel.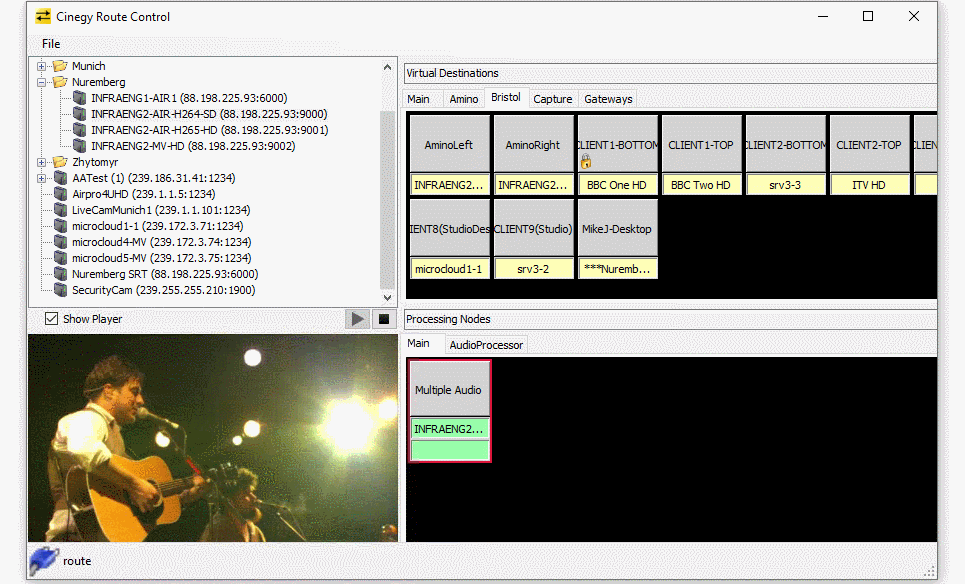 Cinegy Route Control v15 vs v22
This application has also seen a revamp of the approaches to displaying the tabs and working with them, which makes it faster and more intuitive.
As we know, the devil is in the details, but these days, it's hard to find someone easily impressed by simple UI/UX tune-ups. Therefore, I will let you discover the rest of them yourselves and move on to a more exciting part of the Cinegy Route v22 story…​
Encrypted SRT
For us, one of the biggest news here is that Cinegy Route now offers even greater value by empowering your workflow with end-to-end SRT encryption. Yes, you've got it right – with this latest release, you have no limitations in using end-to-end 128/256-bit AES encryption to ensure that content is protected from contribution to distribution!
After the global pandemic catalyzed the inevitable move to remote production, SRT evolved from being a new promising protocol just a few years ago, much loved by us for its resilience and security, to becoming a backbone of transmission on an industry-wide scale.
SRT is most commonly compared to RTMP, a legacy protocol, which is still often used for video contribution. However, not only does SRT consistently outperform RTMP in terms of both latency and video quality, support for RTMP's dated technology is dwindling.
According to Deloitte in its recent "Technology, Media and Telecommunications Predictions" insight:
"Legacy protocols such as the real-time messaging protocol (RTMP), developed over a decade ago to encode video and move it across networks to clients, will likely be displaced by newer solutions such as secure reliable transport (SRT), designed to further decrease latency and meet the demands of live and on-demand streaming."
Encrypted SRT streams are great for those of you, who need to receive/deliver your feeds via the Internet, and particularly for those, who root your infrastructure in the cloud, and Cinegy Route is here to help you with your SRT infrastructure.
GPU Decoding in Cinegy Route Player and HEVC Feeds Support
One of the greater but less obvious improvements in the new release that might get overlooked is GPU acceleration for the Cinegy Route preview player.
The new release introduces utilizing your GPU to run your previews in the Cinegy Route player.
This means it doesn't just make it faster but also offloads your CPU to use its capacity where it is needed more.
The Cinegy software had been benefiting from this technology starting from the v11 generation. Started in Cinegy Air, with years we've been only improving it and gradually introduced it in Cinegy Multiviewer, Cinegy Capture, Cinegy Convert, Cinegy Title, and Cinegy Desktop; and now the time has come for Cinegy Route.
Apart from general performance optimization, this technology automatically brings in another feature – HEVC streams playback, which used to be a limitation before.
Route-triggered Event Manager
Yes, you got it right from the title, this is exactly what you thought – we brought secondary events style third-party equipment integration to Cinegy Route!
The approach you may be familiar with from Cinegy Air and Cinegy Capture PRO is now available for you in one more Cinegy product.
You may set up secondary commands on switch source action and enable integration with other elements of your Cinegy ecosystem, like Cinegy Stream Switcher or remote instance of Cinegy Route.
Using this feature, you may also interface with devices from the list below to mirror your routing commands on an IRD or SDI router from the wide variety of built-in plug-ins offered free of charge in Cinegy Event Manager.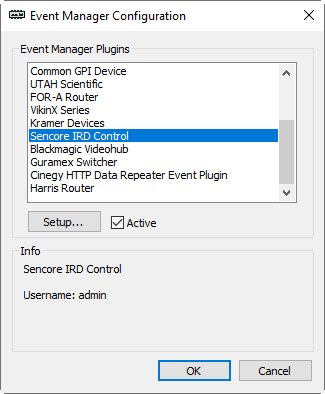 Failed to find a plug-in you need in the list? – You can integrate your third-party unit using the Cinegy Powershell Command interface that runs Powershell scripts for you, send a contact opening/closure command to a GPI/O card or even design your own Cinegy Event Manager plug-in for your preferred vendor, using the specs we kindly published for you on Cinegy Open.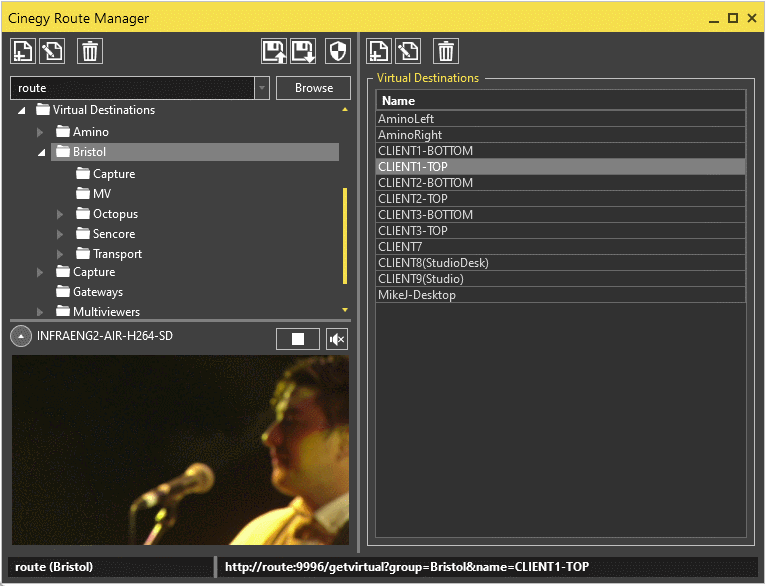 Powershell secondary event in Cinegy Route Manager v22
Don't have an in-house development department or need consultancy or training on any of those scenarios?! – Reach out to us in Cinegy Professional Services and we will find the best way to get you on rails with your integration in the most suitable manner.
Thanks for sparing your time to read this today and for your continued belief in what we are doing!