Integration with news production systems
Reading time ~2 minutes
MOS News System is a news preparation system, which integrates the components of different third-party solutions for controlling the news text, graphics, and video for news stories creation.
The following is the scheme of the MOS News System workflow. In this scheme Cinegy provides the video player for playback of video sequences, clips, and graphics prepared via Cinegy Desktop.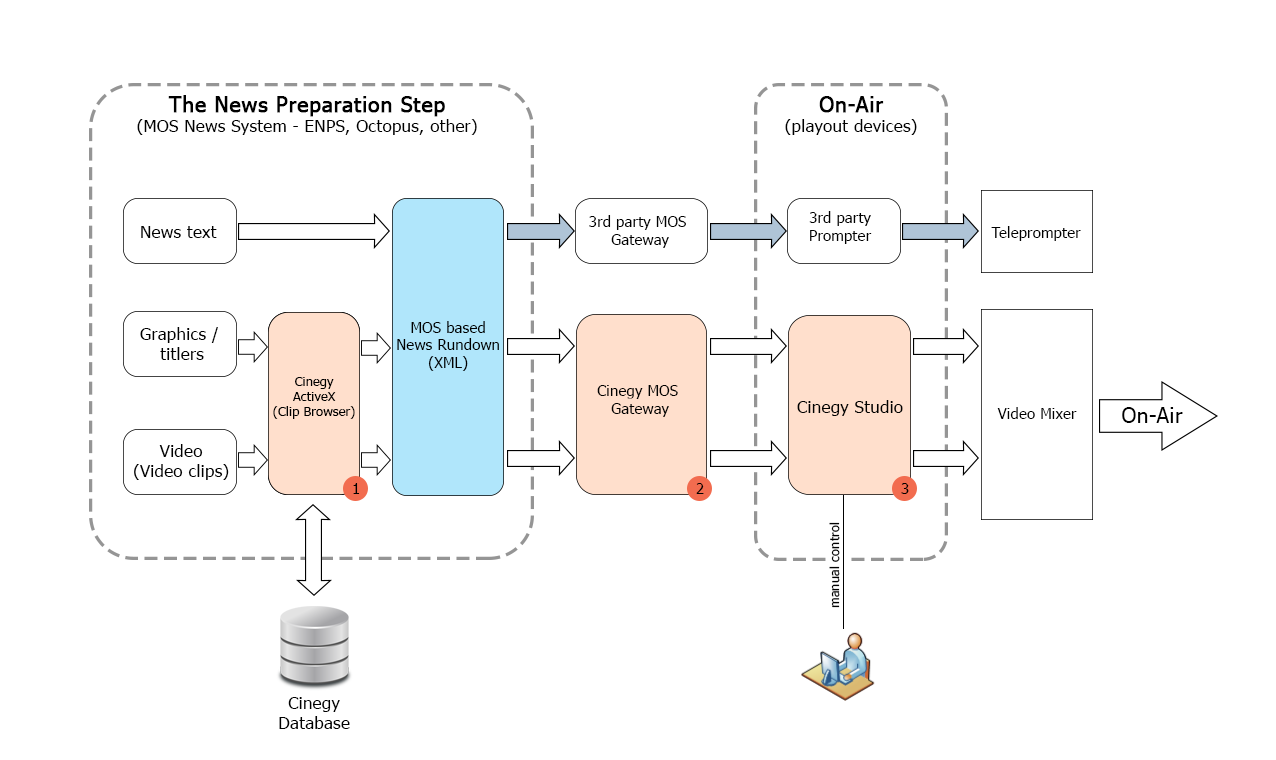 In this workflow the following Cinegy components are used:
An ActiveX component is used for Cinegy Archive database access. This control is registered in the Windows operating system and should be integrated in the third-party NCS system. The configuration differs for each NCS system, but basically it is a field where the ActiveX GUID or the text identified should be specified. The ActiveX component supports the MOS-systems connection standard. When it is correctly set up in the NCS system, it will be displayed as a clip browser panel allowing to drag-and-drop clips and graphics from the Cinegy Archive database to the Rundown.

This is the stage in news block preparation when the content (videos, graphics) previously created in Cinegy Desktop is inserted into the news story (clip or sequence).

The details of configuring different NCS clients can be found in this section.

Cinegy MOS Gateway receives the Rundowns containing objects that were inserted via the ActiveX component and generates the playlist accepted by Cinegy Studio. In this workflow Cinegy Studio acts as a "player".

Cinegy Studio (in MOS mode) receives playlists containing video clips and graphics from MOS Gateway and then an operator sends them on air at a defined time.