Service Control
Reading time ~2 minutes
This section provides control for Cinegy Traffic Gateway service parameters.

Depending on the license purchased the service can run in SOLO or PRO mode. Select the corresponding mode from the "License" drop-down list.
| | |
| --- | --- |
| Caution | Cinegy Archive integration is disabled in SOLO mode. |
| | |
| --- | --- |
| | Press the "Configure" button to set the service configuration. |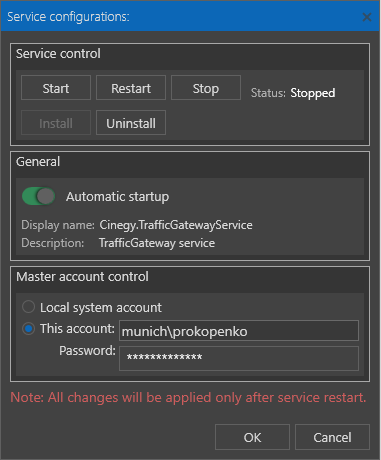 The "Service control" group provides commands for manual service start/restart/stop.
| | |
| --- | --- |
| | The corresponding icons are also present on the "Service control" section in the main Cinegy Traffic Gateway Configuration window. |
Cinegy Traffic Gateway is installed as a Windows service. The service will automatically launch Cinegy Traffic Gateway after a system restart or in case of an unexpected error. To uninstall the Cinegy Traffic Gateway service, use the "Uninstall" button.
To make the Cinegy Traffic Gateway service automatically start on Windows startup, set the service startup type switcher to "Automatic startup".
In the "Master account control" section you can specify the account under which the service logs on. You can use the local system account or a specific account with sufficient permissions (including the 'log on as a service' privilege). Using an account without sufficient permissions or rights will cause outright failure or faults, which will be tracked in the diagnostic logs. You need to enter the login name and password for this specific account in the corresponding fields.
| | |
| --- | --- |
| Caution | All changes within this configuration form will be applied only after a service restart. |