Cinegy Traffic Gateway Installation
Reading time ~2 minutes
Installation
Download the latest Cinegy Traffic Gateway installation package from my.cinegy.com. Copy the installer to a shared location in your network so that all client machines can access the package for convenient installation.
| | |
| --- | --- |
| Note | You must have local administrator rights to install Cinegy Traffic Gateway. |
| | |
| --- | --- |
| Caution | Prior to the installation of Cinegy Traffic Gateway 5.x you need to completely uninstall Cinegy Traffic Gateway 4.x to avoid configuration conflicts. |
To begin the installation of Cinegy Traffic Gateway on your computer, run the "Cinegy.TrafficGateway.Setup.exe" file. The Cinegy License Service will be automatically installed, then the setup wizard will be launched: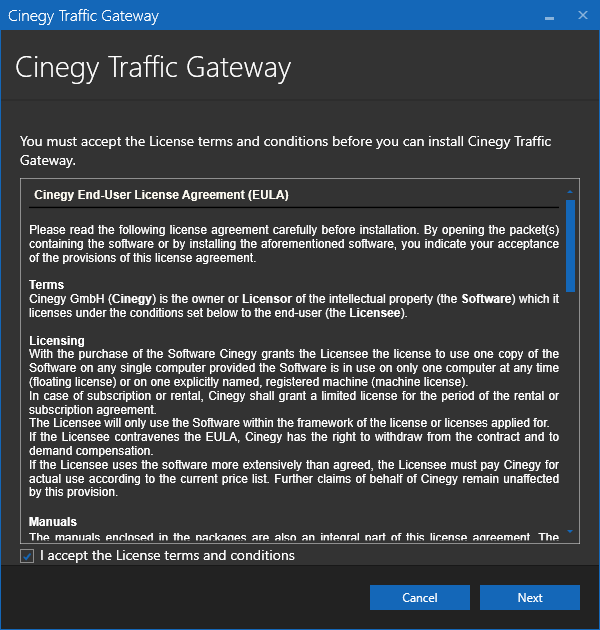 Read and accept the license agreement and press "Next" to proceed with the installation process:
Enabled installation of the Cinegy Traffic Gateway package is indicated by the "Install" option selected and highlighted with blue.
The default installation directory, which is indicated underneath the package component name, can be changed by clicking the path and browsing for new destination folder.
Press "Next" to proceed with installation.
Check whether your system is ready for installation in the following dialog: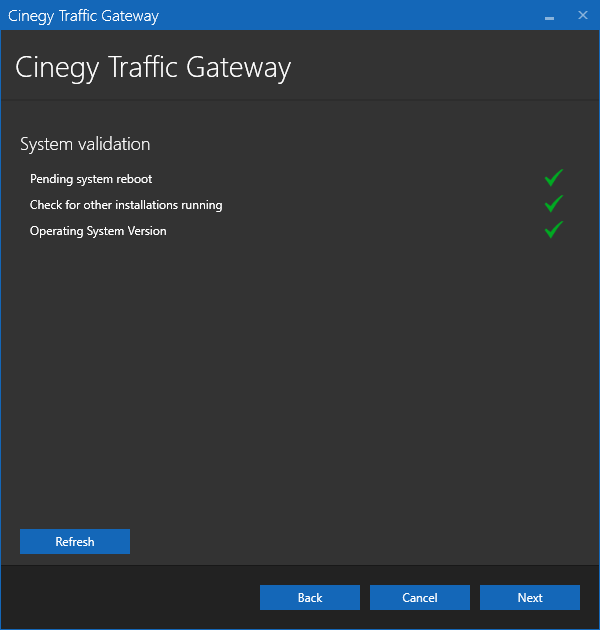 | | |
| --- | --- |
| | The green tick indicates that the system resources are ready and no other processes may prevent installation. Clicking the validation entry field displays its detailed information. |
| | |
| --- | --- |
| | While the system performs verification of any parameter, the checking progress is displayed. |
| | |
| --- | --- |
| | If any validation reveals that installation cannot be started, the respective field becomes highlighted and the red cross is displayed with the detailed information on the failure reason below. |
| | |
| --- | --- |
| Note | The explanation differs depending on the reason why the installation cannot be proceeded. |
| | |
| --- | --- |
| | Press the "Refresh" button for the system to recheck installation availability. Once the reason of prevention is excluded, you can proceed with installation. |
Press "Back" to change the installation settings or "Cancel" to abort and exit the setup wizard.
| | |
| --- | --- |
| | Press the "Next" button to begin the installation. |
The progress bar indicates the progress of the installation process: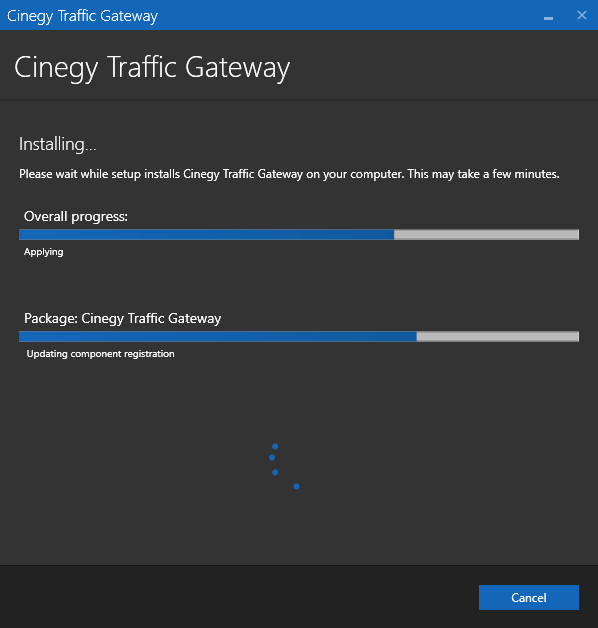 The following dialog informs that installation is completed successfully: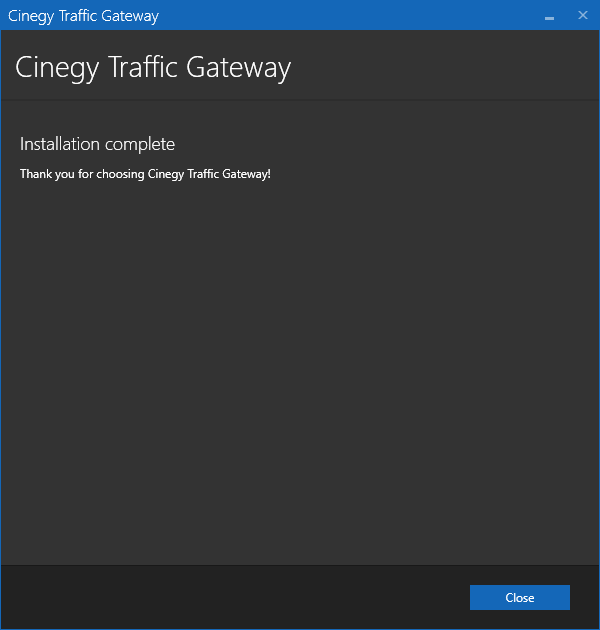 Press "Close" to finish the Cinegy Traffic Gateway installation.
| | |
| --- | --- |
| | After the installation, the Cinegy Traffic Gateway icon appears on your Windows desktop. |
Licensing
Please note that a Cinegy dongle key with a corresponding license is required. If the requested license is not detected, then the Cinegy Traffic Gateway service will work in demo mode: only 5 items from the source playlist will be processed fully and correctly. Media information from the rest of items will be stripped while preserving other metadata (name, comment, start time and duration, etc.).