Visibility Management
Reading time ~2 minutes
Visibility parameters should be individually configured for all the sources being created via Cinegy Route Manager. Setting the visibility means that others are able to see and use the actual source (or group) in the related applications or the IP client applications (like Cinegy Capture, Cinegy Air, Cinegy Encode, Cinegy Multiviewer, etc.).
| | |
| --- | --- |
| Note | All the sources being created are not visible by default. |
Source Visibility
| | |
| --- | --- |
| | While creating or editing a network source via Cinegy Route Manager, press the "Visible to…​" button to define its visibility parameters. The following dialog box appears: |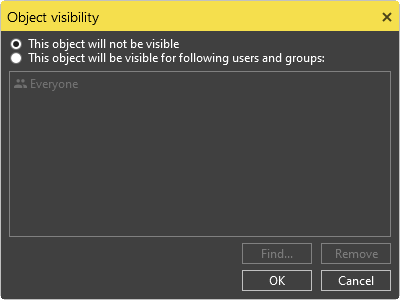 "This object will not be visible" is set by default. In this mode, the corresponding object is not visible and not available in the related applications and the RTP/UDP/SRT client applications.
If you want to make this source visible for selected clients, set the radio button to "This object will be visible for following users and groups". The source will be visible to users belonging only to the selected group. To make the source public, select the predefined "Everyone" group.
| | |
| --- | --- |
| | Press the "Find" button to add a certain user or the whole group to the user visibility list. The following dialog box appears: |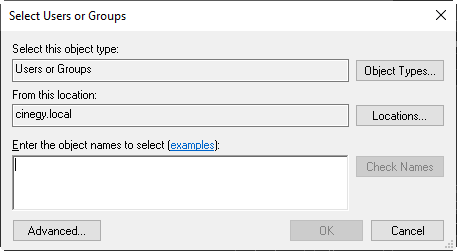 Here define the object type and the location to search; enter the object name.
| | |
| --- | --- |
| | Press the "Remove" button to delete the selected user or group from the user visibility list. |