Preferences
Reading time ~1 minutes
To configure Cinegy Player PRO and enable Cinegy Player PRO features, select the "Preferences" command from the context menu: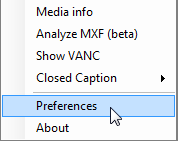 The following "Cinegy Player PRO Preferences" dialog appears: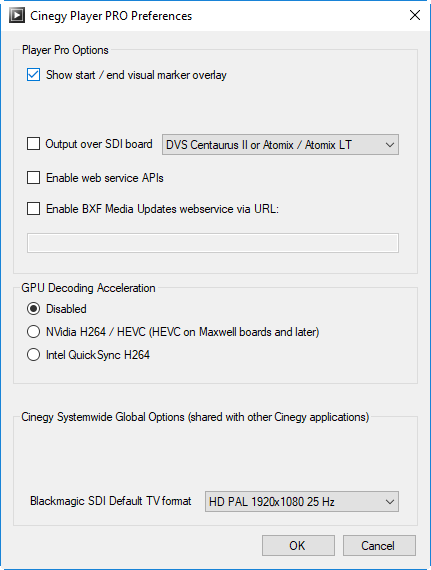 Here you can set up the following parameters:
Show start / end visual marker overlay – enable / disable the start and end hints in Cinegy Player PRO.
Output over SDI board – choose the required SDI board for output from the drop-down list.

Enable web service APIs – enable / disable to perform Cinegy Player PRO control actions via API.

Enable BXF Media Updates webservice via URL – enable / disable BXF files submission directly to Myers BXF Web Service.

GPU Decoding Acceleration – enable / disable GPU acceleration.To activate, select the required GPU video encoder type from the list below.

Blackmagic SDI default TV format – define a default TV format to be used for output over the Blackmagic SDI board.