Cinegy Air 12 - What's New
Reading time ~10 minutes
Introduction
Cinegy Air 12 marks a new milestone for a product now over a decade in the market, and the first major release update to the product since August 2016. The build contains a great many internal changes and performance optimizations, making the Cinegy Air 12 Playout engine the most efficient and powerful platform yet released by Cinegy.
This document outlines some of the key new features that customers and partners will be interested in understanding are coming in the v12 release. This list is not exhaustive, but does announce all the key functional changes and enhancements made.
Executive Summary - Changes in Air 12
Major Changes
Below are headline "major" category changes in Cinegy Air 12 which are supposed to have the most significant importance for customers:
Serial Number with Online Validity Checking

Daniel2, SMPTE 2022-6 & NDI IP Support

10-bit & HDR

Optimization for Cloud + GPU

Linear Acoustics Loudness Control option

"Clean" Video and Audio Output Options

Multiple Live Inputs to Titler

Integrated audio support for Titler scenes

Updates in Playlist for changed / missing media files and altered sequences
Other Significant Changes
Below are some other changes, called out due to their potential impact on installation or the secondary benefits they might bring.
All times moved to UTC (no more daylight savings pain)

Simpler interface to mark an item with fade up / to black

Cinegy Titler Editor has significant UI improvements

Lots of small polish to the Cinegy Air control application improving general usability

Nielsen SDK Update – now with "Arbitron" CBET features
More Details on the Updates
Key changes that benefit from more than just a bullet-point call-out are detailed below, for any reader, who is interested in more detail regarding this or that feature.
Serial Number Support
Where customers choose not to purchase a hardware dongle, they will be able to use the new Cinegy software license mechanisms. This system allows machines to be licensed with a serial number, which is validated using the Cinegy license system running in the cloud. Software licenses will require an automatic check-in approximately every month, allowing customers to cancel licenses that are lost, or move licenses (within a reasonable limit).
Customers will be free to pick how their licenses are assigned. Below is a quick summary of the scenarios grouped into categories we feel are good fit for each technology.
Best with Hardware Dongles
Customers with the following requirements of limitations are best suited to use hardware dongles:
Servers or PCs that are unable to access the Internet or have restricted Internet access

Rental fleets that might need repurposing or re-assignment on short notice

Customers unwilling to take a dependency on the Cinegy cloud system and wish to retain full control of their deployed licenses
Best with Software Licenses
Customers with the following requirements of limitations are best suited to use software licenses:
Urgent license application needs (no waiting for shipping)

Virtual environments or other environments where USB ports are unavailable

Remote environments, where physical access is difficult

Laptops or portable equipment that might suffer loss or dongles theft

Large fleets that are under centralized management and monitoring
| | |
| --- | --- |
| Important | Please note, that it is required to have a regular Internet connection to software licensed machines. |
While software licenses may be provided for previous versions of the Cinegy software, Cinegy Air 12 will be the first edition of Cinegy Air to ship with the License Manager package ready-to-go and as a mainstream installation option.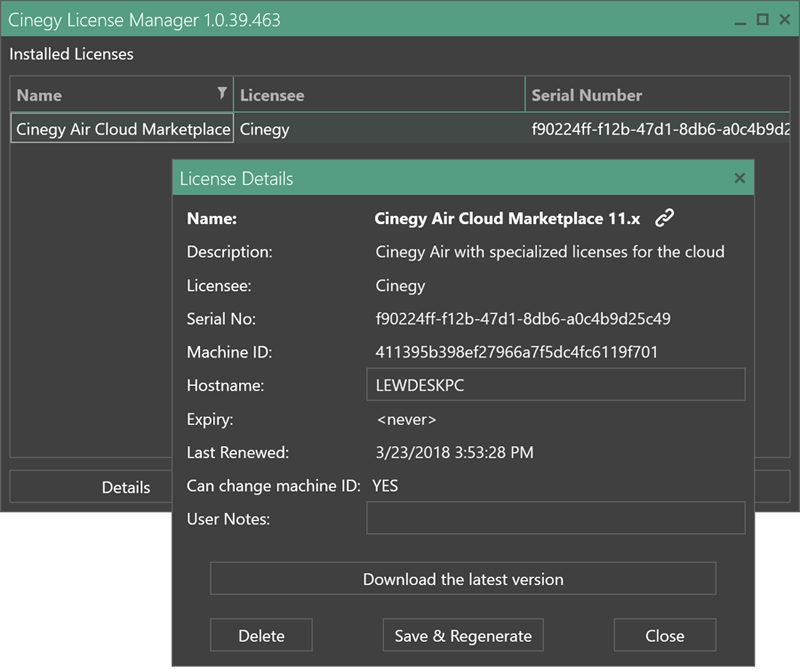 Daniel2, SMPTE 2022-6 & NDI IP Support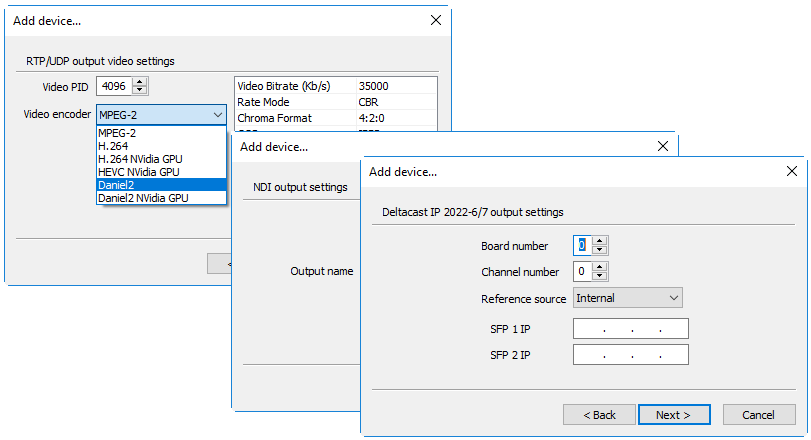 Daniel2
Cinegy Air 12 supports Daniel2 encoding over MPEG2-TS IP outputs, using CPU or GPU.
This provides a very CPU- or GPU-efficient encoding scheme supporting 4:2:2 and 10-bit color with very low latency, but maintaining support for existing MPEG-TS workflows and configurations (e.g. AC-3 audio PIDs, OP-47 teletext) that are not available when using SDI or NDI.
SMPTE 2022-6/7
While a debate continues about SMPTE 2110 rollout, Cinegy Air 12 continues to build on the existing 2022-6 support started in v11.
Support is provided for AJA and Deltacast SMPTE 2022-6 boards, and now supports the 2022-7 redundant channel switching. SMPTE 2110 support will be added as driver support matures for this standard, but customers with a requirement for these standards are recommended to work with 2022-6 as a stable implementation available now.
NewTek NDI
Cinegy Air 12 adds the NewTek NDI SDK, now allowing Cinegy Air to take an NDI input feed, and produce an NDI output feed. This works for primary devices as well as for secondary inputs used by multi-input Titles. NDI is an excellent alternative to SMPTE 2022-6 or SMPTE 2110 with a more established ecosystem and significantly lower operating requirements (support for 1Gbe links and no requirement for specialist I/O boards). However, it comes with some limitation including no support for AC-3 encoding or for normal metadata carriage marked inside VANC or SEI packets.
Cloud Optimization and GPU Offloading
Cinegy Air 12 increases use of GPU offloading for video pipeline operations, placing a reduced load on the CPU and maximizing the benefit of GPU devices that are optimized for such video operations. Cinegy Air 12 will comfortably run a full 4K channel inside an AWS G3 or Azure GPU virtual machine, and show a measurable reduction in machine load when new GPU pipeline mode is enabled.
The following blog post written in partnership shows the power of Cinegy Air with virtual GPUs already:
| | |
| --- | --- |
| Note | Please follow this link to read a related blog post written in partnership that shows the power of Cinegy Air with virtual GPUs. |
Using Cinegy Air 12 offloading, the baseline load for operating the pipeline and producing down-scaled streams is reduced by up to 25% on dual-XEON machines. An image below is most starkly exposing the different from the operation of the pipeline running before video playback starts (this CPU saving is constant even when running):


A word of warning though – when running 4K workloads, the PCI bus does become the limiting factor, and care must be taken to ensure a suitable configuration on the machine and that a GPU with a suitable wide bus speed is selected. Server or high-end workstations with good motherboards and professional graphics boards with higher bit busses will yield better results; additionally, allocation of a playout instance to a paired GPU and CPU with affinity settings is recommended (check the motherboard to see what PCI slot is associated with what processor).
Linear Acoustics Loudness
Cinegy are proud to partner with Telos / Linear Acoustics and announce all new, top-tier loudness control options integrated into Cinegy Air 12. This paid-for extra option provides every possible real-time loudness control that a customer might need and will meet the requirements of the most demanding situations.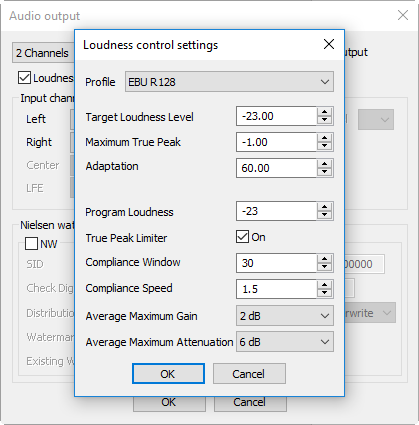 Since we are introducing this feature, we have discontinued the previous integrated loudness limiter, as it acted only as a very crude ceiling limiter that could lead to customer confusion regarding what actions this limiter would (or would not) take.
"Clean" Video and Audio Output options
Customers will now have the option to generate "clean" outputs directly from the same Cinegy Playout engine, permitting much more compact broadcast chains where a requirement exists for a master or origination feed to exist.
Clean video is accessed as a new output in the playback channels area, with the normal range of output devices available: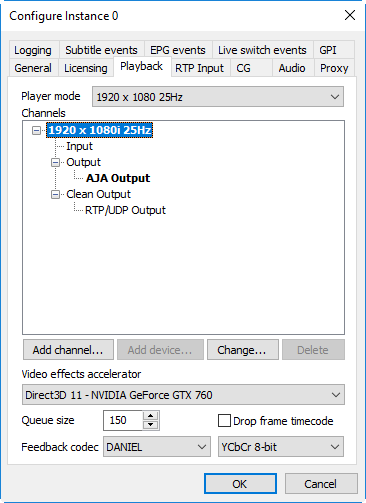 Clean audio may be selected on the audio bus as an option for that specific audio output channel (since audio output is shared):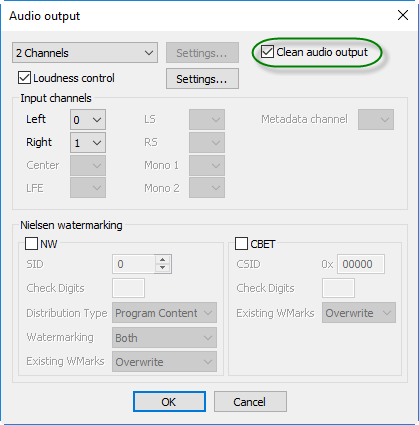 New customers purchasing or subscribing will be able to use this Clean Output Option license as part of the Air PRO bundle (or Cloud licenses). Existing customers will be offered an upgrade path if the feature is required. Access to clean output feeds will allow customers to combine multiple playout engines in much simpler configurations when driving output from a single master feed and using down-stream engines to create alternate outputs. When used in combination with the Shared RAM output / input devices and enabling the GPU pipeline to get many instances running on a single platform, a significant amount of hardware consolidation becomes possible with no impact to the resulting output.
Multiple Live Inputs to Titler Audio Support
Cinegy Titler, introduced in Cinegy Air 11, now has significant improvements to the editing UI – as well as some key new call-out features.
Audio
Cinegy Titler can now optionally read audio embedded inside video assets used within a scene, or have discreet media (WAV) samples attached as audio object. This reduces the complexity of scenarios involving branding that needed audio connected to video, that previously relied upon secondary audio events.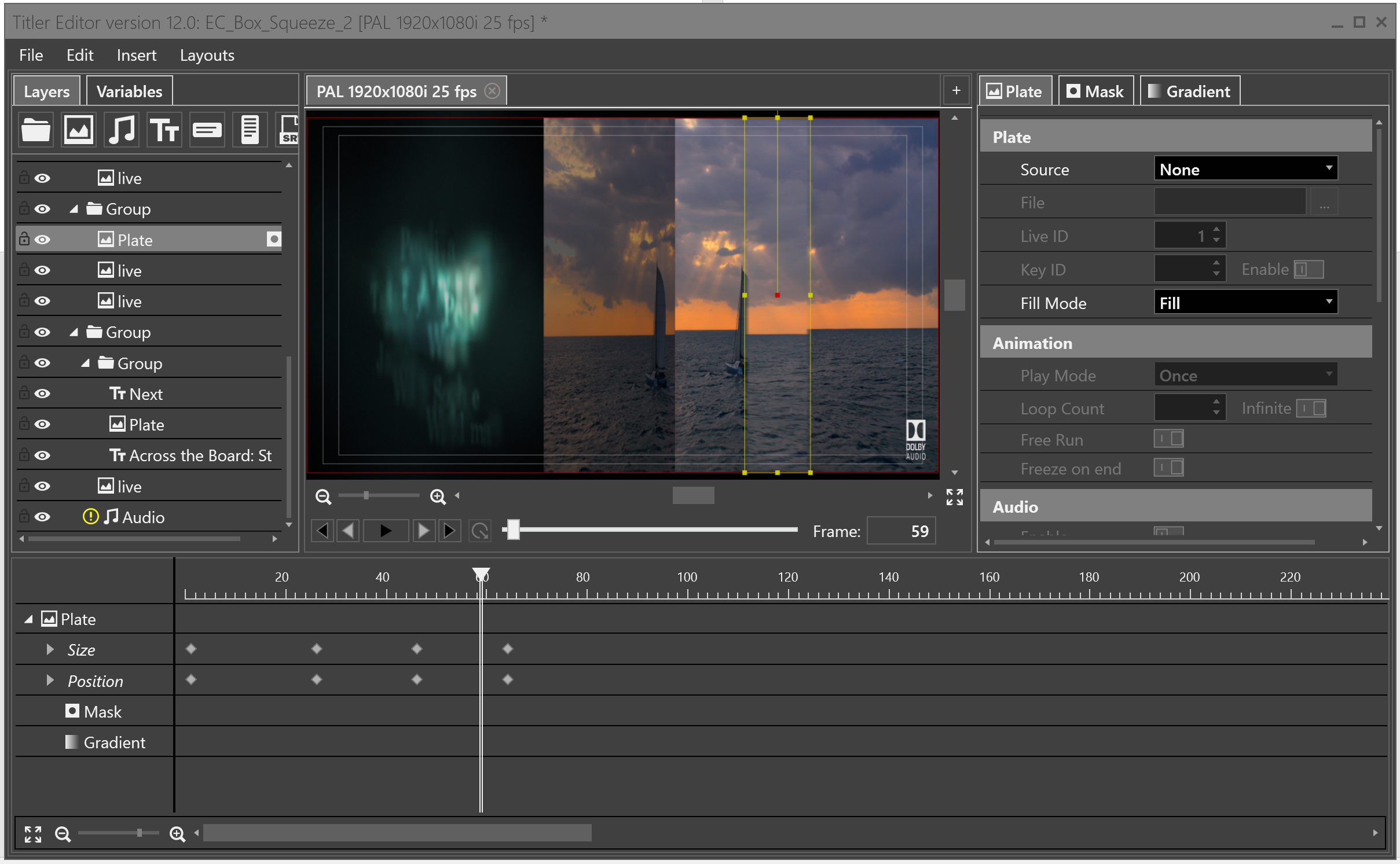 Multiple Live Inputs
Cinegy Titler is also able to map multiple live inputs, via the hosting Cinegy Playout engine, to permit more flexible inputs and studio scenarios. Now, with a single playout engine, multiple camera sources could be used and composited as an item in a playlist. This feature now allows customers to run a DVE / Vision Mixer workflow using just the software playout engine and is something that we will touch on in some future posts demonstrating some flexible and powerful configurations.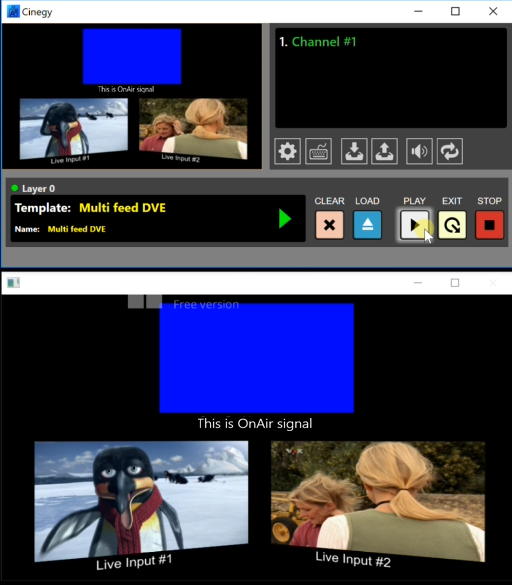 Notification and Update of Media and Sequences
Finally, one last feature we just must call out before finishing this post – the enhancements made to item indicators to explain when media files have become unavailable (or been replaced) to operators, and the equivalent feature when working with Cinegy Archive integration and timeline sequences. For many years, customers were encouraged to use the network caching "proxy" option for enhanced resilience. However, several customers wish to architect their solutions in a different way – the extra I/O load of copying files is significant when planning Cinegy Air deployment. Building highly-available file systems is a lot simpler than when Cinegy Air was first launched and with the increasing usage of IP as the primary output format; providing continued output in the case of a network failure becomes quite tautological – if the network is down, nobody can see the output anyway! At Cinegy, we found several customers using the proxy feature just to ensure that media files are available as expected, not caring about the extra caching feature. In fact, many customers found the requirement to copy the files and render ready for playout annoying – particularly in virtual environments.
With Cinegy Air 12, the control panel now actively analyzes referenced media files and alerts operators, should they become unavailable within seconds. With warning of upcoming problems, and the increased frame buffering available since Cinegy Air switched to 64-bit, running without network caching mode now becomes a quite viable option. However, we did not stop there…
When a media file changes, we now also notify the operator that the item has updated – prompting an operator to check the file, and if chosen, to update that item in the playlist. The system will warn the operator whether the media file duration has changed, which is very useful to make sure the impact of the change is understood.
But if you really want to see a great workflow, you need to access the Cinegy Archive database from your Cinegy Air application and use Cinegy Desktop to create sequences. Previously, Cinegy Air could pull sequences from the database and it would create a point-in-time copy of the edit on the Cinegy Air station.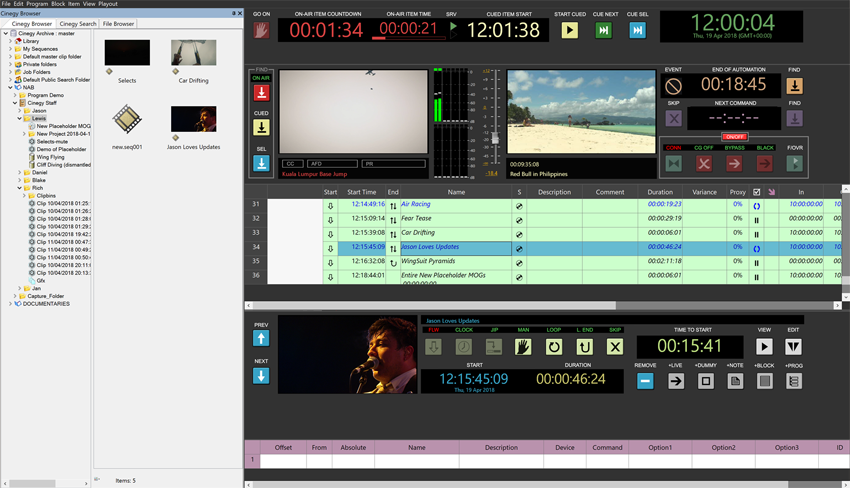 The Cinegy Archive database could be shut down, and the playout operation would still work – which is a great feature in a highly-available solution. Now in Cinegy Air 12, the Cinegy Air control application will keep track of the sequence in the database and notify the operator if the sequence changes (just like with media files). But now the operator has a choice to retain the sequence as previously loaded – or again update the sequence with the changes, and because this is a Cinegy product, we of course leave you with an "undo" option!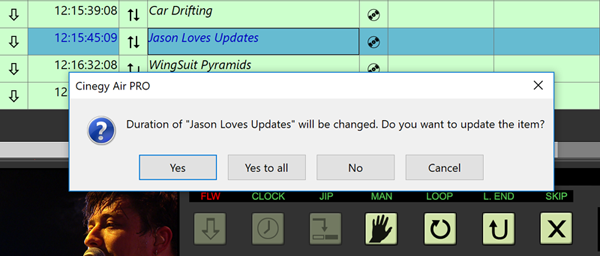 So, since Cinegy Air 12 has now been released in beta (and will shortly be followed with a release) – there has never been a better time to jump into the world of software-based playout. Just grab a laptop and make your first HD channel now!