Introduction
Reading time ~3 minutes
The Cinegy Archive Browser utility provides access to Cinegy Archive allowing user to navigate efficiently through Cinegy Archive databases, search for specific nodes and select Cinegy objects such as clips, Rolls, ClipBins in order to drag-and-drop them into Avid Media Composer projects or create virtual AVI files.
Cinegy Archive Browser also traces the post folder – the network-shared folder intended to collect the AAF files generated by different sources (for example Avid job folders).
Cinegy Archive Browser Interface
| | |
| --- | --- |
| | To start the Cinegy Archive Browser utility, click its shortcut on the desktop or run it from Start > Cinegy > Cinegy Archive Browser. The appearance of Cinegy Archive Browser resembles the Microsoft File Explorer interface with the search functionality available: |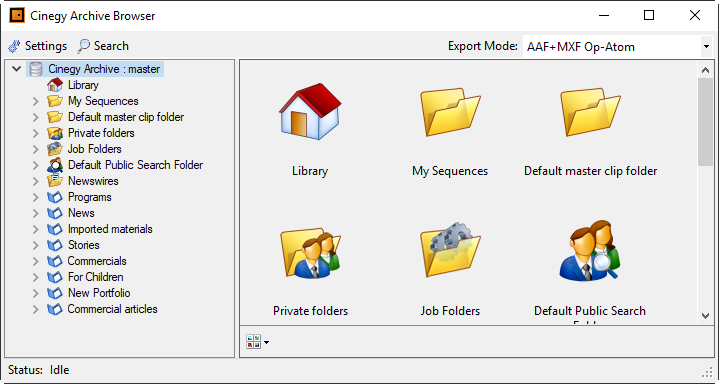 The content of the database(s) is presented in a tree-like structure in the left-hand panel of the window.
| | |
| --- | --- |
| Important | Refer to the Cinegy Configurator article for more details about the database configuration. |
Each container can be expanded or collapsed by pressing the

and

buttons correspondingly. The content of any expanded folder can be sorted by name, type and name, creation date or type and creation date by selecting the corresponding option from the "Arrange by" context menu command:

| | |
| --- | --- |
| Note | The content of collapsed folders cannot be sorted. |
Node Explorer
On the right-hand panel the content of each folder or bin selected in the database tree is displayed: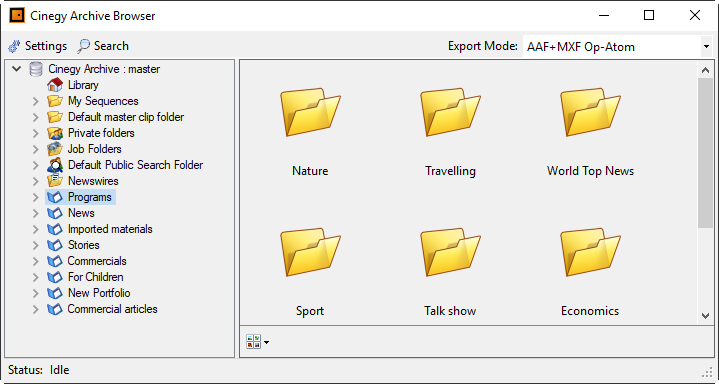 As soon as you click on a ClipBin or Roll, all clips with their corresponding thumbnails and detailed information will be displayed in this panel: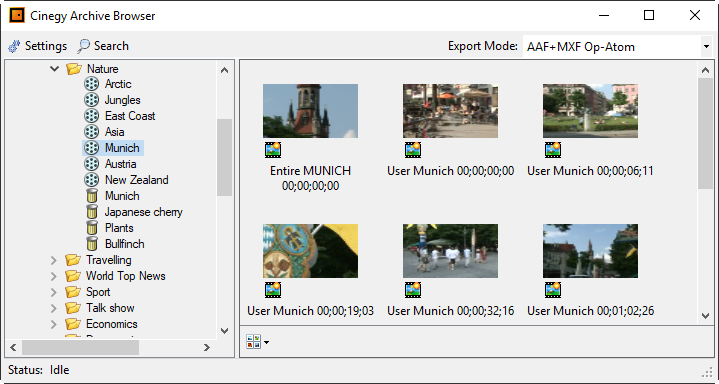 | | |
| --- | --- |
| | The audio-only clips are indicated with the waveform icon. |
| | The media offline clips are indicated with the corresponding icon. |
| | The documents with unavailable origins are indicated with the red crossed circle icon. |
View
There are several view options to display the content of the folder or container (Roll, ClipBin, DocumentBin, etc.). To change the view, click the "Change your view" icon and select the corresponding option: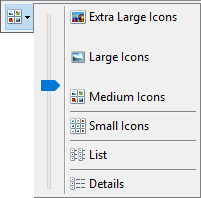 | | |
| --- | --- |
| Note | The "Change your view" icon will look different depending on the view you have chosen. |
You can use the slider to manually change the scale of thumbnails between medium and extra-large icon sizes.
Searching in the Cinegy Archive Database
| | |
| --- | --- |
| Important | For detailed information on performing search operations refer to the Search section. |
To perform search operations in the Cinegy Archive database and view the search results, click the "Search" button on the menu panel. The "Search" window will be open: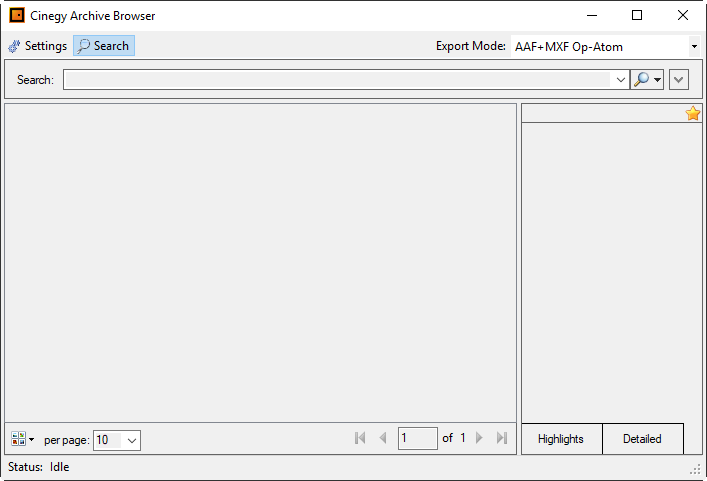 All the nodes found according to the search request will be listed here with their thumbnails and metadata.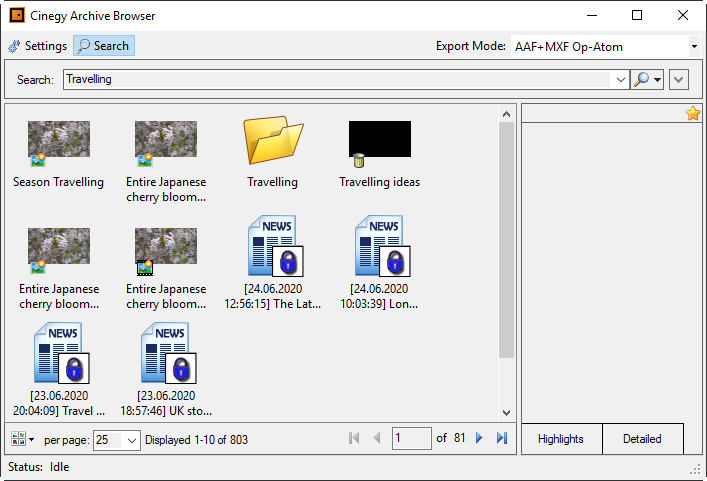 Closing Cinegy Archive Browser
Having finished your work with Cinegy Archive Browser, right-click the Cinegy Archive Browser icon located in the notification area of the taskbar and choose the "Exit" command: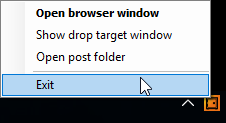 Alternatively, you can close Cinegy Archive Browser by pressing the

button in the main window.