Export to Avid and Adobe (AAF+MXF workflow)
Integration with Avid Media Composer, Abobe Premiere, and other NLE that accept AAF and MXF files
Reading time ~3 minutes
In "AAF+MXF Op-Atom" mode Cinegy Archive Browser generates AAF and MXF files which can be used in Avid Media Composer, Adobe Premiere, or any other NLE that supports such files. The MXF files are generated according to the settings in the configured folder. Only selected by In and Out points from the original media are transferred. The AAF files contain information about clips, effects, additional metadata and links to generated MXF files.
The Cinegy Archive objects (e.g., clips, Rolls, ClipBins or Sequences) can be drag-and-dropped from Cinegy Archive Browser directly into the NLE workspace. This is convenient if both Cinegy Archive Browser and NLE are installed on Windows OS.
In case the NLE works on Mac OS, you can create the AAF and MXF files by drag-and-dropping objects from Cinegy Archive Browser into any folder on Windows OS and then copy them to Mac OS or access them via network, or by using Cinegy Workspace WEB client.
Export from Cinegy Archive to Avid Media Composer or Adobe Premiere
The example below shows the workflow in which media clips are sent from Cinegy Archive to Avid Media Composer.
| | |
| --- | --- |
| Note | The same procedure works for importing files into Adobe Premiere. |
To set up this workflow, follow the steps:
Define the export settings.

To configure the export parameters, choose "AAF+MXF Op-Atom" mode from the "Export Mode" drop-down list:

and press the button from the menu panel.
The following configuration "AAF+MXF Op-Atom Settings" window appears:

Open Avid Media Composer and create a new project.

In Cinegy Archive Browser select a clip, Roll, ClipBin, or Sequence you need to import to Avid.

Drag and drop the selected object into the Avid Media Composer project bin window:

The following progress bar is shown during the exporting process:

To abort the process in progress, press "Cancel".

During the export, media is wrapped and saved into MXF files (MXF OP-Atom), and the project data such as the arrangement of source clips, metadata, and effects information is written to AAF files. The files are written to the locations defined in the "AAF+MXF Op-Atom Settings" dialog.
| | |
| --- | --- |
| Note | The same procedure works for importing files into Adobe Premiere. |
Alternatively, you can import the previously created AAF files using the "Import" command from the Avid Media Composer or Adobe Premiere main menu. To do so, right-click the selected Cinegy Archive object and choose the "Export AAF to …​" command from the context menu: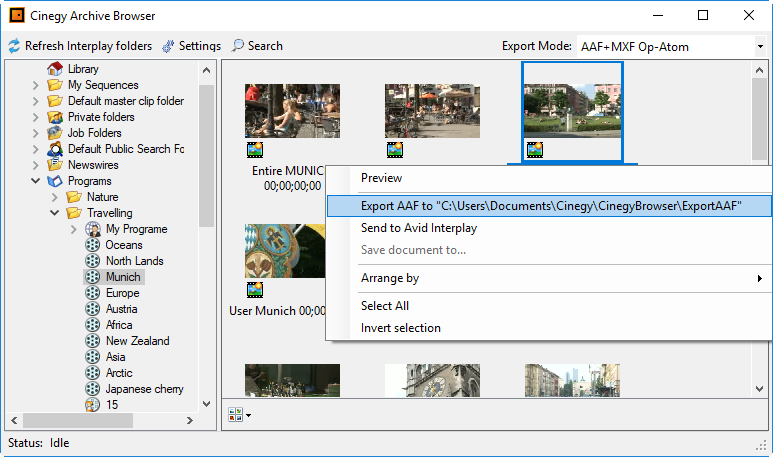 Launch the Avid Media Composer, right-click the media Bin window, and select the "Import Media" command from the "Input" submenu: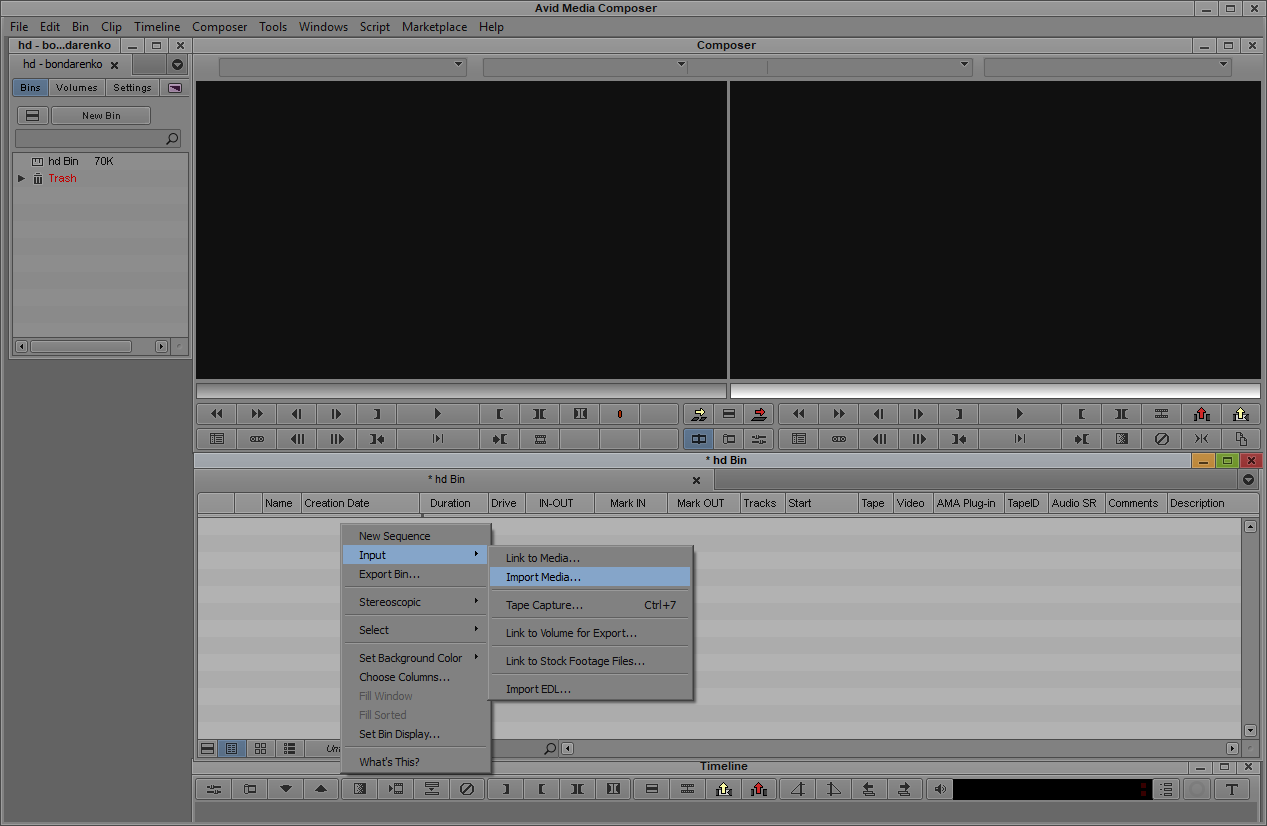 Select the imported AAF file from the folder, previously indicated in the "AAF Location" field of the "AAF+MXF Op-Atom Settings" window: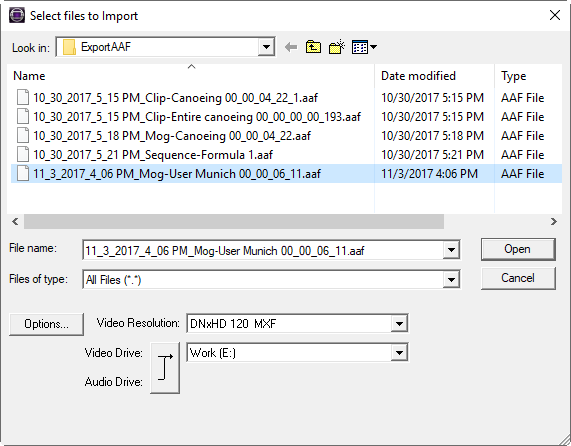 Once selected, the exported clip will be added to the Avid Media Composer Bin: