Broadcast Messaging
Reading time ~1 minutes
The system administrator can broadcast messages to the Cinegy Desktop applications via Cinegy Archive Manager. Once a new broadcast message is sent, the following window containing this message appears in Cinegy Desktop for all the currently logged users: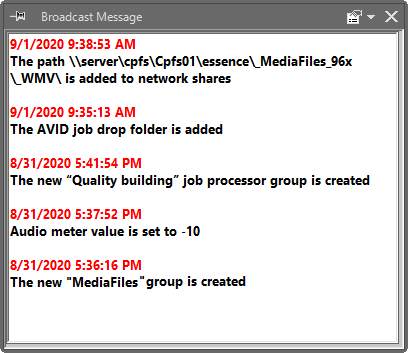 This window will also display all previously sent broadcast messages for the defined period of days.
The same window will be shown for all the Cinegy Desktop users on the application startup with the list of recently broadcasted messages.
| | |
| --- | --- |
| Important | The broadcast messaging tool can be configured via Cinegy Archive Manager. Refer to the Global Settings article in the Cinegy Archive Manager Manual to learn how to configure and use the broadcast message subsystem. |
The messages in the "Broadcast message" window are ordered chronologically with the most recently received message at the top of the list. The sending date and time are shown for each message.
| | |
| --- | --- |
| | Press this button to close the broadcast message window. To open it again, select "Broadcast message" from the "Management" category of the "Modules" drop-down list in the Cinegy Desktop main toolbar: |