AVC HD Import
Reading time ~1 minutes
| | |
| --- | --- |
| Note | The "AVC HD media" plug-in is in beta stage. |
The "AVC HD media" plug-in provides user with the ability to import the AVC HD files together with the associated metadata to the Cinegy Archive database through the common import process.
| | |
| --- | --- |
| | Use these buttons to add the AVC HD file(s) clips from your local drive(s) or network shared storage and/or remove them from the "Sources" list. |
The configuration settings of the AVC HD media import are as follows: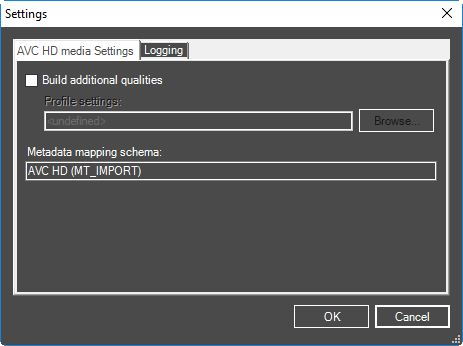 In this dialog you can configure the AVC HD media settings and logging parameters of your import session in the same way as it is done for the Audio CD Import.
| | |
| --- | --- |
| | Select the AVC HD file(s) you want to import or use the "Select all" button to select all the files. |
| | Press the "Select none" button to discard your selection. |
The configuration and import process managing of the "AVC HD" plug-in is the same as for the Panasonic P2 Card tool.