Cinegy Cinebridge AVI Export
Reading time ~1 minutes
| | |
| --- | --- |
| Note | The Cinegy Cinebridge module is obsolete. The Cinegy Cinebridge decoder is not installed automatically during the Cinegy Desktop installation; make sure Cinegy Cinebridge decoder is installed on your computer. |
Cinebridge export mode allows user to create virtual AVI files that contain references to media files stored in the Cinegy Archive database, i.e. no actual export of video files takes place.
Export from Cinegy Archive Browser
To configure the Cinebridge export parameters, choose "Cinebridge export" from the "Export Mode" drop-down list and press the "Settings" button on the menu panel.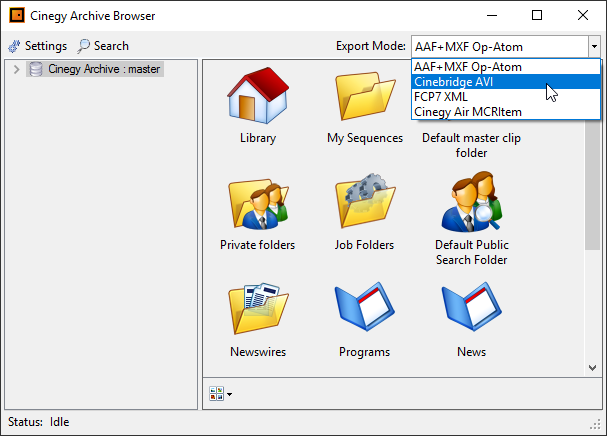 The export settings are described in detail here.
To create a virtual AVI file, drag-and-drop a Roll, clip, ClipBin or Sequence from the Cinegy Archive Browser window to the selected Windows directory.
Export from Cinegy Desktop
The export of the Sequences and ClipBins to the virtual AVI files can be done by choosing the "Cinegy Cinebridge (AVI)" format for the export to file operation in Cinegy Desktop:

The virtual AVI file with the specified name will be created in the defined location.
| | |
| --- | --- |
| Note | In order to check if Cinegy Cinebridge decoder is properly installed and operational, simply play a virtual AVI via the standard Windows Media Player. |