Overview
Reading time ~2 minutes
Cinegy software forms an open platform consisting of a suite of tools, applications and open APIs covering every stage of the digital production process.
Cinegy Desktop is a universal production tool that provides real-time access to media in Cinegy Archive, along with a powerful suite of tools for logging and editing, and an almost limitless ability to import and export media to third-party non-linear editing and automation systems.
Cinegy Desktop runs on standard office IT infrastructure and can be installed on any user's desktop within a network environment. It allows users to collaborate from their desktops, without tying up expensive editing bays. Full system functionality is available from any workplace, editing bay or machine room for maximum workflow flexibility.
The Cinegy Desktop user interface mimics standard Windows functionality wherever possible making it intuitive and easy-to-use. The Cinegy Desktop client allows users to access Cinegy Archive via the familiar explorer interface, to create, manage and edit items in the central database. Cinegy Desktop identifies users by their login and password which is centrally resolved via existing ADS or LDAP servers. The identity determines the access rights, user profile and software features for the individual user.
Cinegy System Technology
Network Structure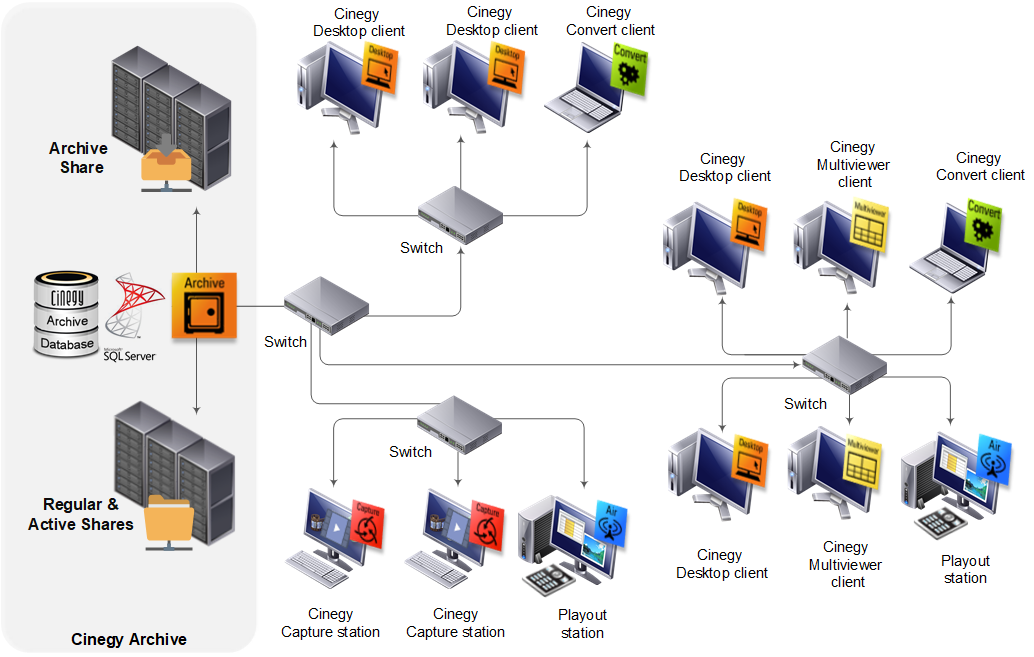 Scalability and Cost Efficiency
Only a Fast-Ethernet network connection to the Cinegy Archive media server is needed. No additional, proprietary hardware or fiber channel network is required, just a computer specialist to maintain the infrastructure. The use of a standard office PC as the platform of modern television production allows quick and seamless deployment within existing IT infrastructure.